The 'Cougar Town's fiance Johnny McDaid of Snow Patrol co-wrote the song, and inspired Courteney to set to work. The next thing the band knew, she was opening the doors of her Malibu beachfront home to them for the video, and then daughter came along too.
Courteney speaks to HuffPostUK exclusively about this latest project...
You say in the video that the song made you want to be part of this project - but what was it about it that appealed to you so strongly?
It's pretty clear when you hear the song. It has a beautiful message and a wonderful build. The whole song makes me feel good.
To what extent had you been a fan of Kodaline before this?
I had been a Kodaline fan and as I got to know them, I became an even bigger fan. They are all extremely talented and I love their music.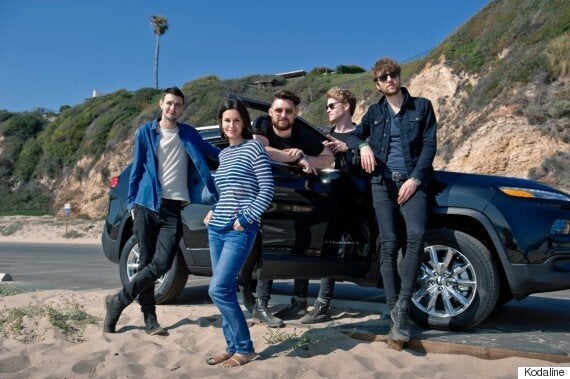 Courteney Cox with Kodaline, who filmed their latest video in her house
Who was more nervous - you or them?
I wouldn't say anyone was particularly nervous. It was nothing but fun.
Why did you decide to film in your own home?
It's where we first got to know each other on a genuine level and I thought that our house provided a really comfortable and safe environment to show the real human side of them. It's also where they wrote the song so it made sense on many levels.
The band appear very pleased with the video - but how did YOU know you'd got it just right?
The video accomplished exactly what I set out to do. And between the beautiful shots and the amazing song it was pretty clear.
Your daughter steals the scene in her onesie - does a screen career beckon, do you think?
I'm certain she'll do something in the arts. It's leaning towards musical theatre at the moment.
What was it like working professionally alongside your fiancé - easier or harder due to your connection?
Johnny and I have great respect for each other and what we do. We worked together seamlessly on my film Just Before I Go so we knew this would be easy. He has great ideas and instincts and I welcome his input as I know he does mine.
The video, plus time behind the camera for 'Cougar Town' and now your new film… is this the direction you're headed in?
I will undoubtedly continue to direct. I feel very passionate about it.
Actors have had these kinds of opportunities for a while, but now we're seeing a wave of actresses making their presence felt behind the camera too… can you sniff change in the air?
I hope so. I think women can be wonderful story tellers and have a sensitivity and an eye for detail that works well in filmmaking.
Finally, what's coming next?
I'm looking for my next acting project and Johnny and I have a few things we are producing. One in particular that I will direct. I would definitely like to do more videos as well.
Kodaline will be touring the UK from December - click here for tour info.