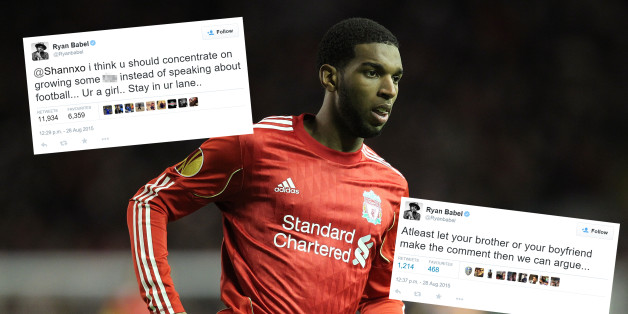 Mike Egerton/EMPICS SPORT
Ex-Liverpool FC footballer Ryan Babel has been criticised after he went on a sexist rant involving a female fan on Twitter and suggested she "concentrate on growing some tits".
The Dutch player was responding to a message from user @Shanxxo, who enquired why he seemed to dislike Rafa Benitez. She also poked fun at the aging footballer's attempts at building a global brand, prompting a misogynistic outburst from Babel.
@Ryanbabel@MailSport why you hate him so much 😂 hes manager of Real Madrid while you beg your Twitter followers to add you on Whatsapp 🐸☕️

— JG12 ❤️ ⠀⠀⠀⠀⠀⠀⠀⠀⠀⠀⠀⠀ (@Shannxo) August 28, 2015
@Shannxo i think u should concentrate on growing some tits instead of speaking about football... Ur a girl.. Stay in ur lane..

— Ryan Babel (@Ryanbabel) August 28, 2015
Babel then went on to tweet to his one million followers, continuing his sexist tirade with suggestions that an opinion about football could only matter if it came from a male.
Atleast let your brother or your boyfriend make the comment then we can argue...

— Ryan Babel (@Ryanbabel) August 28, 2015
Not gonna argue with a lil girl, with all the respect.. C'mon now

— Ryan Babel (@Ryanbabel) August 28, 2015
Before weakly attempting to dig his way out of the hole...
I'm not saying i cant be a football fan as a girl or woman... Ofcourse u can duhh... Im just saying that " I " am NOT gonna argue with u 1/2

— Ryan Babel (@Ryanbabel) August 28, 2015
Still, at least tweeters were ready with some scathing retorts...
@Ryanbabel@Shannxo honey please the female World Cup was more eventful than the men's how about you shut the fuck up and stay in your lane

— hannah (@nltr0genstyles) August 28, 2015
@Ryanbabel jesus lad give it a rest

— jack (@JBeville_) August 28, 2015
You wont argue with a girl about football because...? You achieved something to be proud of?

— . (@Jawareh58) August 28, 2015
Babel played for the Reds from 2007-2011 and currently resides on the bench for the UAE's Al Ain FC, where he has made two appearances.
ON THE BLOG: