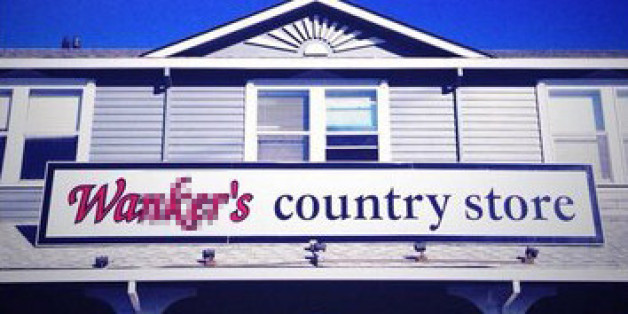 Wanker's Country Store/Twitter
Before you read on, this is a strong language warning. Because you can't say the name of this shop without saying Wankers.
Is your local coffee shop run by Wankers? This one is!
A small café in Wilsonville, Oregon, is making waves on social media after people in the UK noticed their peculiar name. Not only does Wanker's Country Store serve coffee and snacks, it also contains Wanker's Wine Cave and is situated on beautiful Wanker's Corner in downtown Wilsonville.
Obviously, everyone in the UK is finding this all very funny.
Are there any other @WankersStore's anywhere? It would be great to have Wankers in every town.

— Mr Barnes (@SwissTony722) August 28, 2015
Q. What kind of cream do you offer with your coffee? (@PrinterRepairer)

A. Skim, whole & my personal favorite, half and half.

— WankersCountryStore (@WankersStore) August 28, 2015
Just drove past this shop in Portland...!! I wonder if that's the name of the shop owner...!! Hahaha pic.twitter.com/7722cB52Rn

— Mo Farah (@Mo_Farah) November 9, 2013
There's even Wanker's apparel.
August 26, 2015
And a hearty Wanker's breakfast.
Start your day with the breakfast of champions, a Wankers House Made Breakfast. In a rush? Just grab & go 👍🏻 pic.twitter.com/Cplq43QBHh

— WankersCountryStore (@WankersStore) July 31, 2015
And hashtags. So many Wanker's hashtags.
Proud of our store! #friendsofwankers #likecoffeelovewankers pic.twitter.com/pE4L9YObJ2

— WankersCountryStore (@WankersStore) June 23, 2015
Be right back, just booking a flight to Oregon.
SEE ALSO: