Inspiring mum of four Natasha Jones has opened up about her life-saving community project Baby Resuscitation, which she launched after rescuing her own daughter, Ava-Mai, from a near-miss cot death when her baby was just 11-weeks-old.
"It was a Saturday afternoon. She'd had a feed and gone down for a nap. I was doing laundry, all those mum jobs, and something made me go back in the room to check on her," Jones tells Tess Daly in a video for AOL Original series, Being Mum.
"I'm so glad I did because when I got to the cot she was blue and floppy and totally unresponsive. And so I started doing what I thought was CPR and got one of my sons to go get their dad who happened to be in the garden, and say: 'We need an ambulance.'
"I gave her mouth-to-mouth and was pressing her chest and stuff and it seemed to work... I'm just a mum. I think any mum would do the same for their child."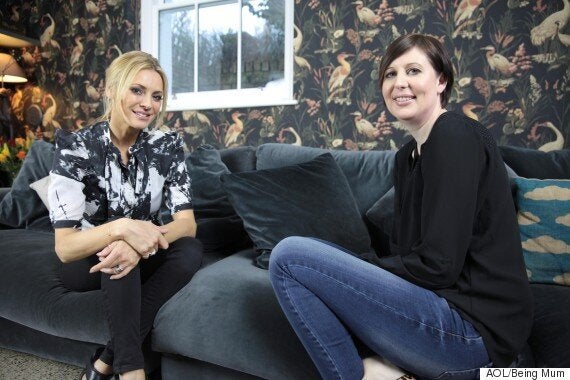 After waiting for 36 minutes for the ambulance to arrive - which Jones describes as feeling like "forever" - Ava-Mai made a full recovery in hospital and is now a thriving, Frozen-loving four-year-old.
"I was determined: she was not going to die that day. It was terrifying and I didn't sleep for months afterwards. I just kept watching her."
Jones tells Daly about how grateful she is to have her daughter and how much she enjoys every second with her, and talks about the importance of educating other mums about her experience so people are aware of what to do if they ever find themselves in the same situation.
"The thing was, I could feel myself losing it slightly - I wasn't sleeping, I was watching her all the time and I thought, I'm becoming quite a paranoid mummy and I was never a paranoid mummy and I didn't want that to have an effect on the children. I wanted to show the children something positive."
Jones was inspired to launch Baby Resuscitation, which trains parents in how to handle infant choking and resuscitation. After she attended a CPR course to prepare herself in case a similar experience happened again, word spread around family and friends and Jones decided to turn it into a non-for-profit community project, which has already saved the lives of two babies.
The Tesco Community Mum of the Year Winner 2015 has four children: step-daughter Yasmin, 14, Jacob, nine, Reuben, eight, and Ava-Mai, four, and describes her home life as "a military operation but quite relaxed as well. We have a lot of fun."
When it comes to resuscitation, Jones' view is that "it's a no-brainer that we should all be taught it and I am campaigning now to get it as part of our antenatal or postnatal care. It should be accessible to everybody."
The Being Mum series, hosted by Rochelle Humes and Tess Daly, is a beautiful and humbling series that defines what it means to be a mother today.
In each episode Rochelle or Tess will meet a well-known personality, or a mother with a remarkable story, to discuss the ups, the downs, the ins and outs of what being a mother is really like.