'EastEnders' fans took to Twitter to praise the soap's cast and crew on Monday night (31 August), following Shabnam's emotional stillbirth scenes.
MORE 'EASTENDERS':
The soap's bosses worked with the charity Sands to ensure the plot was dealt with sensitively and appropriately, and many viewers praised the show's approach and powerful scenes.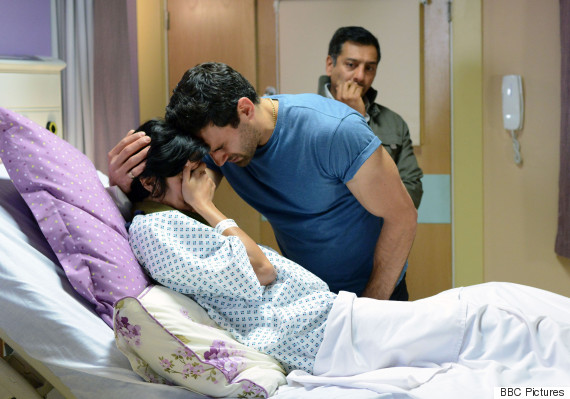 Shabnam and Kush's relationship will be under pressure following their loss
During Friday's show, Shabnam and Kush - played brilliantly by Rakhee Thakrar and Davood Ghadami - were told that their baby had died, and in Monday's episode, Shabnam gave birth to her son.
The couple then each said goodbye to the child, in scenes that prompted an emotional reaction from many viewers, and other members of the cast:
Tonight's #EastEnders was so emotional, my heart goes out to anybody affected by this storyline & @SandsUK for the amazing work they do! 💕

— Charlotte-Nicole. (@CharNicole33) September 1, 2015
Outstanding acting tonight on #EastEnders soooooo sad 😢

— mandy j73 (@mandyed73) September 1, 2015
Must of cried from start to finish of Eastenders,beautifully done😢 #eastenders

— Laura Garcia (@lauraxgarciax) September 1, 2015
#eastenders definitely pulled at the heart strings tonight

— Amy. (@AmyBakerr) September 1, 2015
Tonight's #eastenders has to have been one of the most heartbreaking things I've ever watched on TV!

— Niamh McGowan (@_niamhmcgowan_) September 1, 2015
#eastenders dealt with tonight's storyline (still birth) beautifully. Heartbreaking and wonderfully acted. 💔

— Emily (@auntybabes) September 1, 2015
My heart truly goes out to the people that have gone through what Shabs & Kush have in real life.

August 31, 2015
Take a bow @RakheeThakrar @DavoodGhadami @GanatraNitin @bonnie_langford @HimeshJPatel @richardlynn2000 @petelawson68 #EastEnders

— Adam Woodyatt (@AdamWoodyatt) August 31, 2015
Tonight's #EastEnders focuses on important story that's seldom seen on screen. Thank you @SandsUK for all your support, kindness and advice.

— Alex Lamb (@alexlamb81) August 28, 2015
Beautiful,heart wrenching performances, incredible script & sensitive direction. @RakheeThakrar @DavoodGhadami @petelawson68 #eastenders

— Anna Acton (@acton_anna) August 31, 2015
Just catching #EastEnders. Absolutely amazing acting in tackling such an emotive subject. Heart goes out to anyone who's gone through this.

— Carl Hartley (@itscarlhartley) September 1, 2015
Eastenders was just something else today. first episode after so long that actually hit me #eastenders

— M (@mxchowdhury) September 1, 2015
Respect to all involved in @bbceastenders Truly heartbreaking episode on Monday. #eastenders

— Martin Cowin (@MartinCowin) August 31, 2015
The soap's upcoming episodes will see Shabnam, Kush and their families each deal with the tragic loss in different ways.
Speaking ahead of Friday's episode, Rakhee reiterated the team's reasons for taking on the storyline, explaining: "I really hope this shows that there really is no harm in expectant mothers picking up their phone and calling their midwife if they are concerned.
"This is the message we are trying to get across."
'EastEnders' continues on Thursday 3 September, at 7.30pm.
If you've been affected by the issues in this article, please contact Sands on 020 7436 5881.
LIKE US ON FACEBOOK | FOLLOW US ON TWITTER