A three-year-old girl was left on a platform in tears when the doors of a tram closed before her parents could get off and the driver refused to stop the vehicle.
Anthony Phillips, 28, and Megan Smith, 23, had taken Maisie out for her first ride on a new tram route as a special treat on 1 September.
But as they were getting off in Clifton, Nottingham, the driver closed the tram doors too quickly, meaning the couple were stuck on board.
The dad-of-two said: "As soon as the doors closed I could see Maisie just burst into tears. It was horrible. I was pressing the button repeatedly to make the doors open again but they wouldn't.
"I ran down to the other end of the tram to talk to the tram driver and was shouting for them to stop. The driver said she wasn't allowed to."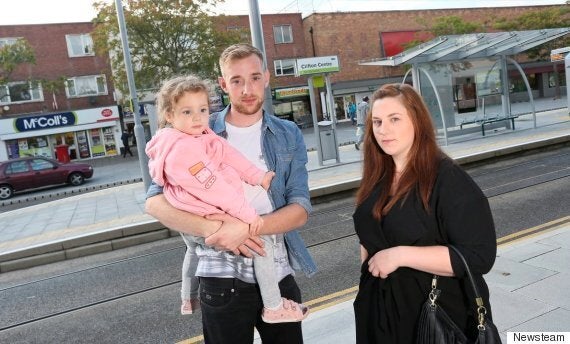 The driver told Phillips and Smith he could not stop the tram because of "company procedure."
The parents then got off at the next tram stop half a mile down the track and ran back to the previous station.
A stranger who had seen what happened stayed with Maisie until she was reunited with her mum and dad.
Phillips, who runs a dry cleaning business, criticised the tram diver for not stopping the vehicle and putting his daughter's life at risk.
Describing the details of what happened, he added: "Maisie was so excited to be riding the tram for the first time and couldn't stop looking out of the window.
"As the tram pulled up to our stop, somebody had already pressed the bell.
"We were at the back of the tram and got up to go towards the doors."
Phillips added: "Maisie was in front of me and I was holding her hand. Megan was behind us carrying Maisie's nursery bags.
"I'm 6ft 5ins, so I helped her down onto the platform and didn't need to get out straight away because my arm is so long.
"She stepped out but as she did so the doors started to close. It was a case of 'do I leave my hand there or do I pull it out?'
"It was a split-second decision. We could've lost our arms or she could've been dragged along by the tram.
"I was forced to pull my hand away from the doors." Phillips added "There were about 15 passengers on board and they all tried to help. They were telling the driver to stop and one even pulled the red lever, but the tram started moving.
"As we moved away Maisie started screaming. I've never seen her like that.
"Those next few minutes on the tram were so surreal. Me and Megan were in bits.
"As soon as the tram stopped I legged it as fast as I could back to the station and found her with a lady. We were so grateful.
"I picked her up and cuddled her.
"Maisie said: 'Daddy, you left me'. It was heartbreaking.
"I dread to think what could have happened if Maisie had tried to run onto the tracks to follow the tram.
"The driver could have used some common sense and stopped the tram. I cannot believe he just allowed her to be left behind like that. Anything could have happened to her."
Mum Smith, who works as a carer, added: "Maisie had never been on a tram before and really wanted to go on one.
"We took her into town for a milkshake. We were on our way home when it happened. It was so horrible.
"I don't think we'll be taking her on a tram again."
A spokesman for Nottingham Express Transit said: "This was an unfortunate incident and we apologise for any distress that may have been caused.
"It appears the driver closed the doors a little too quickly on this occasion and once alerted to the fact that a child had been left alone on the platform she was unable to stop for safety reasons.
"As soon as we were made aware of the situation, the youngster was picked up by our CCTV system and one of our tram ambassadors was instructed to stay with her until she could be reunited with her parents.
"All drivers are reminded to remain extra vigilant before closing doors when families or young children are either getting onto a tram or already on board."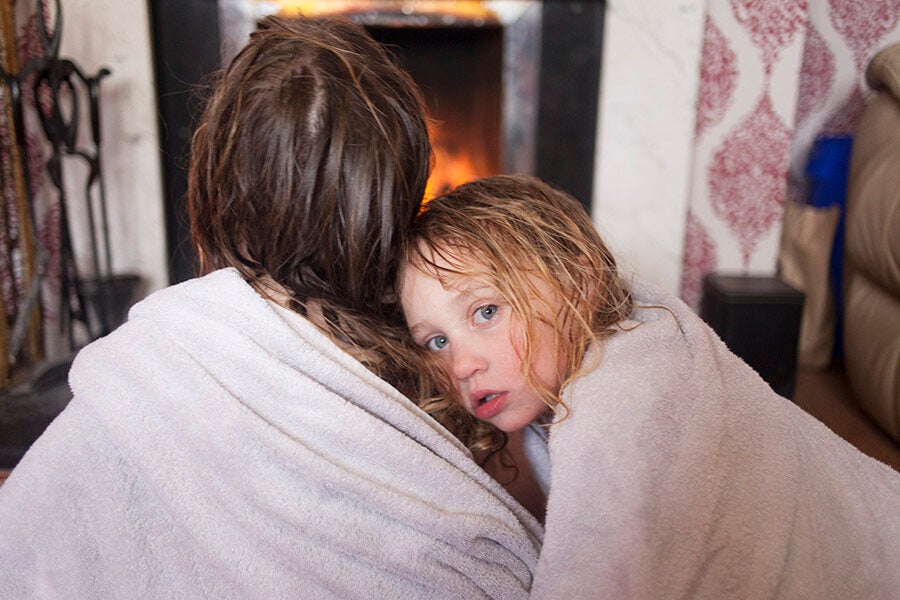 Daughters
Related