A woman who is eight months pregnant has criticised fast food chain KFC after being served a burger with "raw meat".
Char Farrant visited KFC on Sandgate Road in Folkestone, Kent, and took a photo of her burger meal to back up her complaint.
"I have e-mailed KFC as well – the Folkestone branch served me raw meat. I feel others should be made aware. I'm worried I could get ill."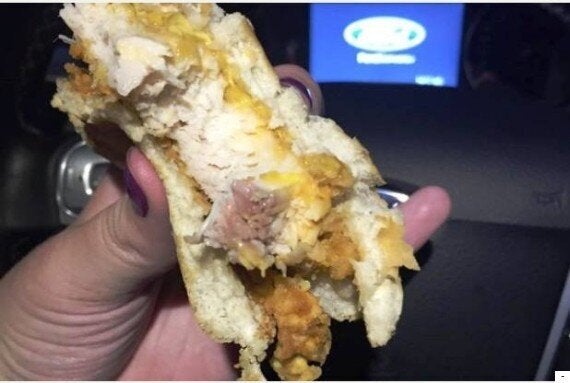 A KFC spokesperson told HuffPost UK Parents: "We are very sorry for the customer's experience which we understand must have been upsetting, however, having reviewed the photo the burger appears properly cooked and the area of discolouring is most likely a bruise within the meat.
"We use real, fresh chicken fillets in all our burgers, which on rare occasions can result in natural defects like these being present.
"We have comprehensive and detailed supply, storage, preparation and cooking procedures to ensure all our chicken is properly cooked and safe to eat."
The NHS says eating raw or undercooked meat is very "risky" during pregnancy.
"Toxoplasmosis is an infection caused by a parasite that can be found in raw and undercooked meat, unpasteurised goats' milk, soil, cat faeces and untreated water. If you are pregnant, the infection can damage your baby, but it's important to remember that toxoplasmosis in pregnancy is very rare."
Toxoplasmosis has no symptoms, so pregnant women are encouraged to see their GP or midwife if they feel they may have been at risk.
The NHS also advises pregnant women to wash all surfaces and utensils thoroughly after preparing raw meat to avoid the spread of harmful bugs.