There's a lot of debate about whether the fashion industry should ditch the term "plus-size", but one woman firmly behind keeping it alive is Rianne Ward.
Ward is committed to making the fashion industry more inclusive and diverse, but for her the only way to change it is from within - and this involves not only talking the industry's talk, but walking its walk.
"'Plus-size' is the term the industry uses and we should embrace it," she tells HuffPost UK Lifestyle. "I have no problem with the term. I think it shows that there are variations among women."
That's why she's launched , UK Plus Size Fashion Week (UKPSFW), which runs from 11-13 September, the week prior to the official London Fashion Week.
UK Plus Size Fashion Week runs from 11-13 September
Ward hopes the event's timing, central London location and professionalism will help establish plus size fashion as a "serious" player within the industry.
The event builds on British Plus Size Fashion Week, an event Ward co-founded in 2013. After two years the founders decided to go their separate ways, with Ward setting up her current project.
"The last event was a novelty for media, now we want to be taken more seriously," says Ward. "Plus size fashion is not a gimmick nor is it going away."
Now, unlike previous years, UKPSFW is using all professional plus size models to walk the catwalk show on Saturday and the event has drawn support from high street retailers such as Evans. In addition, Ward hopes to welcome a representative from the British Fashion Council.
"It is only once we establish ourselves that we can begin to ask: 'why are plus-size women being segregated?'" says Ward.
In terms of plus-size acceptance, Ward believes that the world has come a long way in recent years: "A few years ago media wouldn't be talking half as much as plus size and curvy. The more we allow these conversations to be had, the easier it will be to change things."
For Ward the ultimate goal is to teach better body acceptance for all women.
Ward, who used to be a professional singer, has always been plus-size. And while she may be body confident today, she admits to having had her "own personal struggles" with regards to her appearance.
"I've always been big," she tells HuffPost UK Lifestyle. "But when I was younger it was clear that all my friends were much slimmer."
She credits her career as a singer with giving her body confidence.
"I started to sing in my early teens. I spent a lot of time in rehearsal studios looking in the mirror and I started to embrace every part of me. You can't stand there and not start to love who you are," she says.
"I was very lucky to have great people around me - friends, management, family - who were constantly telling me how talented and beautiful I was. It was their guidance that made me believe in myself."
She adds: "Like any woman I have days when think butt looks big, but I love me for me on the whole. That's what I want to share with other women."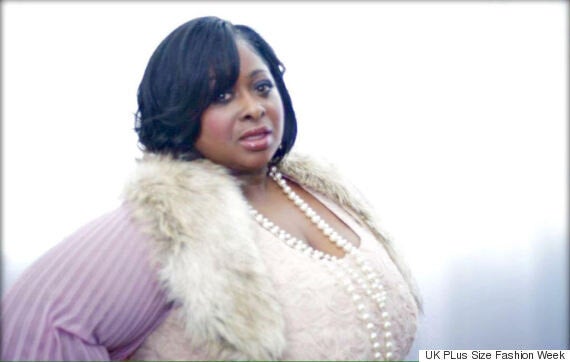 But for every body positive message, there are also those who criticise the glorification of the plus-size physique, claiming it contributes to the country's obesity crisis.
When asked about this her response is simple: "Everyone thinks they are a doctor these days, but really they have no idea about other people's health.
"Just because someone is a size 18 rather than a 10, it doesn't necessarily make them less healthy. That person may be in in gym three or four times a week. There are lots of reasons why someone may be larger than another."
That's why she launched Curvy & Fit with her plus size magazine Evolve, her aim is the tailor fitness to suit larger women and to promote a healthy lifestyle.
I am a woman who understands balance and health conscious when women are overweight and unhealthy, Curvy and Fit."
She's keen to point out that UK Plus Size Fashion Week is not about promoting obesity or unhealthiness, but about self-confidence and fashion.
When asked what message she would send to the next generation of young women, her answer was simple: "Be proud, be you."
She adds: "For me it always comes back to loving yourself from the inside. I wish I was told this more when I was younger.
"You should embrace who you are and be proud regardless of size and shape. Events like UK Plus Size Fashion Week and magazines like Evolve are there to help young girls. There isn't enough balance at the moment - it's OK to be larger to what media says is 'the right size'."
Related