When you're going through a break-up, there's not much that can stop you from crying six times a day. But as the saying goes; 'there's an app for that'.
Rx Breakup is, according to the App Store, an 'innovative new app (and soon to be social network) to help you get over a recent break-up or lingering obsession'.
It's effectively a 30-day programme that provides you with a new task each day to help you work through your emotions, stop you from drunk texting your ex and recognising your issues so you won't make the same mistakes the next time round.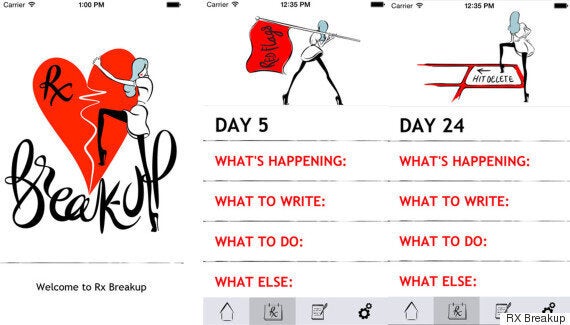 According to reviews, the app really works. One reviewer even went as far as to say the app was the "next best thing to professional help."
She continued: "I downloaded this after a review on intothegloss and was very skeptical, but it's actually incredibly helpful. You can tell that it's written by an actual therapist- I'm amazed at how well the daily write-ups help you understand and process what you're going through.
"I look forward to checking it every morning and I revisit it throughout the day to help keep me on track, and it makes me feel a little better every time."
The apps creators, celebrity makeup artist Jeanine Lobell and relationship therapist Jane Reardon, told Yahoo: "It's nice to talk to other people who are going through it. You can search people who are either a little ahead of you that you want to ask advice from or people on the same day and interact. We do everything in our phones, why not do this too?"
Well... We hope we never have to download it.