While some parents feel a brood of two or three children is more than enough to keep their hands full, glamour model-turned-businesswoman Katie Price, who has five kids, isn't ready to stop anytime soon.
"I'm going to keep going until the doctor says I can't have anymore," she revealed. "I need that newborn again."
While Price loves having kids, she isn't one of those mums who enjoys pregnancy - not that she'll let that small issue get in the way.
"I hate being pregnant, though. I absolutely hate being pregnant, but I still want more."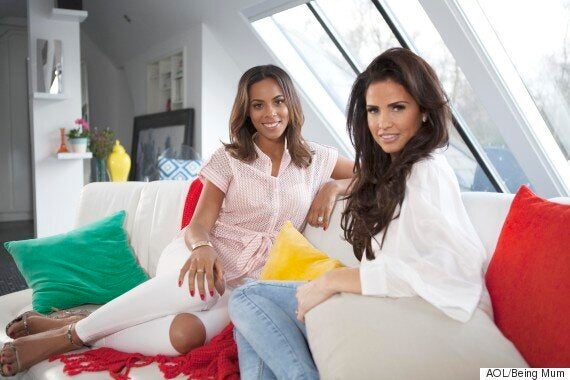 When it comes to motherhood, the mum-of-five admits that things are busy at her place. "I think I just love chaos, madness and stress," Price, mum to Harvey, 13, Junior, 10, Princess, 8, Jett, 2, and Bunny, 1, told interviewer Rochelle Humes in a video as part of AOL Original series, Being Mum.
"I love the responsibility of all of my kids. I just love it. I love it that they look at me, they love me, I love them. It's unconditional love. I just love it all."
Price also got candid about what it's like to raise a child with disabilities, opening up about her oldest child, Harvey:
"I'm used to it. I don't know any different. When he was born, he was just normal - nothing wrong with him, absolutely fine. It's only when we did our six-week check and they did tests and he just said, 'I'm afraid it's not good news. Your son's blind.'
"And we sat there and we were like, 'Oh. What happens now? What do we do now? And they're like, Well there's nothing. He's blind.' So we left that waiting room like, 'What do you do?' But thinking about it, what can you do? You just have to get on with it."
Price tells Humes that she wouldn't change anything about her son, although she does say that bringing up a child with disabilities can be taxing - Harvey also has Prader-Willi syndrome, which causes him to overeat, and he suffers from autism.
"He's on medication six times a day," Price tells Humes. "If he didn't take it, he'd die. He has an injection at night.
"I can see how some people would probably find it hard because it's very challenging and stuff but I am a very patient person, laidback, and I think that makes a difference. But I just love him and I wouldn't change anything about him."
As far as raising her children in the public eye, Price thinks it has its benefits, at least in terms of spreading awareness about children with disabilities.
"With Harvey, I think it's good to let people know you shouldn't be afraid or scared if you've got a child with disabilities and I like to show parents, you know, it's hard work but you can still do things."
Watch the video above to see Price talk about how her older kids help out with the younger ones, find out who she turns to when she needs parenting advice and discuss how she manages the hectic bedtime routine with five children.
The Being Mum series, hosted by Rochelle Humes and Tess Daly, is a beautiful and humbling series that defines what it means to be a mother today.
In each episode Rochelle or Tess will meet a well-known personality, or a mother with a remarkable story, to discuss the ups, the downs, the ins and outs of what being a mother is really like.