On 16 September 2014, Charlotte Kitley passed away aged just 36, following a long battle with stage 4 bowel cancer.
Her husband Richard posted the blog a few hours after her death and HuffPost UK later had the honour of featuring it. The blog quickly went viral, touching the hearts of millions of readers.
A few days before the first anniversary of Charlotte's untimely death, Richard tells HuffPost UK Lifestyle that he could "never have expected" such an overwhelming response.
"Charley only ever started writing the blog as a way to keep friends and family updated on her treatment, as it was easier than having people to call her," he says. "I never for once thought it would be shared so widely and touch so many people."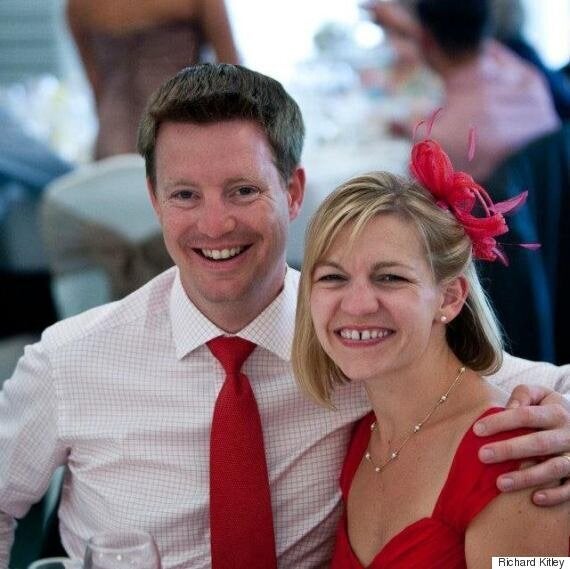 Richard and Charlotte taken in August 2011, six months before diagnosis
He admits that he couldn't bring himself to read her final blog at first - "she had died around nine hours earlier and I wasn't ready" - but he was committed to honouring her final wishes. "In a typical 'Charleyism' she had written me a list of the things that I had to do," he jokes. "I didn't want to face the wrath of her for not doing something, from beyond the grave."
This black humour is what helped the couple get through the darker times: "You've got to have laughter in your life, irrespective of circumstance."
Charlotte was first diagnosed with stage four bowel cancer in February 2012 and in November she was given six months to live. But Charlotte, who was determined to see her daughter Lucy, now 5, start school, decided to fight as hard as she could.
Richard believes it was his wife's "pure strength, resolve and stubbornness" that helped her battle her cancer for so long - Charlotte saw her daughter start school, passing away in September 2014, some 22 months after her diagnosis.
"Charley never ever complained and said 'why me?' - she accepted it and got on with it, because she had no other choice."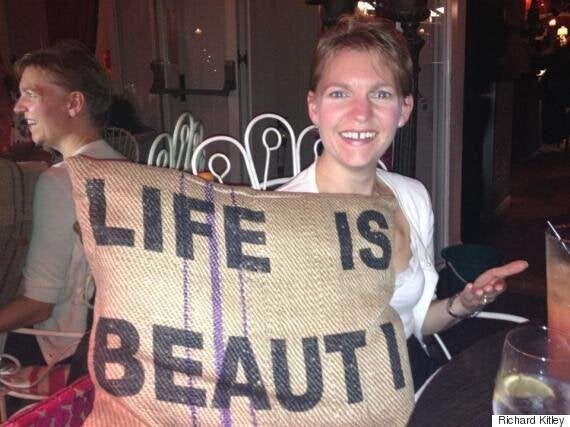 Charlotte in 2014, when out for dinner with Richard's sister and her best friend Nina
Richard, who lives in Middlesex with their two children, Daniel, 7, and Lucy, says that the past year has been "incredibly tough".
"At the beginning, the toughest part of the day were the evenings. I'd come home from work, put the kids to bed, and then I'd be faced with the quietness," he says.
"At that time my memories were very raw indeed: my mind could only focus the more recent events such as hospital visits, scan results and more bad news.
"Over the last year, the memories of the tough times have started to fade and are becoming a distant memory. I am better able to remember the good times and all of the fun things we did as a family, such as days out, walks in the park on the 'good weekends', holidays and birthdays."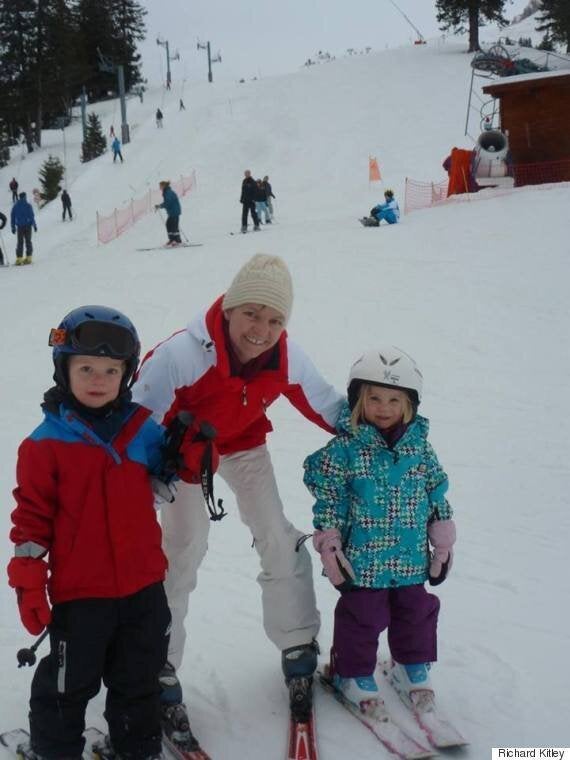 Charlotte on holiday with Daniel and Lucy in January 2014
Richard says it is imperative for him to keep Charlotte's memory alive, especially for the children.
"Charley was very organised, she found the time to create memory boxes for me, the children and her seven angels. So, we sit down as a family at least once or twice a week to look at photos and talk about her. It's very easy to get caught up in day-to-day life, if we're not careful, in six months or a year, they could have no memories."
He adds: "There is not a day that goes by that I do not think about her or am reminded of her because of the kids. They have her persona, mannerisms and bossiness - especially Lucy, my youngest."
He says his kids have been his driving force and helped him get through the past twelve months: "For me because I had Daniel and Lucy, I had absolutely no option but to carry on. I couldn't hide under a rock or lock myself away and get depressed."
He also believes he wouldn't be able to cope without his close support network: "I'm so very fortunate to have a fantastic family and friends who have supported us from her diagnosis and cancer journey, and who have supported me up until the present day and will continue to do so."
However, the father-of-two admits that he has "neglected" some of his own needs over the past 12 months. Now, with the support of those close to him, he is committed to giving himself some TLC.
"My friends and family give me breaks, so I can have the weekend to myself - to chill out, go for a run or a bike ride. I'm doing a lot of charity challenge events to raise money and awareness for Charlotte's Star Of Hope Fund, a charity fundraising page that I set up after her death."
He has also recently joined a support group called Widowed And Young (WAY), for those under 50 who have lost their partner. Richard says he is keen to meet others "in a similar situation" as himself.
This drive is also beneficial for the children, who are becoming more aware of themselves as they get older and asking tricky questions.
"They see mums and dads together at school, at birthday parties and when we're out having fun family days - I want them to meet children in a similar situation, to know they aren't the only ones out there."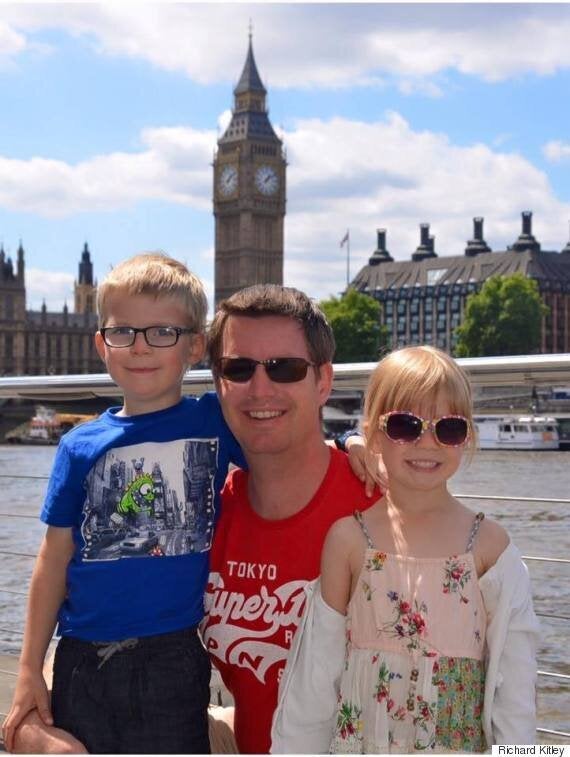 Richard and the couple's two children, Dan, 7, and Lucy, 5, in June 2015
For Richard the first anniversary of Charlotte's death is going to bring a mixture of emotions.
"It's going to be a very hard day, but it is just another day," he tells us. "I'm going to keep myself busy because I don't want to sit inside the house with my thoughts all day...
"People say the first of everything is the hardest once someone has died - Charley's first birthday, our first anniversary, the children's first birthdays."
But although the first anniversary will be undoubtedly difficult, Richard recognises that he has lived through each of the dreaded "firsts".
"Wednesday might feel like a bit of closure, it means I can start looking forward and enjoying life again. But, yes, it's going to be a very tough day."
He hopes that Charlotte's legacy, for both his family and those who have been touched by her blog, is better awareness around her illness.
"My biggest frustration is lack of awareness around bowel cancer, especially in the young, Charley's cancer was diagnosed very late and she died of something that didn't need to happen."
He adds: "You know your own body - if it's not right you know and you should do something about it."
Speaking about her blog, Richard remembers Charlotte saying: "If I can just help one person, I will have made a difference."
Well, Charlotte, we think it's safe to say that your story has done a lot more than that.
Richard is also supporting Stand Up To Cancer, a joint national fundraising campaign from Cancer Research UK and Channel 4 to accelerate new cancer treatments to patients and save more lives. To get involved this October and help beat cancer sooner, visit the website
Related