Stanford University now-alumni, Bryan Chan, sent the GoPro and a phone with a GPS tracker into the stratosphere in a high-altitude weather balloon on 8 June 2013 to gather data for his dissertation.
"We were supposed to recover the GoPro and the phone two hours after the launch, but it ended up being two years," Chan told ABC News.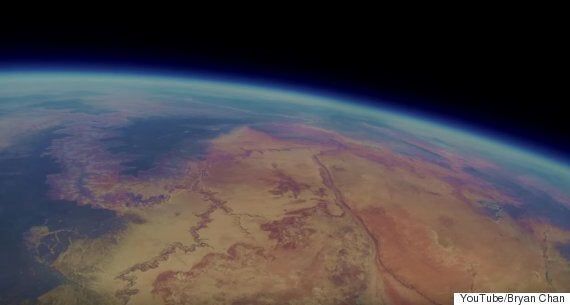 "The GoPro and phone was projected to land in an area with cell coverage, but the problem was that the cell service coverage maps we relied on weren't accurate, so the phone didn't have signal as it came back to Earth. We couldn't get the text it was supposed to send with the coordinates of where it landed."
In March 2015, a hiker in Arioza found the GoPro and the attached phone in the dessert near the Grand Canyon. The hiker happened to be an employee of phone provider, AT&T, and managed to contact one of Chan's team using information on the sim card.
Chan said: "She was able to call my friend Ved, and we got the footage and data a few weeks later. We couldn't believe it.
"We're blown away by how many people love the video. I've got message from people saying they've put it on their desktop, and it's just really great to have such an overwhelming positive response.
He hopes to create more videos in the future. Hopefully next time they won't have to wait so long for the footage.