For Victorian Week on the Great British Bake Off, contestants had to muddle their way through recipes inspired by the past.
Mary Berry even dug out some antique recipe books to help/confuse the remaining bakers.
The contestants got to grips with game pie in the Signature Challenge, marvelled at a tennis cake recipe from the 1800s in the Technical and rustled up their own versions of Charlotte russe in the Show Stopper.
After winning Star Baker last week, Mat struggled with two out of the three challenges during Victorian Week and became the seventh baker to leave the Bake Off tent for good.
Tamal finally won Star Baker this week, despite the fact that Ian received a round of applause from his fellow competitors for the impressive crown he created to top his Show Stopper.
If you felt inspired by the episode, you can make your own Victorian-esque delight at home.
In the above video, Chef Jimenez from the Kent Cookery School demonstrates how to make an indulgent game pie featuring pheasant, venison, rabbit and bacon.
This recipe is a perfect warmer now the autumn weather is setting in, so invite your mates round and open a bottle of red to go with it.
We're sure that's what Queen Victoria would have done.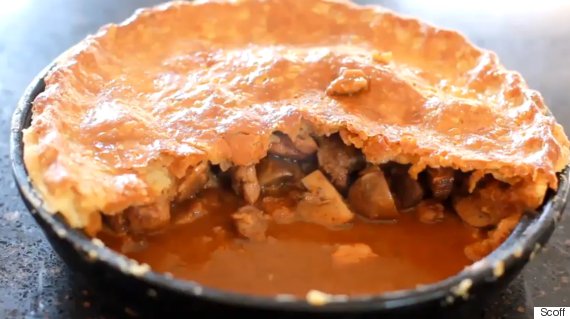 Serves: 8-10 people
Prep time: 45 mins
Cooking time: 2hrs 15mins
Ingredients:
500g diced venison shoulder
1 pheasant (meat only), diced
200g rabbit meat, diced
1 orange
1 tsp fresh thyme
1 tsp chopped rosemary
50ml rapeseed oil
1 pint chicken stock
25g plain flour
1 star anise
2 bay leaves
70ml port
250g chestnut mushrooms
2 slices smoked streaky bacon, diced
1 red onion
1 tbsp tomato puree
1kg short crust pastry
450g self-raising flour
225g suet
2550ml cold water
1 tsp English mustard powder
Pepper
Salt
1 egg
Watch the video above for full baking instructions. On your marks, get set, bake!
SEE ALSO:

Great British Bake Off 2015: How To Make Pear Frangipane Tarts

Great British Bake Off 2015: How To Make The Perfect Crème Brûlée

Great British Bake Off 2015: How To Make Madeira Cake And Black Forest Gateau