Feeling hungry? You're in luck!
HuffPost UK Lifestyle has teamed up with Artimondo to offer four lucky readers the chance to win a gourmet hamper worth £84 filled with Italian delicacies.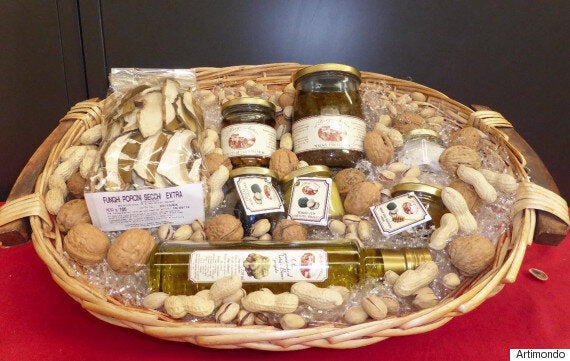 The Alpha gourmet selection hamper is a rich, mouthwatering comprising of porcini mushrooms, truffles, truffle-based delicacies, honey and other specialties typically produced in the Bolognese Apennines area (Italy).
Carefully picked, selected, processed and packaged, completely artisan manufactured to delight even the most demanding palates, these products are ideal for the real connoisseurs, who can fully appreciate the flavour of quality.
This gourmet selection hamper contains:
- A packet of dried porcini mushrooms (Boletus Edulis), 100 g;
- Jar of sliced truffles,180 g;
- Jar of truffle sauce, 500 g;
- A whole truffle in brine, 25 g;
- A bottle of white truffle olive oil, 250 ml;
- Jar of white truffle sauce, 180 g;
- White truffle butter packet, 110 g;
- Black truffle Acacia honey jar, 110 g;
- Black truffle salt packet, 110 g.
This is just one of the items available to buy from the Artimondo website. All products from food to fashion are handmade by Italian artisans - www.artimondo.co.uk.
To enter this fantastic competition, click here and fill in the form by 28/09/2015.
Related