Viola Davis didn't just win an Emmy Award last night in Los Angeles, she also easily stole the gong for most emotional, impressive speech of the night.
The actress became the first black woman to win the gong for Lead Actress in a Drama Series for her role in 'How To Get Away With Murder', and she made reference to this history-making moment with her gracious speech as she collected her award.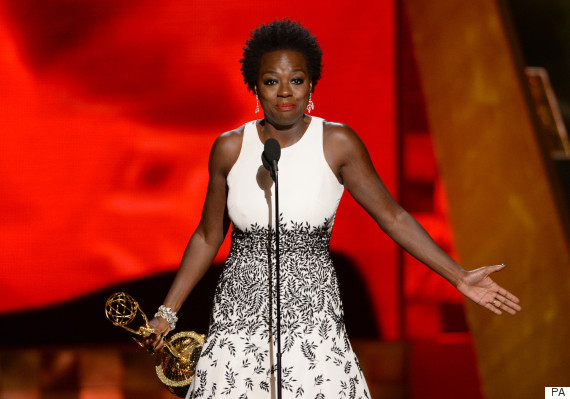 Viola Davis with her history-making Emmy Award
She began by quoting author Harriet Tubman, saying, "In my mind, I see a line and over that line I see green fields and lovely flowers and beautiful white women with their arms stretched out to me over that line, but I can't seem to get there no-now, I can't seem to get over that line...
"The only thing that separates women of colour from anyone else is opportunity. You cannot win an Emmy for roles that are simply not there. So here's to all the writers, the awesome people… people who have redefined what it means to be beautiful, to be sexy, to be a leading woman, to be black.
"Thankyou for taking us over that line."
It was a good night for black women with Uzo Aduba winning for a second time for 'Orange is the New Black' and surprise first-time winner Regina King taking home a gong for 'American Crime'.
And there were triumphs for women in historically male categories of writing and directing, too. The sweeping victory of mini-series 'Olive Kitteridge' included wins for writer Jane Anderson and director Lisa Cholodenko, and the triumph of Amazon's transgender comedy 'Transparent' included a win for director Jill Soloway.
Amy Schumer also won her first Emmy for her sketch show 'Inside Amy Schumer'.
Click here for a list of all the winners...
LIKE US ON FACEBOOK | FOLLOW US ON TWITTER