Aisleyne Horgan-Wallace has offered her side of the infamous row that took place in last night's (22 September) 'Celebrity Big Brother's Bit On The Side'.
READ MORE:
Viewers of the panel show were surprised when filming was suddenly drawn to a halt, following an argument between Aisleyne and former 'CBB' housemate Farrah Abraham.
Although Channel 5 are yet to reveal exactly what the incident entailed, Aisleyne has claimed Farrah was escorted off the panel, when she began throwing glass at her fellow guests.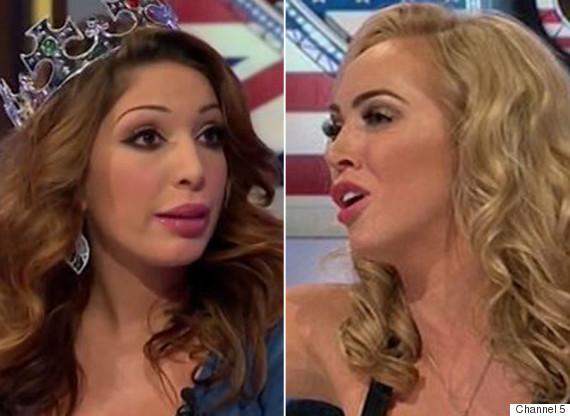 Farrah Abraham and Aisleyne Horgan-Wallace
Explaining what happened, Aisleyne tells The Mirror: "She threw the glass at me. It smashed all over the floor and the desk.
"Because it didn't get me she picked up another glass, threw it and it smashed. She picked up Jenna's glass and threw it.
"Her and Jenna were escorted off the show, while the three of us [including fellow guests Janice Dickinson and Vicki Michelle] were asked to continue on the panel. We sat down to do it but we were all so upset they decided not to continue."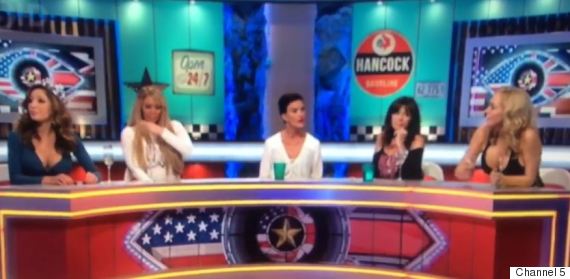 Aisleyne appears to reach for her glass moments before filming is cut
She also owned up to her part in the altercation, admitting she was the first to throw an object: "I take full responsibility that I did throw half a glass of champagne towards her. Yes, I did. But also remember that I've thrown a glass water over Jamie East before on the show. They aired it. It's pantomime. The show is pantomime.
"If I could have foreseen the future and known what she was going to do I wouldn't have done it. She put the two elder ladies in a lot of danger."
"In retrospect I should have realised that she is so unstable... I thought she was going to throw the champagne back at me, which I could have dealt with. To actually pick up glasses and direct them and aim them to try and cut my face…"
It was previously revealed that the incident led to Vicki Michelle - best known for her role in the sitcom 'Allo Allo' - making a visit to hospital, assuring fans she was doing well despite the fact she'd been "bloody hurt" in the altercation.
Following the incident, a spokesperson for Channel 5 explained: "'Celebrity Big Brother's Bit On The Side' was interrupted this evening due to an incident on the set."
LIKE US ON FACEBOOK | FOLLOW US ON TWITTER