Katy Perry once famously sang about kissing a girl and liking it, but that wasn't quite the case when one female fan tried to get amorous with her.
The singer got more than she bargained for when she invited the fan to join her on stage during a gig in Brazil.
The rather over-enthusiastic immediately began hugging and clinging to her hero, before planting kisses on her hand and cheek.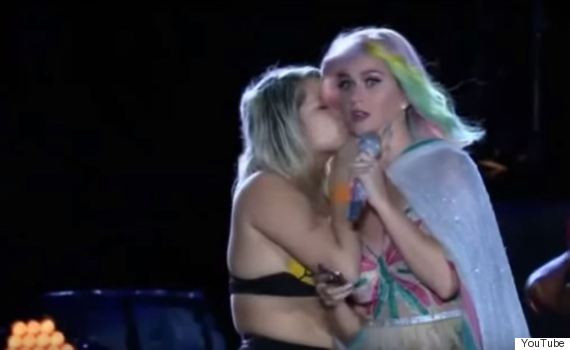 Katy Perry was kissed and groped on stage
"I think she's rolling," Katy told the crowd, before the fan grabbed her face to plant even more kisses.
"Okaaay," Katy said, as she tried to tame her advances.
But not wanting the fan to leave the stage disappointed, Katy gave her a tap on the bum as a parting gift.
Watch the footage in full below...
It was recently reported that the singer had reunited with ex-boyfriend John Mayer.
The pair were allegedly spotted holding hands at the wedding of 'Girls' star Allison William's wedding to Ricky Van Veen.
A source told People magazine that they were "definitely" back together, adding: "John and Katy looked happy. They held hands and sat next to each other during the wedding ceremony."
The couple first dated in 2009, but she went on to marry Russell Brand in 2010.
However, they reunited in 2013, following her split from the comedian, only to call it quits again later that year.
LIKE US ON FACEBOOK | FOLLOW US ON TWITTER