To mark today's 50th anniversary of the Thunderbirds' arrival on screen, Gerry Anderson's estate has published a brand new teaser trailer for 'The Abominable Snowman' - a brand new 'classic' episode of the cult series.
It's exactly half a century since we heard the ominous tones of voice actor Peter Dyneley bringing us the Thunderbirds intro '5 -4 - 3 - 2 -1 Thunderbirds are go', and to celebrate, the team are producing three brand new original episodes, based on audio-only recordings made in 1966, which means fans will get to enjoy the original voices, with some 21st century gadgetry thrown in on screen.
WATCH the first brand new trailer for these new episodes above
Speaking on BBC 5 Live this morning, Gerry's son Jamie Anderson revealed it was quite an emotional moment when he got the chance to watch the new episodes being put together.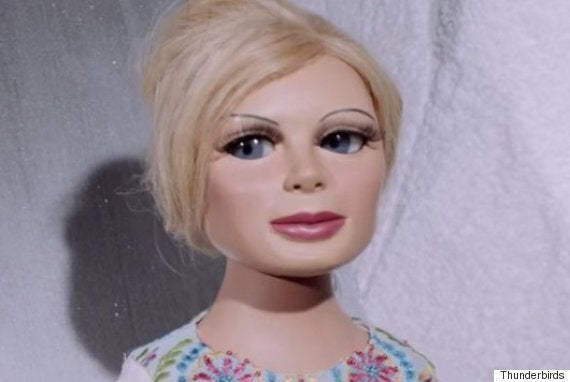 Lady Penelope is back in all her glory
"There are three episodes, the pictures accompanying original audio-only stories released in 1966, so it's the original cast of voices and special effects, adapted ever so slightly for screen," he explained. "They're doing an amazing job. Seeing those scenes come to life… it was quite an emotional moment, really."
He also explained where his late father got his inspiration for the series, recently voted the 2nd most popular ITV show ever in a Radio Times poll.
"Dad was always fascinated with ongoing news stories," he remembered. "Back in 1963, he heard a story about a mining disaster in Germany, a load of miners trapped in mine shafts, and the nearest equipment to rescue them was eight hours away, and he thought there should be a rapid response service or special emergency equipment left in places all over the world, and so the idea of international rescue was born."
And Jamie had his own stab at explaining why the magic of the animation show endures when so many other series have dropped by the wayside...
"It does have a charm and a magic. If you try to distill it down, it's very difficult to break the formula into the most successful parts, but there is something very magic about watching a puppet come to life. Everything says it's not Thunderbirds if you can't see the strings. That is a conscious understanding of what happens subconsciously.
"Initially, you have the feeling of it's just some puppets on strings and I can see the wires, but within a few moments, the puppeteers have breathed life into them, and that causes your brain to take an extra leap of faith than it would normally, and it's that extra level of engagement added onto the cool stuff like all the vehicles and explosions, and it pulls you in, in a special way."
It is well known that Gerry Anderson, who died in 2012, wasn't always the biggest fan of his own creation, however, as Jamie explains, he eventually came to enjoy his own work as much as so many other people...
"Dad wanted to be the Steven Spielberg of his time, he was trying to move away from the puppets," he said.
"Although he initially despised working with the puppets, that in fact forced him to make them better and better. Eventually, by the BBC resurgence in the early 1990s and 2000, that was when he finally felt proud of his achievement."
The TV series was originally shown on ITV in 1965, using a combination of marionette puppetry and scale-model special effects sequences, a hybrid filming technique known as "Supermarionation". Kicking off with 32 original episodes, its success meant it was shown in more than 60 other countries.