Tom Daley has announced his engagement to boyfriend Dustin Lance Black.
READ MORE:
The Olympic diver chose to reveal the news with a small notice in the Births, Marriages and Death section of The Times newspaper, much like Benedict Cumberbatch did with his engagement to Sophie Hunter.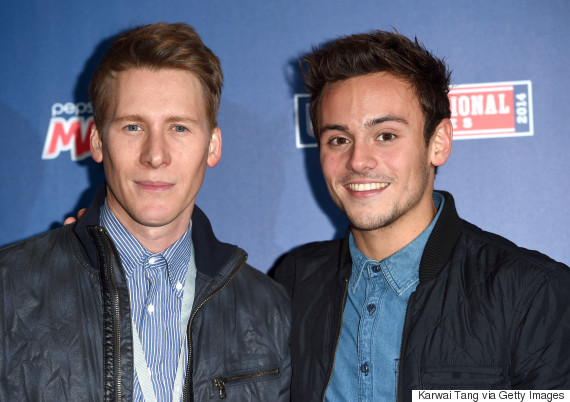 Tom Daley (right) and Dustin Lance Black
The announcement read: "The engagement is announced between Tom, son of Robert and Debra Daley of Plymouth, and Lance, son of Jeff Bisch of Philadelphia and Anne Bisch of Lake Providence."
Olympian @TomDaley1994 and screenwriter @DLanceBlack announce their engagement in The Times #Congratulations pic.twitter.com/YH0kJap4Bd

— Vincent McAviney (@VinnyITV) October 1, 2015
The couple have been together for over two years, after meeting in a London nightclub.
News of their relationship came to light following Tom's decision to come out in a YouTube video in 2013.
He said of their relationship last year: "It really was love at first sight, I'd never felt like anything like it before. He makes me feel safe and happy, right now I couldn't be happier."
The pair recently set up home together in east London to be near the Olympic pool in Stratford, where Tom, 21, trains almost daily.
Dustin, 41, relocated from the States, where he has enjoyed massive success as a screenwriter, winning an Oscar in 2008 for his film 'Milk', and is also a huge LGBT rights activist.
Earlier this year, Tom revealed that he and Dustin are hoping to start a family, telling The Guardian: "It could be in a year, five years, 10 years. I've always loved the thought of having kids… Ideally I'd like to have one of each.
"[Dustin's] very strict at his work, but people he loves, he finds it very difficult to say anything. He wouldn't be able to shout at the kids or tell them off.
"I'd like to think I would be fun, but also try to teach them all the lessons they need to learn, that you don't get anything without hard work – I'd like to pass on the lessons I had in my childhood," he explained.
LIKE US ON FACEBOOK | FOLLOW US ON TWITTER