With the NFL International Series rolling into London once again this weekend and the Miami Dolphins taking on the New York Jets at Wembley, The Huffington Post UK spoke to former All-Pro defensive end Osi Umenyiora, the NFL's new ambassador in the UK, on winning, wellbeing and why he's taking the lead on growing the game in Britain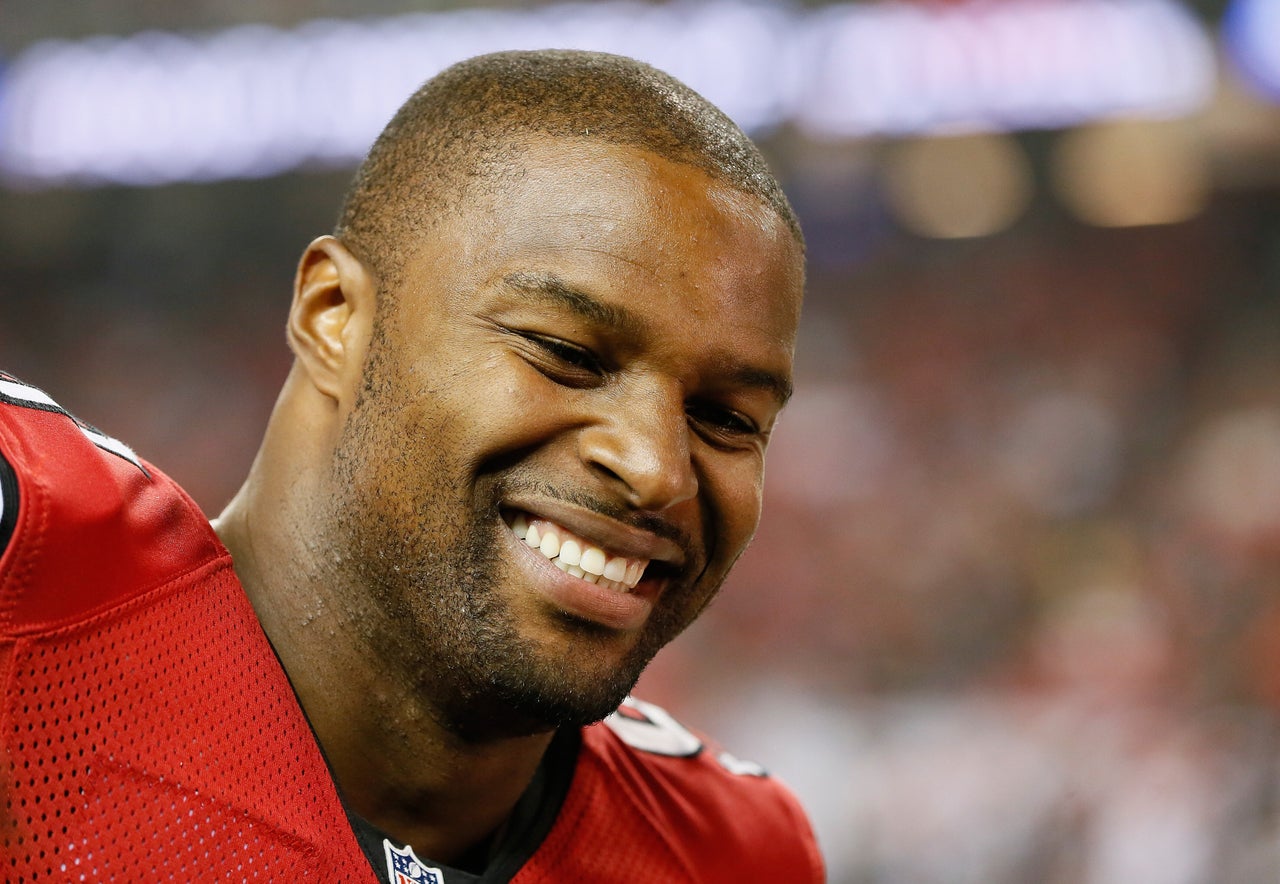 Osi Umenyiora knows a thing or two about what it takes to succeed. Whether it's instantly taking to Alabama high school football after migrating to America in his early teens; or easily earning a college scholarship to a burgeoning in-state college football program; or being drafted 56th overall as a highly-touted defensive prospect in the 2003 NFL Draft; or even winning two Super Bowls with the New York Giants (one of which came in the undoubted greatest upset in the sport's history), Umenyiora has a proven ability to just 'get it' and win, quickly. Now, as the NFL's ambassador to the UK, he hopes to use that talent to transform the most popular sport in America into something more than a niche interest over here.
In many ways Umenyiora, 33, is the ideal candidate for the job. He's evangelical about the game. He's got a winner's pedigree. He's got the charm and enthusiasm to appeal to Britain's diverse range of sports fans. And perhaps most importantly, he was born here.
Born to Nigerian parents in Golders Green, north London, in 1981, Umenyiora spent the first eight years of his life in the capital and has always been drawn to coming back. "This is something that I have dreamed about," he said when first appointed to the role in September. Speaking to the Huffington Post this week, Osi explains that going into broadcasting or coaching - as many of his peers have - didn't hold the same appeal to him.
"I just think that most NFL players try to go the more traditional route, into broadcasting, and I didn't want to just do that. I thought coming out here and actually being on the ground for something that will turn into something special was a better opportunity than just trying to be one of a thousand people who are doing the same thing in America," he says.
"This was absolutely the best option for me."
Expanding the game in an international market is however a unique challenge for a game so used to being embedded in the culture of its homeland. Yorkshire high schools won't be turning out the baying 20,000 strong crowds you regularly see in Texas any time soon, and few British youths are likely to drop dreams of playing up front for England and replace them with hopes of maybe getting a shot in the NFL.
"Initially I saw that all the football players had all the cheerleaders and were the popular people, so I decided I was going to take that route," Umenyiora jokes when asked how he first fell for the game. More seriously, he adds: "I went out there and I was just immediately good at it for some reason - it was just something that came natural to me."
The lure of cheerleaders and being one of the cool kids is hardly a scalable strategy for taking the sport global, so instead Umenyiora says it starts with developing a "grassroots movement" and finding players to help translate or transform American football from being a mere spectator sport. How does the NFL plan to build this "grassroots movement"? Osi has one answer in the other big sporting event in town at the moment – the Rugby World Cup.
"We're looking for rugby players to transform into American football players," he says. "I've actually seen some players who I think would transfer really, really well". Even some players in the England national team, he admits. Any favourites? He hesitates to answer: "I can't talk about that right now, agents might hit me up and start talking money…"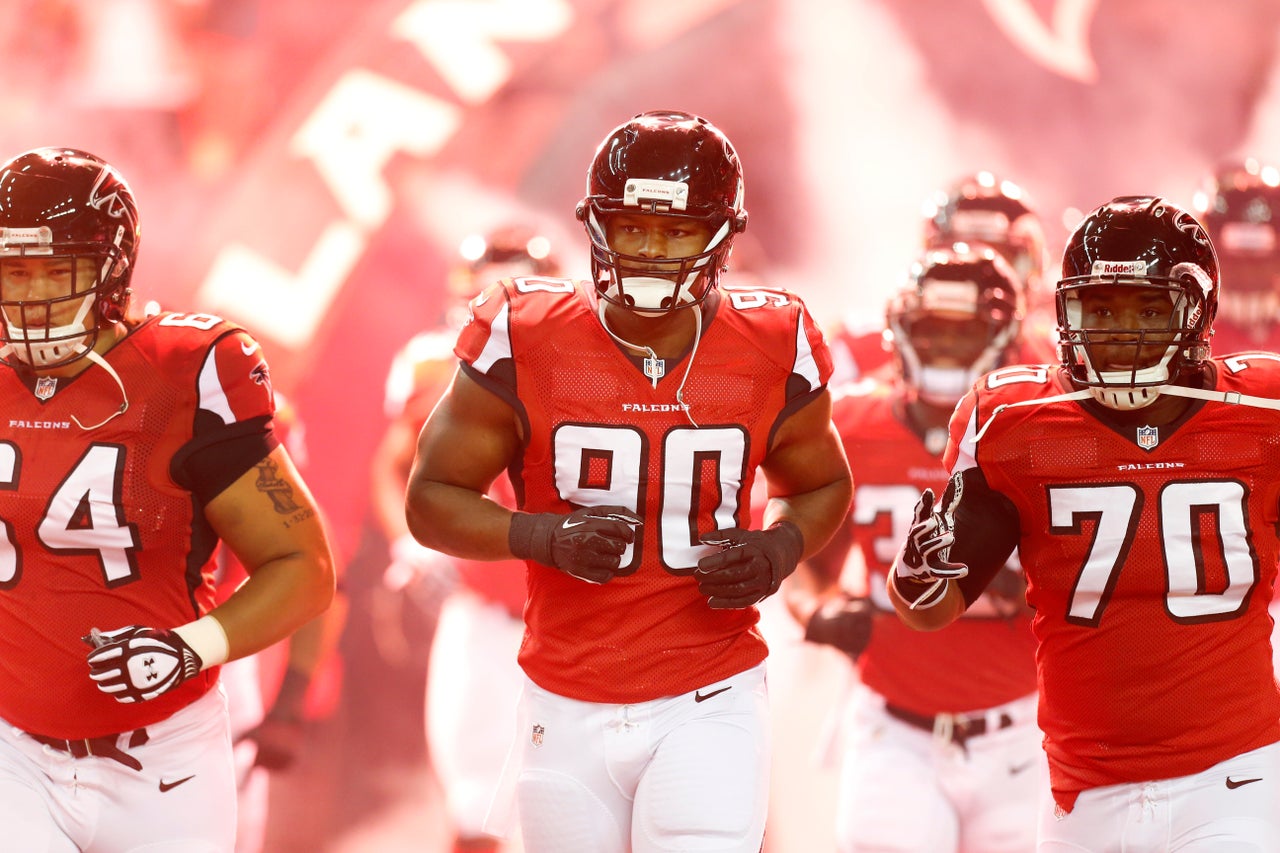 Osi Umenyiora (#90) leads out the Atlanta Falcons in 2014
The NFL already has a compelling test case in Aussie rugby star Jarryd Hayne, 27, who took the brave decision to quit rugby league and try his luck with the San Francisco 49ers this summer. Against the odds he made the team's 53-man roster, serving as a backup running back and kick returner - natural positions for a versatile rugby back's skill set. Intriguingly, Umenyiora reveals that he's already scouted out what he believes to be more athletic - and outright better - players than Hayne who would be ideal fits to transfer to gridiron.
In which case, is Osi convinced we will see more converts like Hayne? He sees no reason why not. He says, matter-of-factly: "It's obviously a better choice than rugby."
It's a bold statement, but certainly arguable.
"It's more entertaining, and a better paying sport if you're able to make it to the NFL. There's a lot more advantages to playing American football than there are to playing rugby… even though rugby is a national past time over here."
The key for Umenyiora seems to be attracting incredible athletes and worrying about the technical skillset later. "That's the difference between American football and soccer," he explains.
"I think that in order for you to be good at soccer, it's something you have to have played and have the technical skills when you're a very young kid, but in American football, as long as you have the athletic talent you can actually go out there and perform at a high level, even after not playing football for so long. That's why we're out here looking for these players who can translate to American football, and we're going to take these players and make them into football stars."
Beside the top-down approach of recruiting the best existing talent, Osi believes there will be further investment in schools and youth programs such as the NFL's Play60 initiative. However, given the league's recent bad rep for the long-term health effects of playing the game, particularly the lasting damage of concussions, it might be hard to spread a positive message and convince parents to let their kids try a new, dangerous - even violent - game.
Umenyiora disagrees. "I played 12 years and I never suffered one concussion in my entire career. I think it's more about the way you play the game. If we can spread better information on how to tackle and not using your head, I think it's not that unsafe a game, if you do it that way."
The ultimate aim of course is a full-fledged franchise in London. Common sense dictates it will be a team with an ailing fan base, stagnating stadium and an ambitious owner willing to take the plunge, but teams fitting these criteria are few and far between.
The St Louis Rams were in the mix but look set to move to Los Angeles at the culmination of this season, leaving regular Wembley visitors the Jacksonville Jaguars the prime candidate. Umenyiora insists the NFL won't create a new team, and first must commit to more games in London.
"We need to increase the amount of games being played here first, maybe get it up to like six, seven or eight games and see how that works out. From there, we'll go to having a franchise."
How long does he think that will take?
"I don't anticipate it being longer than ten years before we have a full-time franchise here… They're going to move a team here. It just depends who wants to make that sacrifice."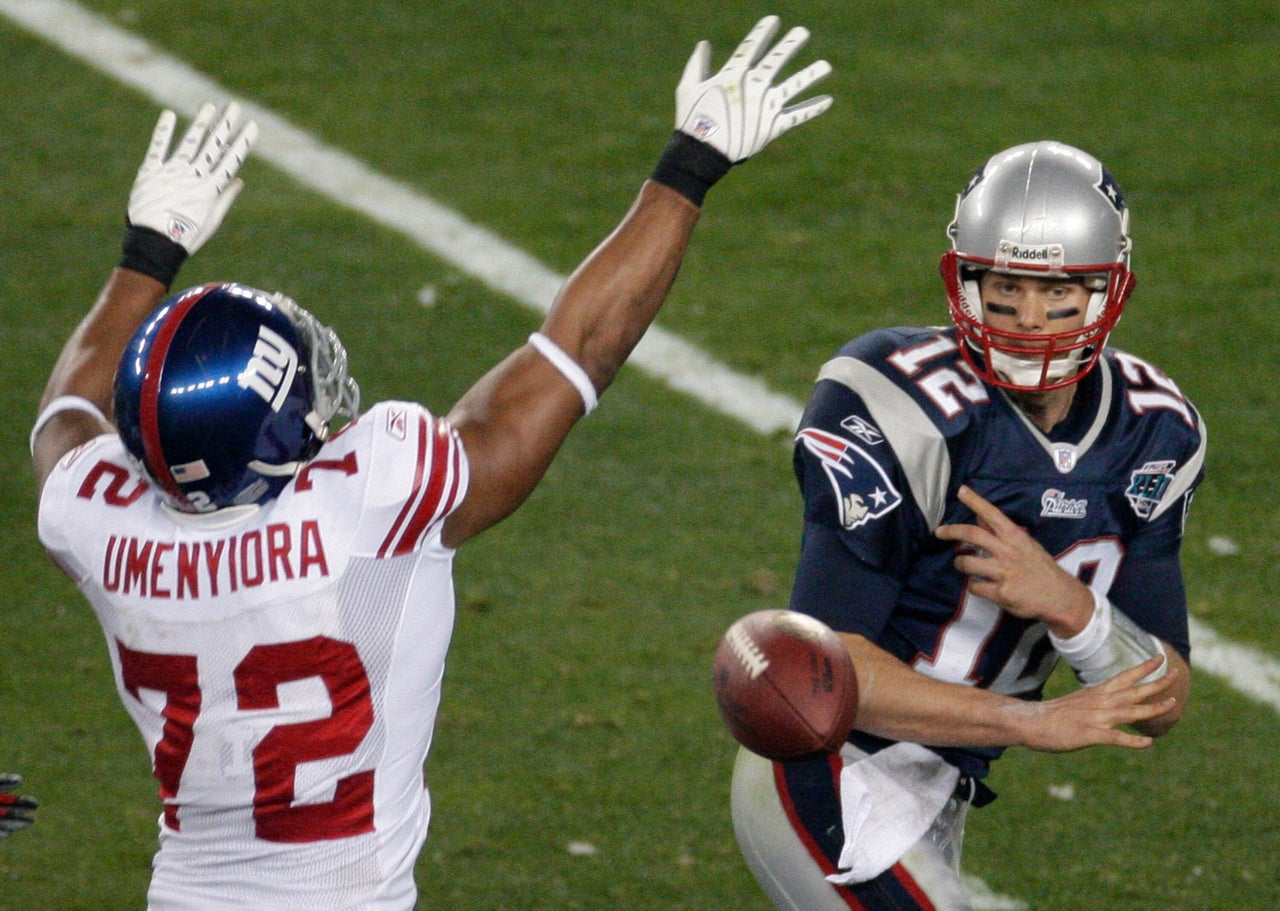 Umenyiora (#72) pressures Tom Brady (#12) during Giants' upset win against the undefeated New England Patriots at Super Bowl XLII
Umenyiora confesses that he would be keen to work with any team that moves here, even if he's unsure in what capacity. "No question about it. I think it's a great story, I think I have a great mind for it, at least I think I do..."
Were he five years younger and in the prime of his career, would he be up for moving his life and family across the Atlantic to play in London? "I would love it. You know, I'm of a different mindset to most people, I like challenges and I like new things. Coming out here and being in a franchise in London as opposed to being one of 32 in America, that attracts somebody like me… I don't know how most other people feel about that!"
Current players, Umenyiora believes, would for the most part feel the same. "It's not like they're moving to Uganda! It's London. It's a different country but it's not a different world. It's a beautiful country and I don't see why, as long as they're making money, they wouldn't want to come out here and stay."
Back to this weekend. Pressed on who to pick in this weekend's clash, Umenyiora says, hesitates. He gets as far as 'Je-' before plumping for the Dolphins. "I was going to say the Jets but I think the Dolphins are the more desperate team. They have to win this game."
Miami's head coach, Joe Philbin, is under plenty of pressure over his team's early record. Offseason hype combined with thoroughly underwhelming play has seen dissatisfaction with Philbin rise dramatically. Umenyiora, though, thinks he won't be left on the Heathrow tarmac should Miami lose in London and slip to 1-3.
"I don't think he's going to lose his job just yet… I think, no matter what, he should at least finish out the season." He agrees, though, that they cannot afford to lose.
"If they lose they're going be in jeopardy of not making the playoffs at all. I don't think they're going to be able to pull themselves out of that hole."
He predicts greater success for the New York Giants, the organisation who drafted him in 2003 and turned him into one of the most-feared pass rushers of his generation. Big Blue sit at 1-2 in a weakened NFC East division, but Umenyiora is unsurprisingly optimistic - "they should be 3-0 right now" – and claims that close losses build resilience.
"The Giants lost two games they should've won. Later on in the season they're going remember what happened and they're going to pull it out."
You can't interview a former pro without asking who they fancy to win it all. Like many, Umenyiora evades committing to an answer. "It's only three games in, you can't tell that right now… Anything can happen and things change so fast in the NFL - it's one of the wonderful things about the league."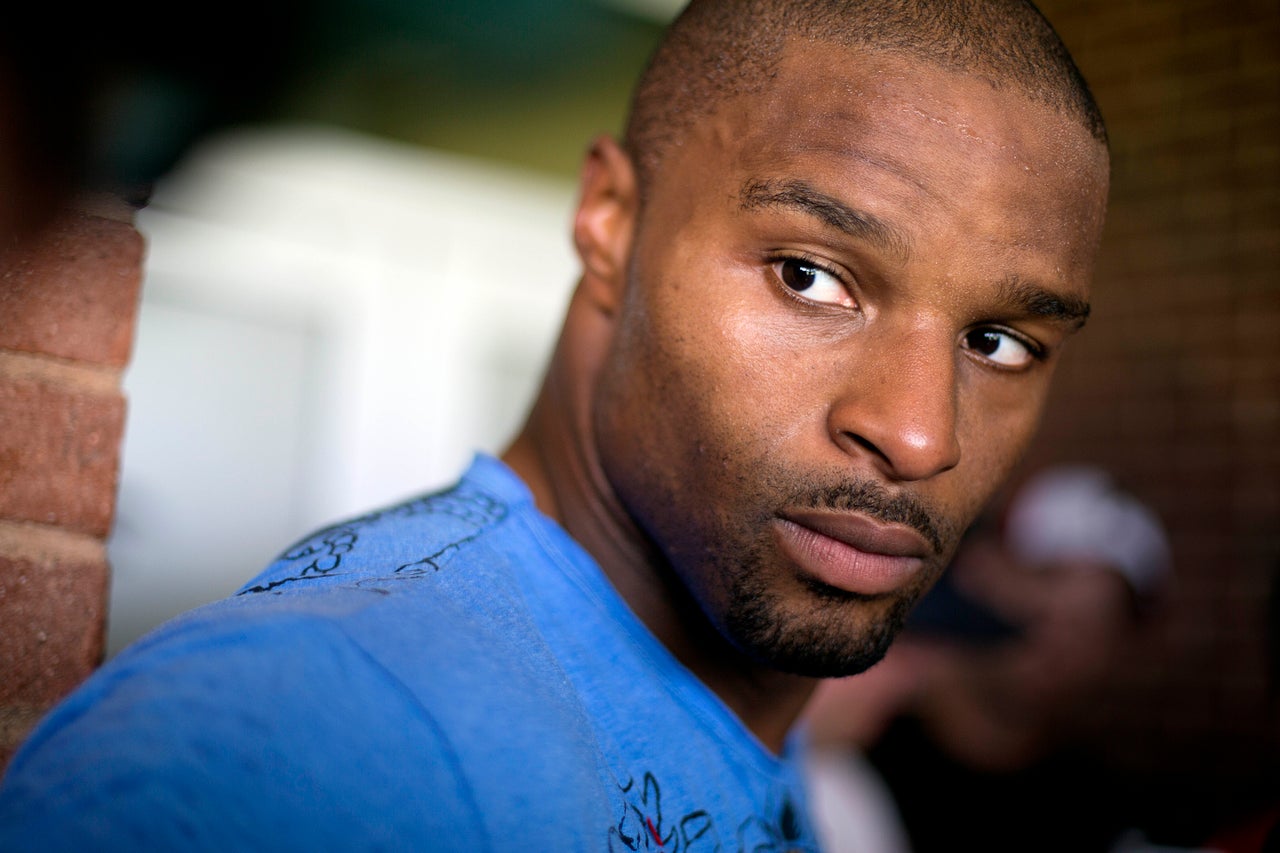 Umenyiora played 12 years with the Giants and Falcons, recording 85 sacks
One of the not so wonderful things about the league is the toll it can take on players' and coaches personal lives. Years of tough mental and physical commitment leave many burnt out and hurt – and that's if they're lucky enough to even sustain a career longer than the three-year average.
Mindfulness and wellbeing are edging their way into the sport, with sports science and sleep science the newest way for teams to find a winning edge. Umenyiora agrees that keeping a balance between one's work and home life is vital to a successful career. Interestingly, he says thinking about the game as little as possible off the field can even make you a better player.
"There's only so much you can study before you become a robot on the football field. I think for the most part you want to keep your instincts sharp and not know exactly what's going on the field all the time… An element of surprise can be good for you because you react a certain kind of way and perform better."
'Performing better' was never an issue for Osi. He credits much of this to "a mindset different to most people" and has prided himself on competing with himself to be the best he could be each day. He plays down masculine competitiveness with his peers being a negative aspect to the game. "You couldn't play looking at the other guys. We all knew it's a numbers game but if you took care of what you needed to take care of, you're showcasing your talents to not only your own team, you're showcasing you talents for the other 31 teams in the NFL. So you look at it like that, and go about your business."
For Umenyiora, however, his true motivation was one that unites us all.
"It was important for me to understand the magnitude of my job… Me being able to provide for my family the way I did kept me focused, and knowing that as long as I performed at a high level I was going to be able to take care of my family. Just thinking of things like that kept me in the game, kept me involved and kept me focused on the task at hand."
The task now at hand for Umenyiora is nebulous, undecided and not as tangible as it was when he was preying on quarterbacks. You can measures success in the NFL with wins, tackles, sacks and Super Bowl rings; but how will he know when he's succeeded in this job? Money, sure, but the ultimate test will be the continuing popularity of the International Series games and the NFL seeing through its mission of putting a team in London. Umenyiora seems in no doubt he will once again be a key role player in his organisation's success.
"The NFL is not in the business of losing money, in my opinion, so I don't think they'd be out here if they didn't think there was a chance of the game exploding out here."