Keira Knightley's Broadway debut was rudely interrupted by a heckler on Thursday night, who was removed by security after shouting at her during her performance.
The British actress is currently appearing in 'Therese Raquin' at New York's Studio 54 theatre, but had a disturbance during her first performance, when an audience member stood up and reportedly shouted at her that he wanted to marry her.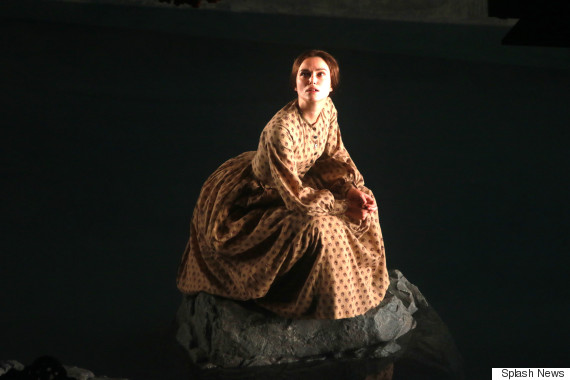 Keira in 'Therese Raquin'
Ever the professional, Keira managed not to break character, but when the man didn't get the reply he so badly wanted, he is said to have shouted down: "Five seconds is too long to wait for a response."
He was then removed by security, with a voiceover telling audience members the cast would be taking a quick break.
One woman, who was in the audience for the performance, tells Broadway World they initially thought the incident was part of the show, admitting: "Audience members that were sitting in my area thought he was part of the cast, and trying to persuade the character to marry him instead of her cousin.
"Then security was buzzing around, and one of them went down to the rail to move the man. He then went and walked up to the last row, which was about 5 rows back, and he sat down. Then, I believe he was still talking loudly.
"Two security people went over to him to physically remove him. He stood up, and then threw the flowers from the last row of the front mezzanine, and they ended up landing on the stage, towards the back."
A spokesperson has told ABC7 that they intend to increase security following the incident, explaining: "Roundabout takes the safety of their actors and audiences very seriously and extra security will be added beginning Friday night. For obvious reasons, we cannot comment on the exact nature of the additional security measures."
LIKE US ON FACEBOOK | FOLLOW US ON TWITTER