A London artist is challenging Britain's porn laws - by building a sex shop made out of felt.
Lucy Sparrow has created a Soho sex shop entirely out of the soft material, featuring painstakingly stitched porn magazines, condoms and penis enlargers.
The British artist is hitting back at prudery and recently tightened pornography laws with her latest show.
As Soho's strip clubs and sex shops are being swept away in favour of trendy wine bars and hipster coffee shops, Lucy has created an exotic emporium with a difference.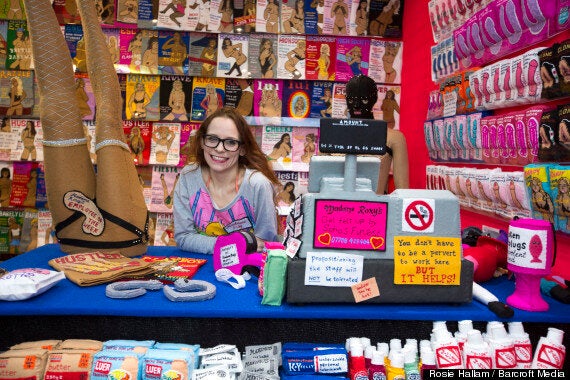 The 29-year-old has spent the past six months stitching more than 5,000 sex products ranging from condoms and lubricants, all the way to S&M bondage gear and Fuzzy-Felt peep shows.
Lucy said: "The piece that took me the longest was Rob, the felt covered gimp mannequin, complete with mask, appendages and knee high boots - he took me three-days to complete.
"The individual condoms and their accompanying vending machine are a delight because I don't think anyone's expecting me to go into that much detail but sure enough, you put £2 in the machine and you get a little glittery condom in a packet.
"You can also win a prize if you find one of five rainbow glitter condoms too."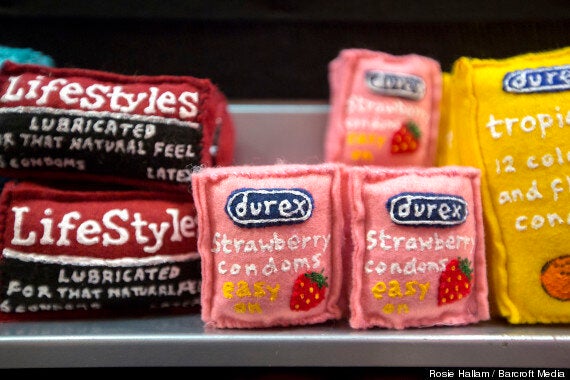 In December 2014 Britain introduced a controversial law restricting types of online pornography with the prohibition of the depiction of practices like face-sitting, female ejaculation and caning.
Lucy earned money to launch her art career through lap-dancing, and has revisited the adult industry for her latest creative project following the success of her previous works Cornershop and the Warmongery.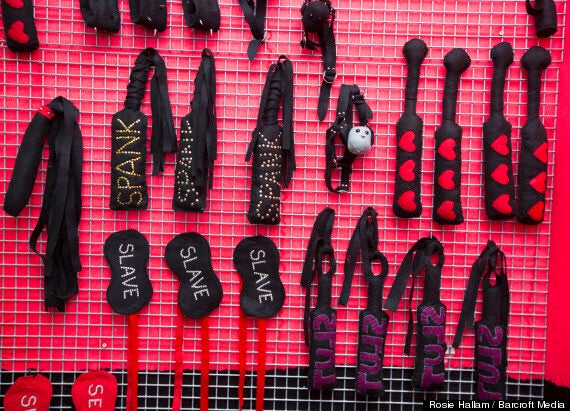 "I wanted to challenge the rights of sex workers, fetishists and consumers of porn with the creation of a complete sex shop which, were the exhibits not made from felt, would be illegal," Lucy said.
"As a former worker in the adult industry, where I earned money to launch my art career, I wanted to revisit this past and make a comment on the increasingly prudish attitude towards sex workers and adult entertainment.
"The show gives the opportunity for those who know little of the sex retail industry to satisfy their curiosity without the need for floor-length trench coats and dark glasses."
From 7-17 October members of the public over the age of 18 can visit Madame Roxy's Erotic Emporium on 2 Green's Court, Soho, London, free of charge and purchase the artworks.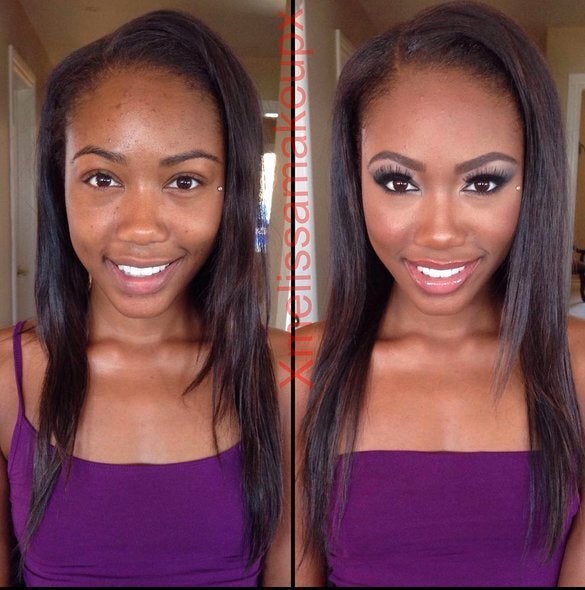 Porn Stars Without Makeup
Related