That can mean only one thing: A deerstalker. And sure enough, Watson makes sure of it, telling his friend, "You're Sherlock Holmes! Wear the damn hat."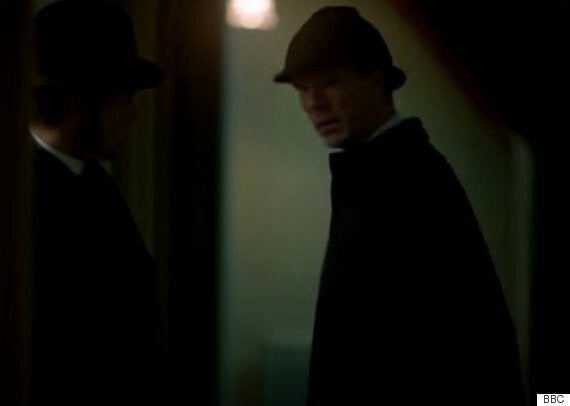 While it is as yet unclear exactly how they have departed the contemporary environs of Baker Street, it appears from what we've seen that they are on a simultaneous mission to solve a crime and delve back into Sherlock's past, to visit his "ghosts that define our every sunny day".
In the trailer, which sees the pair travelling to a house of great, misty, gothic dimensions, Holmes talks of suicide missions and war, and appears even more haunted than in previous series, when he was facing off his great enemy Moriarty, who has yet to make an appearance, but of course, we know it's only a matter of time...
"What made you like this?" asks Martin Freeman's Watson. "Nothing made me," says Holmes. "I made me."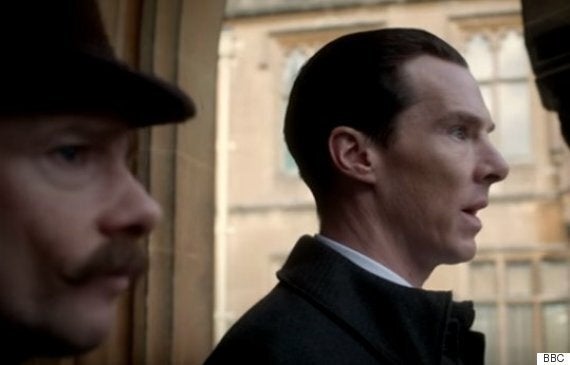 Benedict Cumberbatch appears a haunted Sherlock in the new trailer
Fans will be relieved to see these two back on screen together. It is becoming increasingly difficult to pin down the lead actors, along with the in-demand writing team of Steven Moffat and Mark Gatiss. While the latter also have their 'Doctor Who' duties to juggle, Benedict Cumberbatch's star continues to rise on the big screen, as well as his record-breaking run on stage with 'Hamlet', while Martin Freeman has also had huge success with the 'Hobbit' trilogy and more recently in hit TV series 'Fargo', based on the Coen brothers' film of the same name.
'Sherlock' is expected back on screen soon. Meanwhile, Benedict Cumberbatch is one of those homegrown talents in a new video by the Arts Council, celebrating the country's creative diversity. See him in action below...
Related