You're way past trick or treating, apple bobbing has lost its appeal and no one's throwing a fancy dress party... but you're still too young not to give a witches' teat about the whole thing.
The question of what the hell to do as a fully functioning adult on Halloween can be a toughie, but it turns out there's a whole load of fun stuff that doesn't involve annoying strangers or egging people's houses (who, us? never).
Check out our pick of the coolest things to do in London this Halloween:
Halloween Afternoon Tea at the Corinthia Hotel London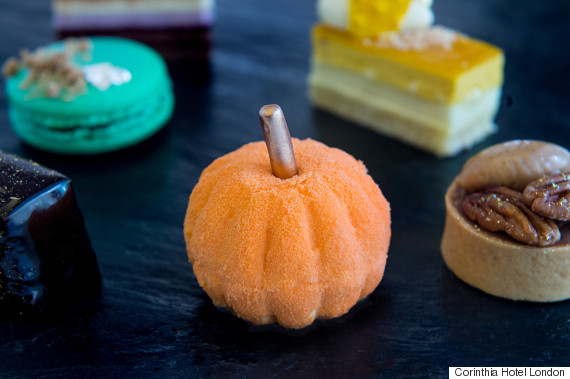 The luxury Victorian hotel has something spooky brewing this autumn with a new twist to their legendary afternoon tea. The revamped menu includes ghoulish delights like mini pumpkin compôtes and woodland forest-inspired mousselines. Who knew Halloween could feel so fancy.
From £50 per person and available from 26 October to 1 November 2015. Corinthia Hotel London, Whitehall Place, London, SW1A 2BD
Temple Cinema at the Andaz London Liverpool Street Hotel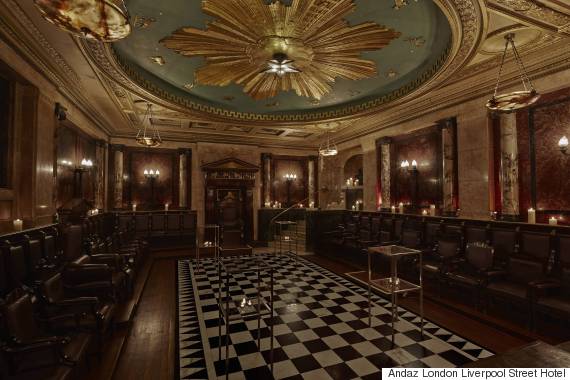 The East End Film Festival and Andaz London Liverpool Street are teaming up again to host the return of Temple Cinema - a series of screenings in the hotel's eerie, hidden Masonic Temple. This year brings another line up of classic chillers over the Autumn - such as Halloween, The Omen and The Exorcist. Prepare to be scared.
Tickets are bookable via Design My Night from £15 per person. Masonic Temple at Andaz London Liverpool Street, 40 Liverpool Street, London, EC2M 7QN
Baby Girl Halloween at the Queen Of Hoxton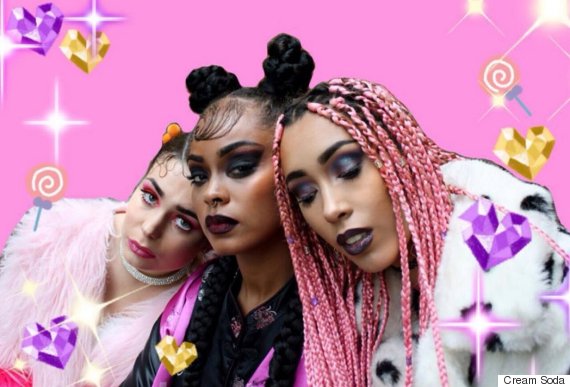 The Cream Soda Girlz are taking over the hip east London venue to bring you a Halloween-themed evening of hip-hop DJs, free manicures by Imarni Nails and hairstyling by Keash Braids, so you can party whilst being beautified.
29 October 201 9pm – 2am, Guest list only: RSVP to info@creamsodagirlz.com. Queen Of Hoxton, 1 Curtain Rd, London, EC2A 3JX
Haunt Couture at Drink, Shop & Do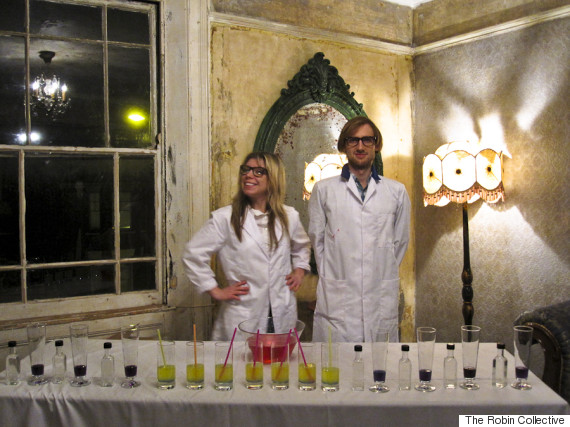 Not got your Halloween costume sorted yet? Don't fear! The Robin Collective are on hand with their costume crafting competition. Channel your inner Edward Scissorhands with their DIY session set to a soundtrack of creepy disco tunes. Warning: there may be dance offs involved.
15 October, from 7pm. Tickets are bookable via Design My Night, priced at £8 per person. Drink, Shop & Do, 9 Caledonian Rd, London, N1 9DX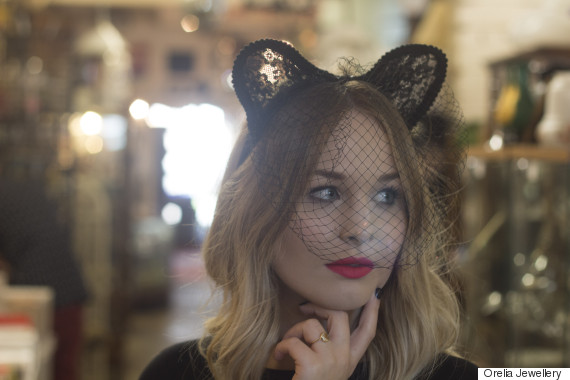 Topshop's Oxford Circus store looks set to become the ultimate Halloween pre-party destination. There'll be Topshop Beauty makeovers, free gifts with purchases over £75, Halloween-themed Lola's cupcakes, hair stencils by Bleach and temporary tattoo applications by Oreilia. Street teams will also be handing out Topshop trick or treat sweets for the chance to win prizes.
Friday 30 October – Saturday 31 October. Topshop, 538-540 Oxford St, London, W1C 1LS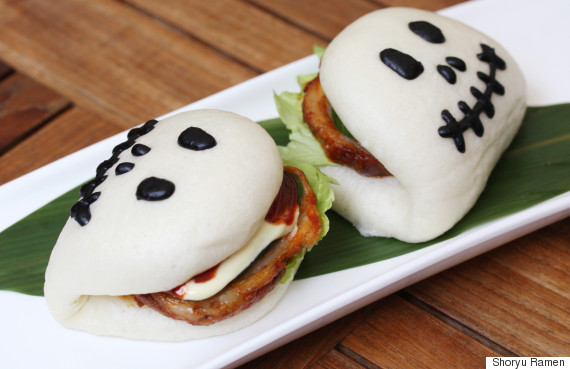 We're not sure Halloween and Japanese food have ever mixed before but Shoryu Ramen are about to launch a massive game changer. Feast on Ghost Buns and Dracula Ramen, decorated with cute ghost faces and completed with a delicious filling of your choice, or try the must-have Dracula Tonkotsu with caramelised black garlic mayu.
Available from Saturday 24 - Saturday 31 of October at all Shoryu Ramen branches.
Halloween cocktails at Quaglino's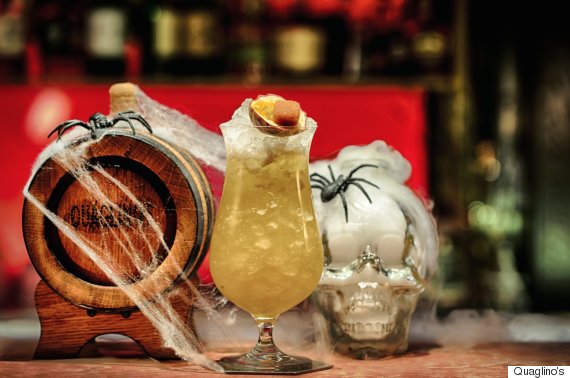 Escape the bustle of typical All Hallows' Eve events by slipping into one of Mayfair's finest brasseries for a cocktail. This October, Quaglino's are introducing a spooky selection of classic drinks with a Halloween twist. Start your weekend with a flaming Zombie, a bittersweet Green Monster or a Bloody Alexander. Trust us, these could wake the dead.
Halloween cocktails are priced at £12.50 each and available from 26 - 31 October. Quaglino's, 16 Bury St, London, SW1Y 6AJ
Vampire Frappuccinos at Starbucks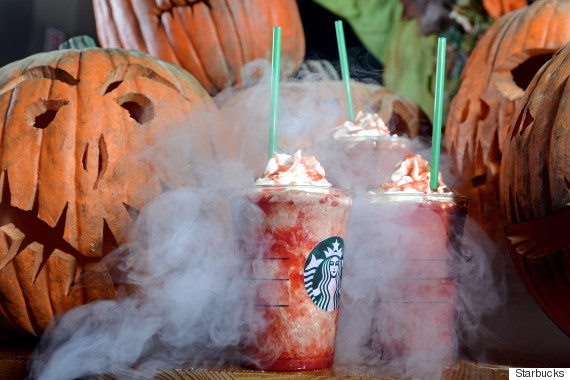 Those off the sauce this Halloween can grab a different kind at Starbucks - a strawberry sauce crème based mocha concoction to be exact. The coffee store is teaming up with The Dungeons to create an eerie in-store experience, including the launch of their special edition Vampire Frappuccino.
Available from 26 October – 1 November at selected Starbucks stores in the UK, including 99 St Martin's Lane, London, WC2N 4AS
SEE ALSO:

This Makeup Look Takes Halloween A Little Bit Too Seriously...

Groans Ensue As 'The Dress' Is Turned Into A Sexy Halloween Costume

This Double Vision Halloween Makeup Tutorial Will Trip You Out