Trick or treating might be the obvious choice of activity when celebrating Halloween with your kids, but there's a lot more you can do with the day if you're not a fan of knocking on doors for sweets.
We asked our HuffPost UK Parents community their thoughts on trick or treating, and many were not keen on the traditional celebration.
Some parents said they did go trick or treating, but they imposed certain rules - "We only ever go to houses we know or those with decorations" - but others didn't agree with taking their children out on the hunt for sweets at all.
One mum wrote: "I have never let my children go trick or treating. You spend time teaching them not to talk to strangers then encourage them on this one night. Even if you know your neighbours your children may not."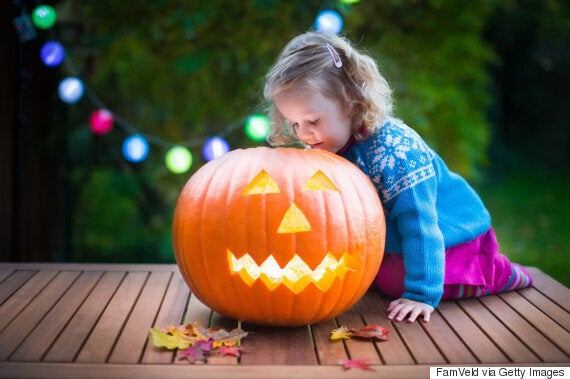 Another added: "We'd go to parties, or events at school or nursery, but never knocking on strangers' doors."
So if you're keen to celebrate but would prefer to stay indoors, here are nine other ways to make the day special for your children.
Blogger Wendy Keniwell doesn't take her children trick or treating and has created a long tradition of something completely different: a spooky tea.
She said: "We buy a scary tablecloth (this year it's a spider's web) and we've bought a jelly mould in the shape of brains so that we can make a jelly brain for dessert.
"The main course will be something like witch fingers and some monster mash (mashed potatoes with peas mashed in for a nice green colour…)."
To add effect to your tea, why not dim the lights, light some candles and have some creepy music in the background.
2. Pumpkin carving or decorating.
Depending on the age of your children, carving pumpkins could either be really fun or a big disaster.
If your kids are older and have patience and a little bit of concentration, buy some pumpkins and work with them to create funny faces (here is a carving tutorial).
However, if your children are a little big younger then why not do pumpkin decorating instead? Watch the video below for inspiration.
3. Halloween-themed story time.
A simple solution is to turn the time you'd normally sit down and read books with your children into a spooky-themed story time.
Find books with characters that are fitting for Halloween - monsters, witches, spiders. Popular titles such as Room on a Broom might not be directly related to the holiday, but could be fit the theme.
Dim the lights and maybe light some spooky fairy lights to set the scene.
4. Gingerbread ghosts and pumpkin cupcakes.
There are tonnes of baking ideas that can be adapted to incorporate a spooky theme into the session and well, lots of kids love to bake.
An easy option would be to buy ready made fairy cakes and coloured icing - orange, black, white and green, then decorate the buns by drawing pumpkins, ghosts and similar creepy characters.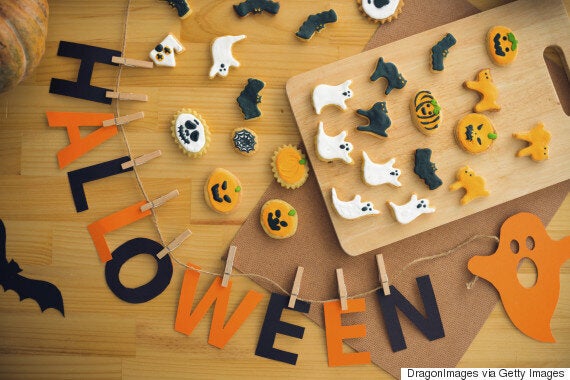 6. Halloween house decorating.
Kick start celebrations by decorating your house and getting your children to help, before you indulge in a spooky tea (number 1) or some themed games (number 7).
Although it's easy to pick up low-cost decorations in supermarkets or pound shops, you can also use what you have at home already.
How about a mummy door? Wrap a door from top to bottom with toilet roll, leaving some gaps and stick two goggly eyes on the front. It should look a bit like this.
Or you could make some light-up balloons by putting small LED lights in them before you below them up. Stick faces on the front to look like ghosts - voilà.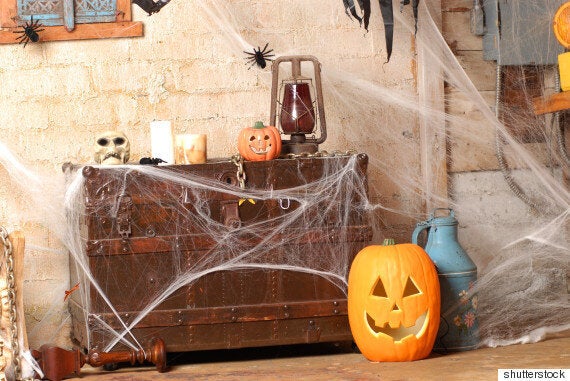 7. Apple bobbing and other games.
Liven the night up by playing some Halloween games - there are classics such as apple bobbing and slight twists on more traditional games such as, "What's the time Mrs Witch?".
Apple bobbing is always a winner - get a big bowl of water and drop in apples for the children to grab with their mouths. Ask them to keep their hands behind their backs and dive in face first to grab the apples with their teeth.
Or how about pass the pumpkin? Find a small-ish pumpkin and hollow it out to put a prize inside. When the music stops, the winner lifts the lid and gets the prize. This will work even better if you've decorated your house, but it's easy to run a treasure hunt and theme it accordingly. Hide goodies or sweet treats around the house or garden.
The bags children usually use to collect sweets when they go trick or treating can be used to collect all their goodies in.
Make it a bit harder by having clues to take them to each hiding spot where the treats are, adding a little bit of spooky-ness to them.
The reason we've left this to the end is because it could potentially involve all of the above.
If you have the time (and energy) to plan a little party for your children, their friends and other children on the street, it's a great way to keep them indoors, but still enjoy the fun of Halloween.
Have a spooky tea, play some apple bobbing games, have a costume contest and bake some tasty treats.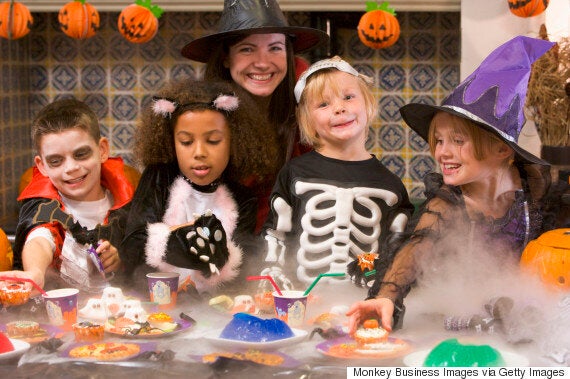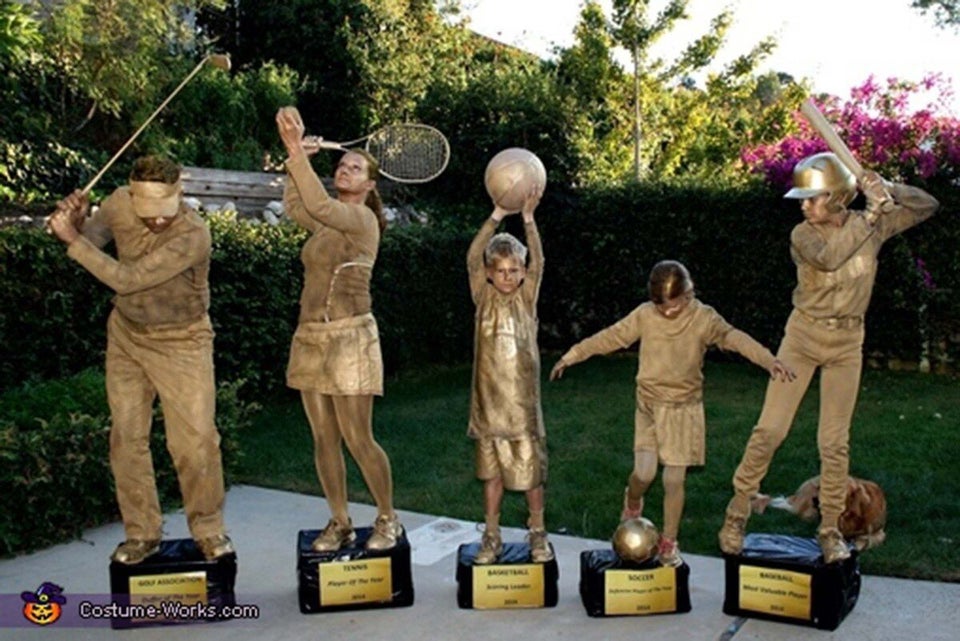 Family Halloween Costumes