The touching moment a woman hears for the first time in 28 years has been captured on film.
Jody Parcel, 30, had a cochlear implant fitted so that she could hear the voices of her three young children, as well as her wedding vows to fiancé Jeremy Carne.
Parcel is filmed just as the implant is switched on, her face is a picture of excitement and disbelief.
Parcel, who is from Rhondda Cynon Taf in Wales, started to go deaf when she was two years old but doctors couldn't understand why.
Over time her hearing deteriorated rapidly and throughout the past seven years she found that hearing aids no longer helped.
"I realised I was getting worse when my three-year-old started talking," she explained.
"I knew I couldn't hear or understand him as much as I did with my oldest. It was heartbreaking and I knew I had to undergo this procedure for my family."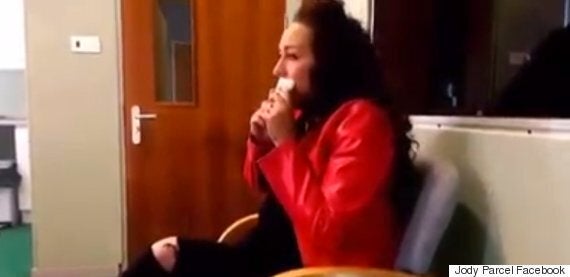 Writing on Facebook, she said that she was nervous to post the video online because of the high expectations for her to be able to hear everything first time.
"Us in the deaf world would have all seen the damn videos of the 2% of people who have immediate success on activation day but none of the 98% who don't," she said.
"I'm not saying it was unsuccessful, I've just got a long way to go."
Parcel had the implant fitted on her 30th birthday back in September. She then had to wait four weeks for it to heal before she could have the external part added.
Despite the long, drawn-out process she said it's been 100% worth it to hear her children for the first time.
She explained that her ear will now need to train "like an Olympian" to be able to differentiate noises properly.
"My brain needs to stimulate these sounds I haven't heard for 28 years and make new pathways," she wrote on Facebook. "I have to go back to the hospital over the next few months to be tuned and gradually introduced to this noisy (and I mean really noisy) world!"
Parcel said she also has a tick list so that when she can understand a sound, she will tick it off.
"I'm amazed at all the noises I hear even though it all sounds the same! Everything just seems impossible to me at the moment, like trying to focus the lenses of a camera on a moving target," she said.
The mum-of-three has likened her hearing journey to learning to walk again.
"If you haven't walked for 28 years then the ultimate goal would be to run," she told Wales Online. "So when you try to stand up after all those years you will be able to stand for maybe a little bit, but day after day you will get stronger and stronger and pretty soon you will be able to walk. That would be the same as hearing, it's a process and a journey."
Her wedding is booked for next September.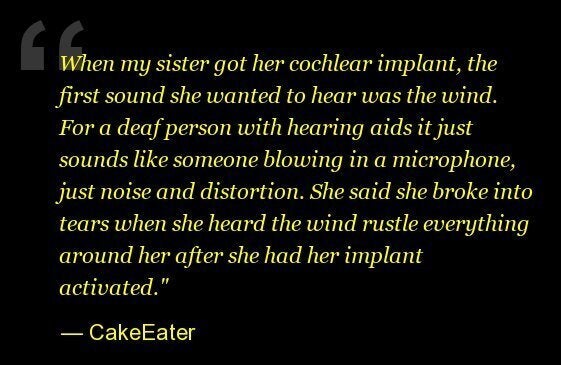 11 Sounds Deaf People Would Love To Hear