University College, London is to hand out almost £100,000 to students who have been campaigning, protesting and striking over rent for the past seven months.
Students claimed they had to live in "unbearable" accommodation and endure "constant" noise and pollution from building works, rodent infestation, poor facilities and unsanitary conditions - which they say impacted the quality of their life, as well as their exams.
All 87 of the former residents of Campbell House West were compensated with the full £1,368 they had demanded from the university - equivalent to a term's rent.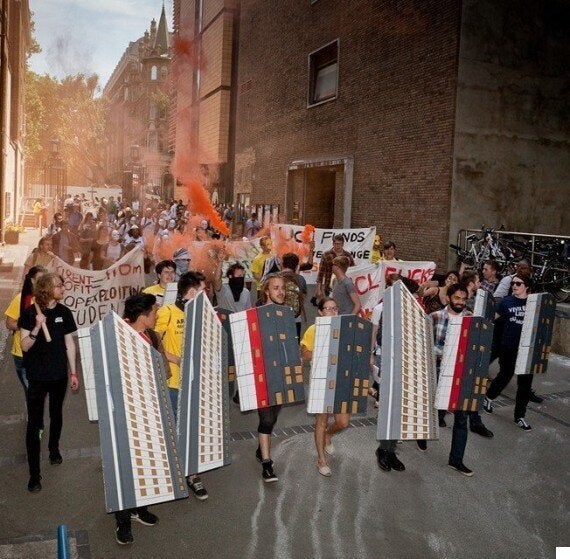 UCL students protesting against living conditions
In May students who embarked on a rent strike were threatened with exclusion from the university, but this action was later deemed to be both illegal and in contravention of UCL policy.
Speaking to The Huffington Post UK, Jamal Rizvi called it a "huge triumph" for all those involved in the strike.
"We started out just trying to make our opinions heard - standing up for the little guy. I met with the Head of Accommodation at UCL.. and I compiled documents evidencing the decibel levels that we suffered throughout the halls. We all did things to contribute to the cause, and now we have won.
"As much as the compensation is of course a lovely reward, the true prize is that we have changed things for students at UCL for the better, and for always."
Fellow striker Kieran Howard added: "I'm pleased that after months of campaigning we have been able to get what we sought after, which was not only compensation for the students affected but an admission of fault from UCL and an apology for the sub par accommodation.
"I am still disappointed that the process took so long and we didn't get any response from UCL until we refused to pay and they were financially affected. However we have the outcome we wanted and I am happy that we have changed UCL's attitude towards dealing with complaints from their students."
Professor Anthony Smith, vice provost of the university, wrote a letter to the students which read: "On behalf of UCL I would like to apologise for the experience that the student residents of Campbell House West faced during 2014-15 and I would like to reassure you that UCL takes its responsibility towards its students extremely seriously and values highly its relationship with the student body.
"As such I am sorry that on this occasion the students' experience did not match their or our expectations."
Giulia Gandolfo, a second year Information Management student and rent strike participant said: "It's great to hear that the effort of all those who were involved in the protest have finally paid off. I feel that we have finally achieved a fair compensation."
Angus O'Brien, current UCL Union Halls & Accommodation representative, added: "Despite the clear, devastating effects on the residents' daily life, studies and overall quality of life, no effective preventative action was taken by UCL - its priorities lay not in the education and well-being of the students but the monetisation of the estate."
Related