'Downton Abbey' promised us some shocking scenes in this Episode 5 of the final series. And so we got them... Lady Mary in a pub.
Actually, these shockers came courtesy of a cringeworthy dinner party, attended - under sufferance as it turned out - by Health Minister Neville Chamberlain, powdered up to the eyeballs, one of which was firmly on the drinks trolley.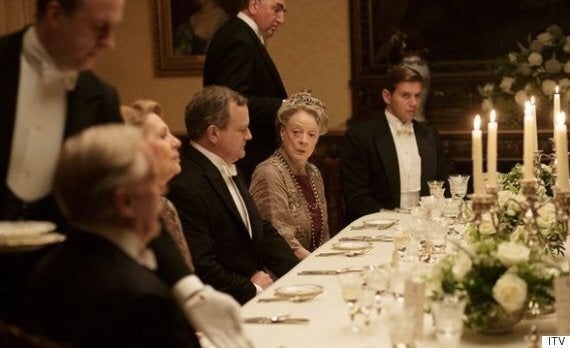 Downton Abbey delivered on the promised 'shocking scenes' in Episode 5
The good news was, we were spared any more local hospital talk. The bad news, the dinner party was only brought to an ubrupt end when Robert, who'd clearly had enough on the subject, projectile-vomited blood across the dinner table and immediately went into a 'Kiss me, Hardy' farewell speech to Cora, before being carted off to hospital, which - guess what - had the resources to treat a burst ulcer with an emergency gastrectomy. Which kind of proved the Dowager's case after all. Why modernise?
Were you shocked by the events of Downton Abbey this week? Let us know below...
Instant reactions on social media to the shocking moment, complete with everyone's stunned reactions on screen, proved that 'Downton Abbey' still has the power to deliver a genuine surprise, most welcome as more and more storylines appear to be wrapping up ahead of the show's finale at Christmas.
As it turned out, even this most anticipated plotline of the whole series was fluffed, when a glum Carson, looking more like a creaking Nosferatu than ever in his tails and tights, took the telephone call from the hospital. To a gathered stuff in the gloomy mansion, he announced... that Robert was resting, and it was all going to be fine. And the whole thing only took five minutes!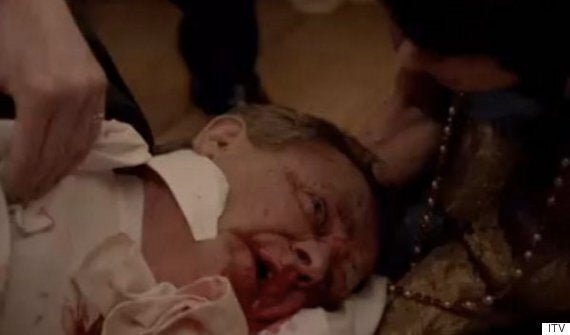 Robert thought his end was nigh when his ulcer burst... all over the dinner table at Downton
Which means, oh horror, this series' only suspense has already been sorted and, double horror, those interminable discussions about the hospital's future look set to resume.
In other news, this week's best lines...
"He's a good man, and I hear pigs are his speciality."
- Sadly for Mr Mason, Lady Mary's own speciality has moved on, to motor cars.
"He helped me get the magazine out during my night of terror."
- Two whole minutes, Edith, we had two whole minutes before you had to mention it…
"I'm surprised you've got the nerve to speak to me, throwing over my lady…"
- Is Denker being very progressive, shouting at the Doctor in a public place, or very servile? Or just a rule unto herself?
"I am interviewing possible editors…"
- *smashes head on remote control
"We'd like to discuss the pigs. Can we go outside?"
- That's not talk for the delicate ears of Mrs Patmore and Daisy
"What does he paint?" "The young men of Tangiers… scenes of local life."
"There's no such thing as slow motor racing, and there's no such thing as safe love."
- Don't take your eyes off that man.
"If I withdrew my acquaintanceship from everyone who had spoken ill of me, my address book would be empty."
- That's 'contacts' for anyone under 55.
"He may have assimilated in some ways, but he still fights playing by the rules."
- Translation: Branson's still common, and not to be harked, is the perspective of that snobby lady in the hat.
"I've found my new editor and we have a government minister coming to dinner on Friday."
- Okay, Lady Edith, he let you say that all, kissed you AND he didn't even mention the headband. Just marry him, already. A keeper.
"I wonder if you might go through the cooking of it with Mrs Hughes, it's been a while since she's been at the patty-pans."
- Carson had better have some rare talents in the bedroom because, as new husbands go, he's not proving a great catch in the kitchen.
"How did it happen, were you drunk?"
- Gotta love Spratt. Septimus Spratt, to be precise.
"Lady Mary has quite a sense of her own importance…"
"Life is short, death is sure, that is all we know."
- Mr Carson has a philosophical moment, as the future of Downton rests on the blade of a surgeon.
"There's a dinner that delivered more than you bargained for."
- Thankyou, Mr Branson, that's more like it.
'Downton Abbey' is on ITVPlayer, continues next Sunday on ITV.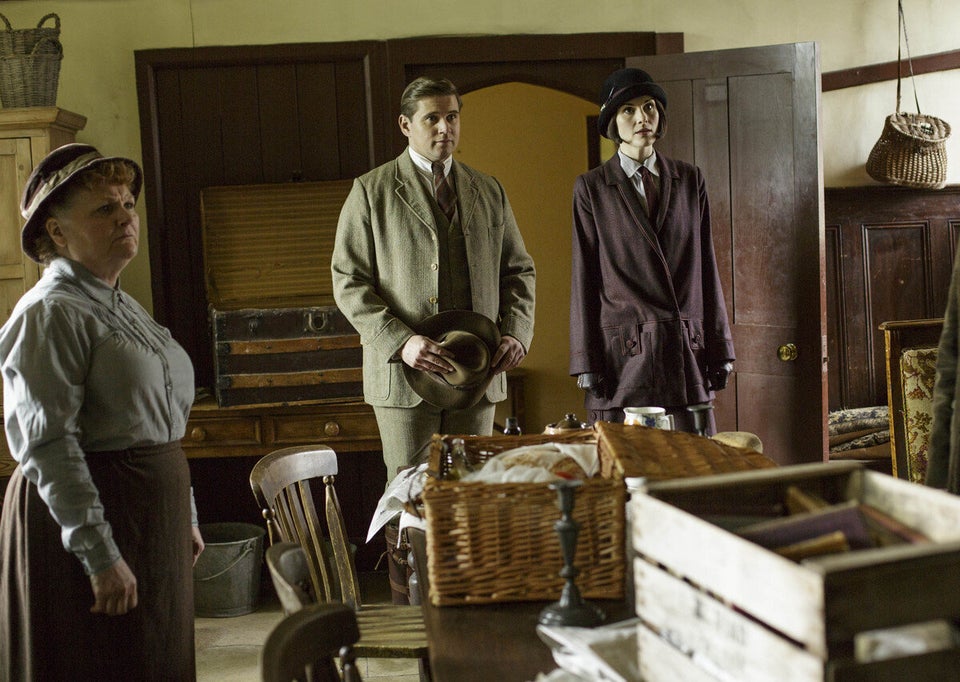 Downton Abbey S6 Ep5
Popular in the Community