Christian Slater may know the feeling of big screen success ('Robin Hood: Prince of Thieves', 'Heathers', 'Name of the Rose'), but TV hits have not come so easily. 'Breaking In' lasted two whole seasons, 'Mind Games' just five episodes.
So he sounds rightly bemused, and uncomplacent, to find himself with a surefire triumph, both commercial and critical, in 'Mr Robot'. He plays the master hacker of the title, a charismatic guru with the means and know-how to recruit a bunch of tireless acolytes, including the show's young star Rami Malek, to perform as cyber vigilantes and work towards anarchy.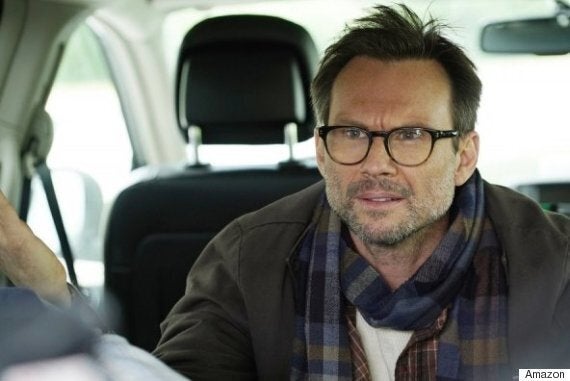 Christian Slater plays Mr Robot in the Amazon show about cybersecurity and anarchy
The show was so well received online in the US, it was renewed for a second season before its network premiere, and the day before we meet, Edward Snowden has been quoted praising the accuracy of the storyline, yet, as I say, Christian is taking nothing for granted…
"I've had a few different experiences," he says, raising an eyebrow. "Those first failures were, frankly, a healthy lesson, I'm not impervious to things not working. And it's certainly made my appreciation level of something like this happening much greater."
He has already been stung this morning, it transpires, by a journalist intent on revisiting his catalogue of mixed success.
"He mentioned something he'd read on the internet, something people say about me and the shows I've done, it was so rude, and you just think, 'Really, is that necessary?'
"Nobody goes in to make a bad show, you sign on, and so much of it depends on the creator and writer and how involved they are.
"That's been my experience with television. It's out of my hands for the most part, I just show up and try to do the best I can with the material I'm given. It has so little to do with the actors, it's a writer's medium, and I have as much control over what they write as I would with the weather."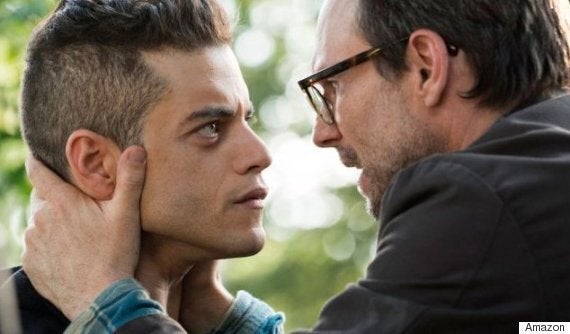 Rami Malek plays Elliot, a young security engineer recruited by Mr Robot for his underground hacker group
Well, this time around, the sun is shining, with Christian having to educate himself and polish his opinions on surveillance and state intervention, for example, Snowden's recent revelations that everybody's phone can potentially operate as a camera…
"It was one of those things you hear about so rarely that you wouldn't really put in the forefront of your mind, it's just a myth, nobody could really use your computer to look at you, and this Snowden guy, he did a terrible thing," Christian starts, acknowledging he was one of the many who never gave this much though.
"And when you start to look a little deeper, educate yourself a bit more, raise your level of awareness working on a show like this, we had experts working with us, introducing us to different software, and I discovered what people can do if they know how to tap those keys inappropriately.
"It's pretty devastating, the internet is a phenomenal tool but can also be a phenomenal weapon of mass destruction."
He's warming up… "If I want to have a private conversation, I should be allowed and feel safe enough to have that? If that's something that's not possible in the world, then that's not the kind of world any of us would want to live in. You have to think it through. I'd like to have the choice in that."
And now he's rolling… "It's different when it's your children though. The tasks of a father are very different now. And people are literally using the internet to take advantage of children. We're battling things that seem inconceivable.
"We're battling organisations and companies that create apps for kids that are designed to hide things from their parents, that's what we're dealing with. It's not cute, it's evil and devious, to the kid and to the parent, it's undermining that beautiful relationship."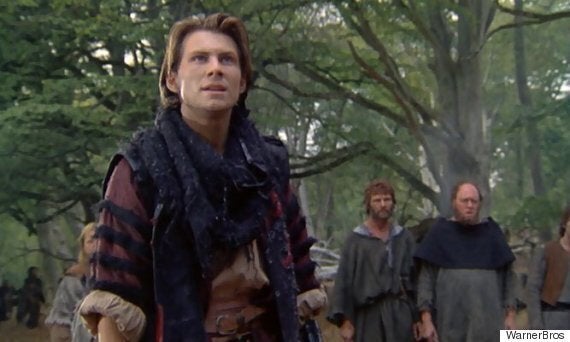 Christian Slater has been a star for three decades, here in 'Robin Hood: Prince of Thieves', but has had his share of duds and disaster
I wonder if Christian Slater, he of notorious headlines in his A-list past that threatened to overshadow his career, has always been this thoughtful?
"Not remotely," he agrees. "I credit my wife and the people around me.
"Eventually you come to a point where you think, do I want to go down this road again? I've been down this road so many times, do I really want to go down it again? Maybe I'll try this other path and see where that goes. It's working out so far. I always have that addendum attached… so far."
As for the show, he tells me that Sam (creator Sam Esmail) doesn't want to overstay his welcome. And the writer has a particular ending in mind that looks like four or five seasons will accommodate. "He's definitely got more a rabbit hole to go down," says Christian of his alter ego. "I think it's going to be an interesting journey."
And the biggest lesson so far?
"Knowing this too will pass, whether 'this' is horrible or great," he nods. "I wish I'd always known that. It's definitely something that I've had to pick up as I've gone along.
"But it can work in retrospect, you look back and you can beat yourself up, or look at it another way. It can be positive or negative, a mistake or a lesson. There are always two choices, a one or a zero."
All ten episodes of Mr Robot season one are now available for unlimited streaming on Amazon Prime in the UK.
Popular in the Community