'EastEnders' actress Lin Blakley has opened up about Friday night's emotional episode, telling Huffington Post UK that the moment viewers saw on screen was actually completely real, as she'd never seen actor Roger Sloman dressed as Christine before.
Lin also revealed what soap fans can expect from the coming months, and sadly, there's bad news for anyone hoping Les and Pam will have a happy Christmas.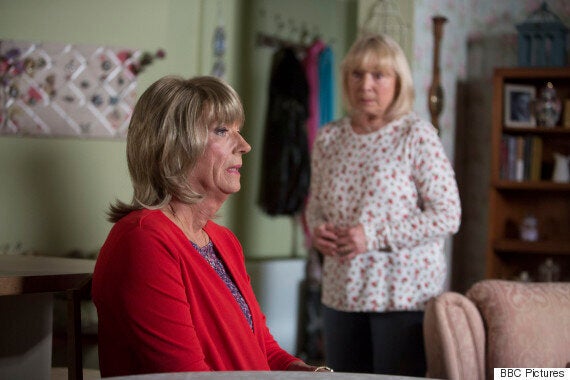 A nervous Pam meets Christine
Lin tells HuffPost UK: "[The scene viewers see, ]That's the first take. I asked if it was possible to do that and they said 'yes, it is, we'll make sure you don't see one another beforehand'.
"As she comes through that door, it's the first time I see her as well as the audience.
"I can remember thinking 'I don't know if want to look at her' and that's when our director said 'don't look straight away, wait until she says something to you'.
"I remember my whole insides shaking. When i first looked at her it did go very silent, and the writers wrote it that so that Christine would be the first one to break the silence, and I remember looking at her and not believing that it was Les.
"It had to be real. We wanted to hear a gasp from everybody."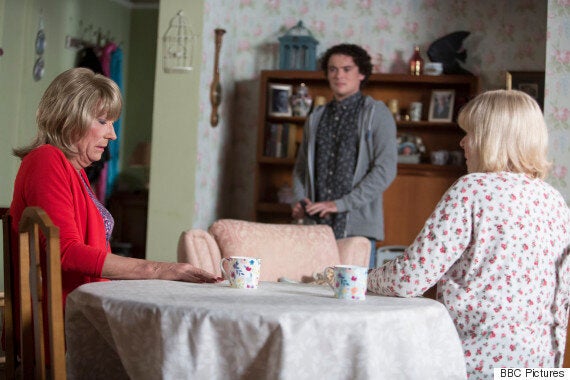 Paul interrupts their secret meeting
Despite the couple's best efforts, their grandson Paul came home and found his grandfather dressed as Christine - but will he be a help or a hindrance as the months go on?
"I think he's going to understand it far quicker and far much more than his nan," Lin says. "But then he's not his grandad's wife.
"I think he understands it and feels very sorry for Les having to keep this secret all these years. Les must have been so frightened for it to be coming out."
At the end of Friday's episode, viewers saw Pam declare that she was leaving the Square, however she will stay in the flat, as Les agrees to leave instead.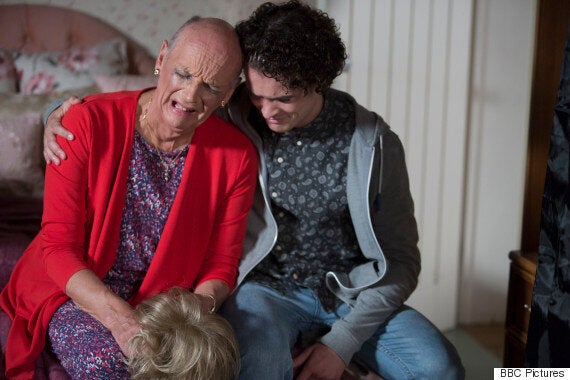 A distraught Les is comforted by his grandson
Sadly, anyone hoping the couple would be back together for Christmas might want to look away now...
"I think it's going to be a lonely one for both of them," Lin tells us. "Whether they bump into one another or not, I think it's going to be lonely.
"I don't completely know what is going to happen as we're slowly being written into certain scripts.
"Pam will be in her flat, and Paul will be with her, and maybe that's when they might talk a bit more.
"Hopefully in the New Year she will start to understand things but I do think it's going to take a while, and that's the only way to play it really. But I hope they do get over it because they're so lovely together!"
Lin added that she purposefully didn't do any research until the reveal scene had been filmed, stating: "I did go online and started reading bits but i thought, 'oh, I don't want to'.
"I wanted it to be a shock for Pam, as it would an audience so I didn't do anything until after we filmed the episode.
"Then I started reading because I wanted to know how a woman would feel after being married, but each woman I read about hadn't been married as long as Les and Pam."
'EastEnders' continues on Monday 26 October. Catch up on all the latest news and spoilers here.
Popular in the Community