The five things you need to know on Friday October 23, 2015...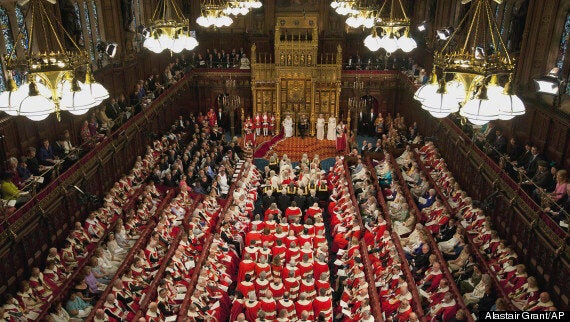 The Lords v Commons tax credits crunch looms larger. The Telegraph quotes Government sources warning that the Lords would have 'its wings clipped' if it went ahead on Monday and backed a fatal motion killing George Osborne's statutory instrument.
On the Today programme, Lib Dem chief whip in the Lords Dick Newby explained just why his party was pushing this so hard, pointing out the SI was unamendable and that the Chartered Institute of Taxation 'not a bunch of lefties' had said the cuts would be 'devastating'. Newby added of the PM's PMQs veiled threat to flood the Lords with more Tory peers: "The Prime Minister is acting like a schoolboy bully, he's been challenged and he's threatening to bring round lots of his friends to duff us up."
When the HuffPost was namechecked in the Lords yesterday, for our report that angry Tories were threatening retaliation if a fatal motion was passed, both Lib Dem Lord Tyler and Labour's Baroness Smith condemned the threats.
But there are many peers who are very nervous about the constitutional crisis that could emerge. Ex Cab Sec Lord Butler told Today that the tax credits cuts were 'a central plank' of the Government's welfare plan and it would be 'quite wrong' of the unelected Lords to block it. There was a risk of "The House of Lords getting too big for its unelected boots" he said.
The Times reports that Anne Longfield, the children's commissioner, has written to the Chancellor to call for 800,000 children under five to be protected from the cuts. Osborne himself was pretty robust at the Treasury Select yesterday, warning the Lords not to 'second guess' the Commons on financial matters. He even claimed the cuts had been endorsed at the general election. But for some Tories, Osborne still has a tin ear on how he comes across and his line yesterday that he was 'comfortable' with his judgement call was perhaps a good example (especially coming after the PM's 'delighted' remark).
On Question Time last night, Nadhim Zahawi hit out at those who claimed the Tories didn't understand what it was like to be poor, pointing to his family living on 'hand outs' from friends when his dad's business went bankrupt. Jeremy Corbyn's new aide Andrew Fisher swiftly pointed out on Twitter that Zahawi used his MPs' exes to heat his riding stables.
But Zahawi was right to point out that several of the 2010 and 2015 intakes of MPs do know life at the sharp end. And Labour' s Jess Phillips tweeted a link to her HuffPost blog in which she explained how tax credits had been a 'hand up, not a hand out'.
President Xi may or may not be dining out in future on David Cameron's Nancy anecdote during their fish n chip pub supper last night. But today is time for some more business as the Chinese Prez winds up his state visit with a trip to Manchester. The FT rains on the parade like a Mancunian summer, with a claim that a mere £4m in new investment will be announced today. The paper also says No.10 was coy over its reports that there has been serious 'deal inflation' over the China trip, with exaggerated claims of new cash from Beijing.
Meanwhile, The Telegraph spots an EU line in the Chinese government summary of the Chequers talks: "China hopes to see a prosperous Europe and a united EU, and hopes Britain, as an important member of the EU, can play an even more positive and constructive role in promoting the deepening development of China-EU ties," it paraphrased Xi as saying. Yes, 'a united EU': not long before Eurosceptics point out that Mark Carney is not the only unelected leader trying to influence our referendum...?
A mere whiz round the M60 from Manchester is Oldham West. And the looming by-election could become more of a Northern outhouse than a Northern Powerhouse for Labour if UKIP piles in all its resources as expected. I wrote yesterday about how this will be a key test for Labour and UKIP deputy leader Paul Nuttall has told HuffPost just how much he'd like to be the candidate.
Who will be the Labour candidate? The Sun reports that Momentum supporters want Corbyn's long-time ally Jon Lansman to run, though the party insists "nobody is talking about this before the funeral". I'm afraid lots of people are talking about it right here, right now. An NEC sub-committee gets to pick the shortlist. And as we discovered in Brighton, the NEC now has a pro-Corbyn majority for the first time.
Is Jamie Oliver more effective in influencing public policy than your average backbencher? I only ask because the TV chef revolutionised the way many schools now cook fresh and healthy meals and now his 'sugar tax' campaign is really making headway. No.10 yesterday said the PM didn't back the idea (and neither does Jeremy Hunt, aides say), but the clamour for change is growing. Boris, Dan Poulter, Nick Herbert, Sarah Wollaston are all Tories thinking the unthinkable.
The Times and Guardian splash on the head of the NHS warning the PM to take 'comprehensive action' alongside an end to junk food advertising and special offers on unhealthy snacks. Simon Stevens (a man who has more influence than even Cabinet ministers) declared that the Public Health England report on how to tackle obesity was a 'forensic and far-reaching call to arms'.
Speaking of celebs, the Sun has a neat scoop with Daniel Craig telling the paper that his successor in the role could be Bojo-o-Seven. Yes, Boris Johnson. Craig joked: "It is actually Boris Johnson next. I would like to announce that right now."
BECAUSE YOU'VE READ THIS FAR...
Check out Liz Kendall at her sassy best on This Week last night, telling off Andrew Neil for underplaying the scale of her vote in the Labour leadership race.
4) MAD, SPAD AND DANGEROUS TO KNOW?
The Guardian has picked up on Civil Service World's interview with Bernard Jenkin, in which he attacks a change in the code for special advisers to now let them effectively order civil servants about.
The new code says special advisers can now "convey to officials ministers' views, instructions and priorities, including on issues of presentation". The word "instructions" has been added since the 2010 version. Jenkin tells the magazine: "[It] feels like a step back towards the days of Alastair Campbell under Tony Blair, when the entire government communication service was placed under Campbell's control,"
Whitehall has been busy behind the scenes in other ways. The Guardian also reports on changes to the ministerial code too, that were quietly announced last week. Lawyers like Philippe Sands have spotted that the new version has edited out a requirement that members of the government should be bound by international law.
The previous code, issued in 2010, said there was an "overarching duty on ministers to comply with the law including international law and treaty obligations and to uphold the administration of justice and to protect the integrity of public life". Now the bit about 'international law and treaty obligations' has mysteriously been airbrushed out - prompting fears this is all about Syria, drones and looser restrictions on going to war.
The Times has a front-page story that's bound to cause ructions, with an oil executive declaring that women are opposed to fracking because they "don't understand" and follow their gut instinct rather than the facts.
Averil Macdonald, the chairwoman (yes, she's a woman, and a scientist) of UK Onshore Oil and Gas, said that many women are concerned about fracking, yet often lack a scientific understand of the topic.
"Not only do [women] show more of a concern about fracking, they also know that they don't know and they don't understand," Prof Macdonald, who is emeritus professor of science engagement at the University of Reading, told the paper.
I wonder how our two (female) leading politicians in this field will respond: Energy Secretary Amber Rudd and her shadow Lisa Nandy? Or the many SNP women members who took part in a lively debate on fracking at their conference last weekend?
If you're reading this on the web, sign-up HERE to get the WaughZone delivered to your inbox.
Got something you want to share? Please send any stories/tips/quotes/pix/plugs/gossip to Paul Waugh (paul.waugh@huffingtonpost.com), Ned Simons (ned.simons@huffingtonpost.com), Graeme Demianyk (graeme.demianyk@huffingtonpost.com) and Owen Bennett (owen.bennett@huffingtonpost.com)