A mum who forked out £4,000 for a specially-trained assistance dog to help her son with autism is furious as the dog she was sent wasn't even trained to fetch.
Joanne Buckley, from Liverpool, claims the service dog company she chose after researching online promised an "obedient pup" to help her seven-year-old son Bobby.
However, when the 11-month-old golden retriever arrived, Buckley quickly realised Buddy the puppy was "barely housetrained".
Buckley, 38, said: "For someone to do this to a family - and especially a child - is unthinkable.
"We spent our life savings on this, and as a family have sacrificed so much." "When we saw Buddy advertised on the Service Dogs Europe website, we thought he looked perfect," explained Buckley.
"We were told he would be perfect to help someone with autism, and we were willing to pay whatever it took for a dog who was that well trained."
"It quickly became clear that Buddy is completely out of control. He can't even fetch. 'Sit' and 'stay' are completely out of the question."
Buckley said she found Service Dogs Europe by chance on the internet then spent a year researching the company on Facebook and reading online reviews.
"I saw Service Dogs Europe had Buddy and he was gorgeous," Buckley explained. "I knew he would fit in well with the family so I contacted them, but before we could have him, we had to put down a £500 deposit.
"Me and my husband Gary then had to pay a further £1,500 before even getting Buddy, and then another £2,000 final payment.
"When we got Buddy in February, we knew he wouldn't be fully trained, but we were told he would have a good understanding of his job.
"He's just a very expensive, naughty pet."
As an autism assistance dog, Buddy is supposed to be by Bobby's side when walking, keeping him calm in stressful situations and even sleep near him, so if he gets up in his sleep, Buddy can alert Buckley.
"Buddy's supposed to calm Bobby down when he gets stressed, but he will jump up around him and get him completely wound up - he's even knocked Bobby over," said Buckley.
"But Bobby fell in love with Buddy as soon as we got him - and there's no way we can separate them now." Buckley claims she was told for a payment of £4,000, Service Dogs Europe would send her son a puppy that had begun its autism training, and as it grew older, the family would receive more training sessions at their home with a professional dog trainer.
However, Buckley realised something wasn't right when she received an email from Service Dogs Europe, claiming Buddy's training would be pushed back because one of their trainers had left the company.
She said when she tried to call them to query the email, the phone numbers she had previously used were unrecognised.
The company was completely uncontactable, leaving her desperately trying to raise money to get a private trainer for Buddy.
"We've had to enroll him in obedience lessons because he just can't sit still," she said.
"The website was down and there was no Facebook page had gone. I started ringing round people I knew, and going on websites to see if what I thought was true.
"When I saw a Facebook group called 'Service Dogs Deleted' I was devastated."
Service Dogs Europe has been contacted on more than one occasion for comment.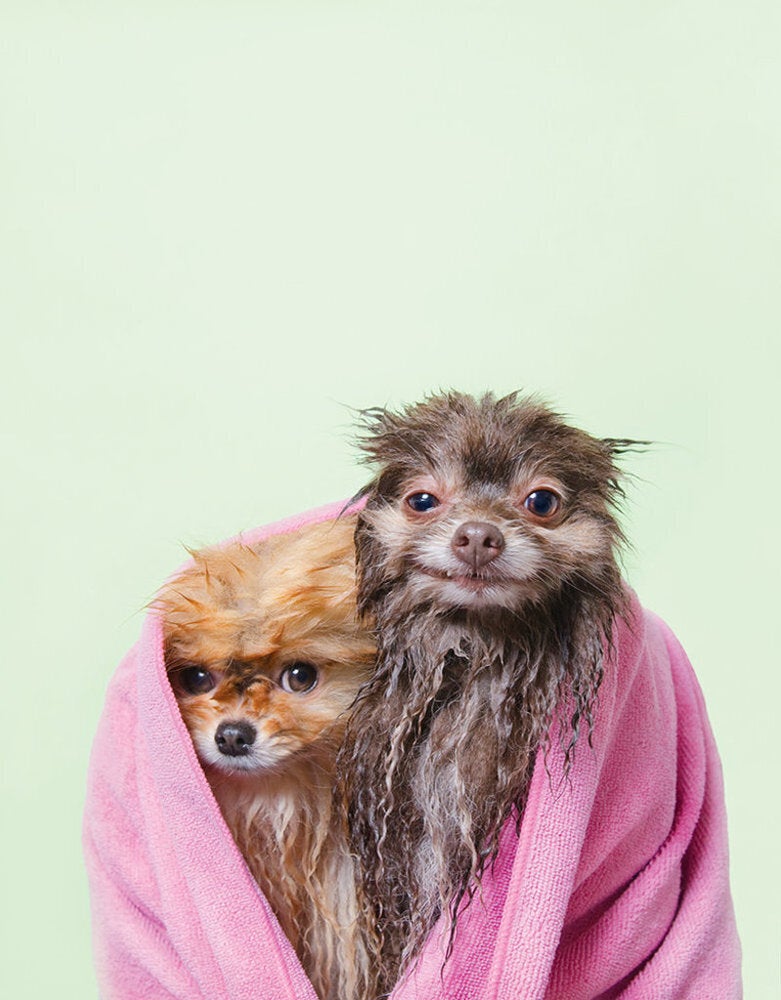 Wet dogs