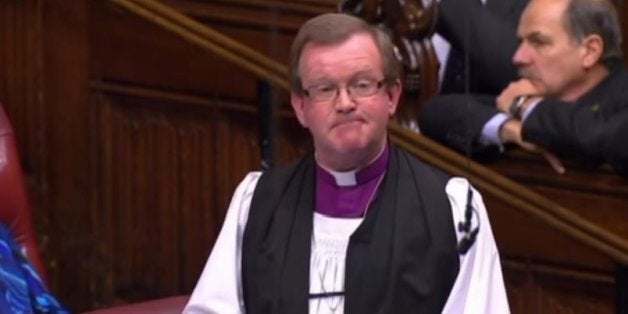 George Osborne's plans to cut tax credits were a "punishment" for working families, the Bishop of Portsmouth has said.
Writing for The Huffington Post on Wednesday, the Rt Rev Christopher Foster, one of the Bishops in the House of Lords, said his "prayers" with with the chancellor that he would respond to the government's defeat in the right way.
The Rt Rev Foster used Monday's parliamentary debate to attack the chancellor's plans as "morally indefensible".
He had tabled a motion of regret that would have allowed the cuts through but criticised them. In the end this motion was not voted on, but the Rt Rev Foster chose to vote with another motion that delayed the introduction of tax credit cuts.
In his blog, the Bishop said: "We often hear the government talking about for incentives for people to work, that work should pay. This proposal seemed to me and others to be a punishment on those honest families who are doing their very best to provide for their families.
"Had the new regulations gone through in the form that was proposed, working people and families on low incomes would have seen a dramatic fall in their income from next April - up to £2,600 for a family with two children and £3,000 for a family with three children.
"Often this would have amounted to 10% of already modest incomes. That is a huge and unacceptable burden on families, including children, that are already working hard and yet struggling to make ends meet."
The government is currently engaged in a turf war with the Lords over whether peers exceeded their authority by voting down a financial measure approved by the Commons.
Writing for HuffPost, the Bishop said he hoped "more clarity" over the role of the Lords would come out of the review.
"My prayers right now are very much with the government ministers and all involved in this, as they listen and respond to the questions and issues that were raised," he said.
"The principal concern, it seems to me, is to address the mismatch between the proposed immediate substantial 'hit' of tax credit changes and the incremental - and hopefully compensatory - improvements to the minimum wage and tax thresholds over the coming years.
"The Government's aspiration for a higher pay, lower tax, and lower welfare economy has my strong support. The task is to make the transition without hurt and harm to those working on lowest incomes."
Popular in the Community