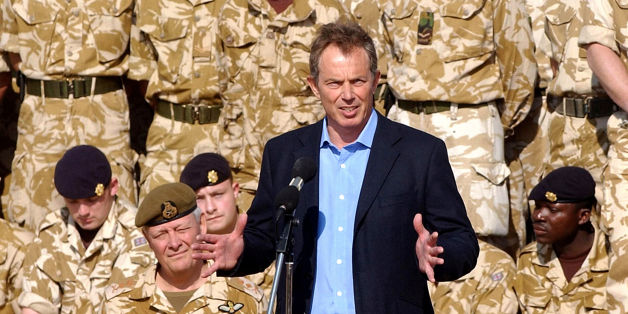 Stefan Rousseau/PA Wire
HURRAH! The date has been set for the release of the Chilcot Inquiry.
It's going to be out in the June 2016.
Or July 2016.
Probably. Fortunately Sir John Chilcot has an excuse.
Gotta feel a bit sorry for #Chilcot, writing two million words on a ZX81, while MI6 looks over his shoulder pic.twitter.com/nTFOtL96lY

— Will Black (@WillBlackWriter) October 29, 2015
And the printing of it wasn't much better.
Government printers demonstrate their preferred method for printing the #Chilcot report. Should be ready early 2055. pic.twitter.com/OhCNcgtiJm

— BanTheBBC (@BanTheBBC) October 29, 2015
There were problems with the office set up.
How many members of the #Chilcot enquiry does it take to change a lightbulb?

None.

They prefer to work in the dark.

— Jonny Geller (@JonnyGeller) October 29, 2015
Story continues after slideshow...
Let's hope he's got it right.
[Emerging from office after 6 yrs] Chilcot: Which Iraq war did you want it about?

Everyone: The 2003 one

#Chilcot: sighs & returns to office

— Sara Firth (@Sara__Firth) October 29, 2015
As a little refresher, here's some facts about the investigation into the Iraq War which began way back in 2009.
We might not be around when it actually comes out.
So the #Chilcot report will now be published before the sun burns out. Probably.

— GeorgeMonbiot (@GeorgeMonbiot) October 29, 2015
It's really, really long.
The #Chilcot report will be 2 million words long, taking 7 years to write when it comes out next year. That comes to about 780 words a day..

— George Aylett (@GeorgeAylett) October 29, 2015
Full of hidden messages.
I hope the #Chilcot report contains lots of coded messages in acrostics to mess with people's minds. N I N E E L E V E N I N S I D E J O B

— Ed West (@edwest) October 29, 2015
It will DEFINITELY tell the whole story.
Can't wait for #Chilcot so █████ gets found out, and ████ gets ██████ over the ██████ in the secret ████ ██████.

— Stuart Brown (@StuartLeeBrown) October 29, 2015
Space travel is quicker.
In the time taken for #Chilcot to publish The Galileo spacecraft could've been to Saturn, home then back to Saturn again. #TooLongToWait

— Lauren (@SoleroLady) October 29, 2015
As is this popular hiking and much-frequented hiking route.
#Chilcot could have walked to Iraq and back 30 times in the time it'll take him to write his report https://t.co/3IuCkbIYxC

— Tim Lezard (@TolpuddleTim) October 29, 2015
Did we mention it's very long?
2009 - 2016? That means #Chilcot report will have taken the same length of time to complete as it took to produce three Star Trek movies.

— Angry Salmond (@AngrySalmond) October 29, 2015
The two million word #Chilcot report is 3 times the length of War and Peace. Or maybe just War. I don't know the findings.

— Dave Steele (@hullodave) October 29, 2015
Which would take quite a lot of beach-time to get through.
At avg. adult reading speed (https://t.co/mBesKfGF0q) it will take you >121 hours to read the Chilcot inquiry report https://t.co/NjSyAFaSO6

— Chris Hanretty (@chrishanretty) October 29, 2015
In the interest of fairness this is Chilcot's defence.
He said: "I entirely understand that a checking process is necessary and is normal procedure in inquiries which have considered a large volume of sensitive material.
"I remain committed to producing a report that will meet the very wide ranging terms of reference we were given and reflect the considerable investment of time and effort by all involved."
By the time it is published, the report will have been seven years in the making, having been commissioned by Gordon Brown in 2009.
The posturing around the publication has already started, most noticeably with