Call off the search party... the woman who took the "perfect" photo of the moment one couple got engaged has been found after a Facebook appeal to track her down went viral. 💍💍💍
Val Ferrera, 33, snapped a photo of the happy couple moments after they got engaged at New York City marathon - and we just love a happy ending.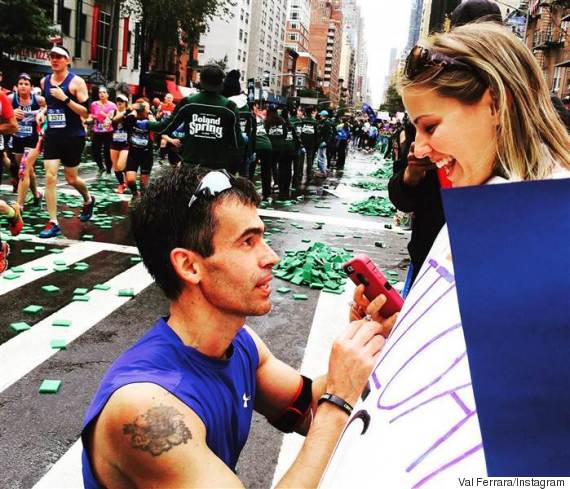 Katie Mascenik, 25, was standing on the sidelines of New York City Marathon to cheer her then-boyfriend, Joe Duarte.
But as Duarte approached mile 17, he took a slight detour, running over to her to pop the question.
Duarte got the engagement ring out of his zipper pocket and dropped to one knee to ask Mascenik to marry him. Overwhelmed and surprised, she said yes.
Although the couple had a few snaps from the life-changing moment, they soon spotted a "perfect" photo-within-a-photo taken by a mystery photographer. Thankfully, they tracked her down.
Talking about the photo, Ferrera told Today.com: "It's so sentimental. You can even see the ring. It's beautiful."
Mascenik posted a photo taken by her friend to Facebook. "How I wish I had asked the girl for her picture. She has the perfect picture of our engagement," wrote Mascenik.
The newly-engaged couple had a photo of them hugging, moments after Duarte popped the question, but the only photo of the engagement ring had been blocked out my the mystery woman's phone.
"I have no idea who she was. I just know she was wearing blue spandex pants," Mascenik told NY Daily News. "I would just love to have it. It would be something great to share with our kids, our family. It would mean the world to me."