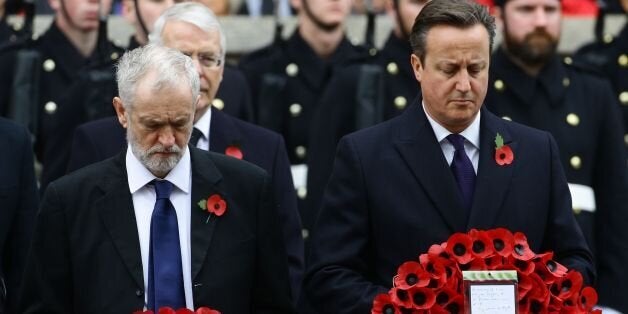 Jeremy Corbyn has marked Remembrance Sunday by reading from Wilfred Owen's poem 'Futility'.
Here is the poem he read out:
Gently its touch awoke him once,
At home, whispering of fields half-sown.
Always it woke him, even in France,
Until this morning and this snow.
If anything might rouse him now
The kind old sun will know.
Think how it wakes the seeds—
Woke once the clays of a cold star.
Are limbs, so dear-achieved, are sides
Full-nerved, still warm, too hard to stir?
Was it for this the clay grew tall?
—O what made fatuous sunbeams toil
To break earth's sleep at all?
'Futility' is one of only five poems published during Owen's lifetime, during which he criticised the First World War as a territorial struggle between Imperial powers.
Owen, who was killed in action in 1918, is recognised as one of the finest of Britain's war poets, with his "Dulce et Decorum est", and "Anthem for Doomed Youth" taught in schools for decades.
Mr Corbyn has previously attacked the 'futile' nature of most wars, writing in 2013 for The Morning Star on how some politicians had turned Remembrance Day into an 'almost mawkish festival'.
"Over the next two weeks we will be treated to an almost mawkish festival of politicians and generals, arms manufacturers and journalists feeling the need to wear a poppy wherever they go.
"I have no objection to people wearing poppies in memory of those who died in wars, but in doing so we should have enough humility to realise that war kills and, as the first world war showed, is usually futile.
"There are alternatives but they require a different way of administering the world and standing up to commercial pressures, arms and mineral companies who seek to move in behind Western intervention.
"Perhaps this is where we should be focusing and not on the jingoism and bunting that was hung out in 1914 for the young men who were seen off on train stations in London before breathing their last on the western front."
For the local event, Mr Corbyn swapped his blue tie for a red one.