Part-time workers aren't often associated with high-earning roles, but a record-breaking number of men are proving that wrong.
The latest figures from the 2015 Power Part-Time list, in association with Management Today, show one in three of the UK's part-time workers are men - the highest number of men since the list began in 2012.
To put that into perspective - men who are now actively choosing to work part-time has now surpassed the one million mark (1,050,000) in the UK.
One of the main reasons men are choosing this option is to spend more time with their children.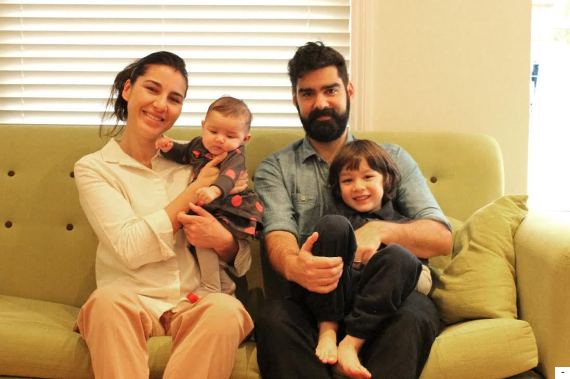 Thiago only works three days a week so he can spend more time with his children
"Working part-time has definitely improved my relationship with my kids," said Thiago De Moraes, creative partner and head of creative innovation at leading advertising agency AMV BBDO and dad to a five-year-old and three-month-old.
"I do a whole bunch of stuff that I wouldn't be doing if I worked full-time.
"It's not just sports day and the formal things, but I can go into my son's class and read to the kids for half an hour on Friday mornings, get to know their friends, help out at school, watch the kids' play football on Wednesday afternoons.
"It's doing those things with them that I most enjoy."
The power list includes men working in business-critical roles from firms including: Dixons Carphone plc, advertising giant AMV BBDO, EY and the Bank of England.
The list is compiled annually by Timewise to debunk the myth than you cannot work a top level job on a part-time basis.
"This year's power part-timers are an absolute inspiration," said Andrew Saunders, deputy editor at Management Today.
"The remarkable personal stories prove the obstacles we place in the way of flexible working are more imagined than real.
"The list shows, there are very few jobs - no matter now senior or client-facing - which cannot be done on a part-time basis."
SEE ALSO:

If Dads Heard The Inane Crap That's Spouted At Working Mums
De Moraes worked at AMV BBDO for three and half years when his first child was young, before leaving to set up his own company.
But he didn't enjoy running his own business. Instead of applying for another job, De Moraes decided to spend more time at home.
"I thought, I'll take some time off and work on a children's book I wanted to write, and spend more time with my kids," he told HuffPost UK Parents.
"At this point, AMV BBDO invited me to go back and work for them. I told them I didn't want to go back full-time and it was their suggestion to work three days a week.
"I thought it was awesome, so I said yes. I did think about asking but it was them who suggested it."
De Moraes said at the beginning adapting to less days was hard because he wasn't good at communicating how much work he could take on.
But there was no controversy surrounding his return to work with less days.
"I had to be a bit more organised," he explained. "I had to think ahead about how I was going to do stuff and when, as well as communicating more to the other people I was working with."
It took several months to get into the rhythm of how much work he could do on three days - being out of the office on Wednesdays and Fridays - but the reward paid off.
"I really wanted to be able to spend more time with my kids. Not just in terms of the amount, but the flexibility of doing things with them.
"I just love it. We can wake up and be spontaneous and go play on the common for a day, not having to schedule in every little thing around work."
Simon Allport, North Region Managing Partner at Ernst & Young (EY) is a dad-of-three who also opted to change his working hours to suit his family.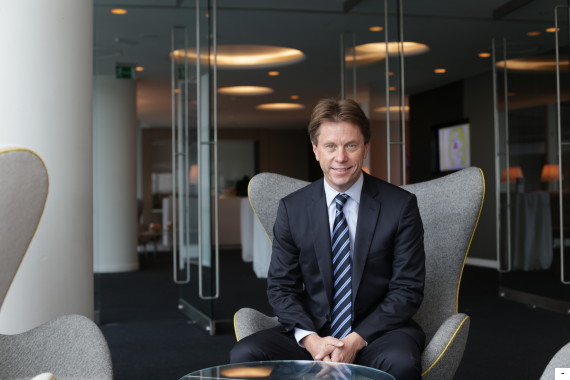 Allport wants to spend time with his wife and three boys, aged 18, 20 and 21, before they move out
"Work-life balance is important to me," he told HuffPost UK Parents. "Before my three boys all leave home, I really want to spend even more time together as a family."
Allport leads a team of 1,500 across nine offices in the north of England and Scotland. Having worked full-time his whole life, he decided to work flexibly from 2013 - at the time he describes was the "peak" of his career.
But Allport's arrangement was different - he decided to take the hours he would gain working part-time and take them off in bulk periods.
The idea was that he would be able to spend more time with his family away on holiday.
"We're an active family and love skiing, cycling, walking and water skiing in France," he explained. "So I now take six weeks leave in the summer and six weeks leave in the winter.
"As a business we encourage all of our people to talk about flexible working. When I spoke to our chairman, I explained what I wanted to do and his words were 'if we can make it work, go for it'. And we do."
Allport said he wasn't sure how his colleagues would react to him changing his hours after being full-time for so long.
Luckily, he received nothing but support.
"It's also had unintended benefits," he added. "It empowers my team to step up to lead when I'm not in the business.
"When I'm in work, I focus on the tasks where I can make the biggest difference."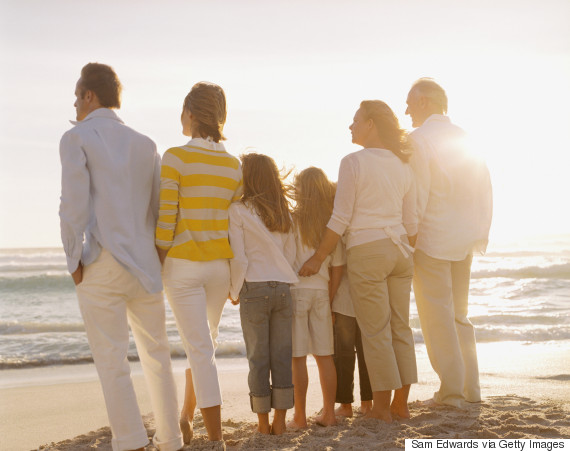 Both dads opting for part-time hours wanted to spend more time with their family
Speaking about whether there is a stigma around men in senior roles wanting to work part-time, De Moraes said although he feels lucky to work in a place where family life is a priority, not everyone's workplace will be the same.
"In a different company, definitely there is a stigma. It just depends on people's relationship with their work. If you have a good dialogue with your manager by all means you should ask."
Allport agreed, but feels there needs to be a change in opinion of the modern workforce.
"There may be a perception amongst some people that working flexibly makes you less productive, but we need to recognise that the way people work is changing and that a mature, modern workforce is flexible," he said.
"At EY, we find offering flexibility makes for a happier, more engaged and more productive team.
"Flexibility is a huge incentive for working people, whether it's someone that doesn't live in commuting distance of the office, a parent that wants to pick their kids up from school or, like me, someone later in their career who wants to spend more time with their family."
Allport advised dads who want to spend more time with their family should figure out how it could work for them - whether that be part-time or flexible hours - before discussing with their company.
"You might be surprised by their response," he added.
De Moraes said you need to be clear with your senior what hours you'd like to work and why.
"You can't expect people to assume you want to be part-time, but you need to make sure your motives are right," he told us. "If you want to work part-time because you don't like your job, that's not right.
"If you like it so much you don't want to stop doing it, but want to spend more time with your family then that's a much more valid reason and a real conversation starter.
"Just make sure it's clear you're not doing a full-time job in part-time hours!"
For the full list of this year's 50 Power Part Timers, please visit Management Today www.managementtoday.co.uk.
To get involved with Building Modern Men, email uklifestyle@huffingtonpost.com. If you would like to use our blogging platform, email ukblogteam@huffingtonpost.com.
HuffPost UK is partnering with Southbank Centre's Being A Man Festival, taking place 27 - 29 November. It will focus on lighthearted, serious and challenging issues facing boys and men in the 21st century. There will be talks and debates, concerts, performances, comedy and workshops with contributions from over 200 speakers and performers, including Akala, Frankie Boyle, David Baddiel and Kellie Maloney. Day passes are £15, 3-day passes are £35. For more information, visit the website or call 0844 847 9944.