The five things you need to know on Tuesday November 10, 2015...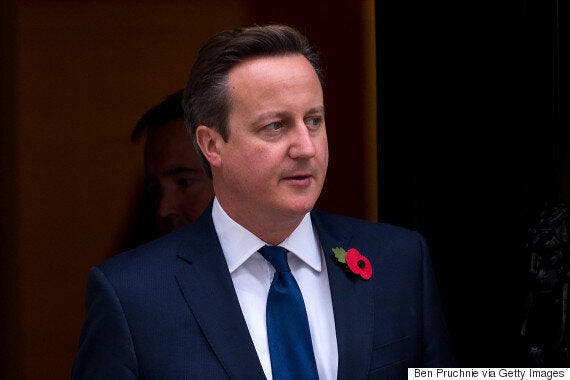 It's a big day for David Cameron's EU plans, or rather for the rhetoric he applies to them and the battle for public opinion. And after months of waiting, he's no longer sitting on defence. In fact defence and security are the new battlefront he's opening up - making national security as much of a priority in any EU referendum as economic security.
As I pointed out in the WZ yesterday, this has echoes of Sir Hugh Orde's murderers-on-the-streets stuff at the launch of the In campaign. But it seems to go much further, with No.10 lining up key generals like former CDS Lord Richards and to warn our defence is at risk outside the EU (or "more secure" in it) and former Bosnia commander Gen Shirreff (no, me neither) saying the EU is a 'huge force' for security.
Just as significant I thought was George Osborne yesterday singling out the French in his speech on spending on defence. He said 'we have with our American and French allies the hard power of the most capable, deployable and effective armed forces in the world'. Yes, 'the French'. Enda Kenny yesterday even said that the Northern Ireland peace process could be threatened by Brexit.
The real problem with highlighting defence and security (the FT has splashed on it and Michael Fallon is on the Today prog) is that it is NOT part of the PM's key demands in his renegotiation. So his judgement on whether we stay or leave on security grounds will not be affected by his Brussels talks - and he is already suggesting we have to stay to remain more safe as a nation. Will Farage condemn the military top brass just like Corbyn has? Or will he cite his own generals?
The overnight extracts of the PM's speech had nothing really new on his four key areas in the letter to EU summit chief Donald Tusk. But they did have Cameron saying reform was not 'mission impossible'. The Sun has done a decent mock-up of the PM looking like Tom Cruise, but on the big stuff is he cruising for a bruising with his backbenchers?
Of course it is migration that may well determine the EU referendum outcome and the Times reports that the PM will ram home his plan to curb in-work benefits for four years, with figures claiming that 43% of EU migrants have received welfare and 66% of them received tax credits and other benefits. Once again, it shows that Gordon Brown and his plan to embed tax credits in the nation is haunting the Tories from beyond the political grave.
But it's far from certain any EU partner will agree to the discrimination of ending in-work benefits for migrants. Was Sir Jeremy Heywood right after all? Arch Eurosceptic Lord Forsyth told me last week that stopping Poles' and others' in-work benefits would be unfair - and the bigger issue was stopping migrants coming in the first place. And you can bet that will remain the PM's achilles heel.
George Osborne's spending review (or will it be called the more 1990s spending 'round' again?) continues to loom. The Chancellor made an impressive speech yesterday trying to reconnect the politics to the policy of low spending (not least in contrast to what he sees as Labour's open-ended borrowing).
But there are lots of bumps in the road ahead. And on health and education, things look particularly bumpy. Perhaps Osborne's biggest problem is Simon Stevens' warning that he needs the extra £8bn in NHS spending 'front loaded' to avoid real problems over 7-day services, social care cuts and other big issues. This was World Series level poker playing, warning the Treasury that lots was at stake unless most of the cash was delivered in the next two years. Will it work?
Stephen Dorrell, now at the NHS Confederation, has today written to Osborne to warn: "To have NHS budgets rise while social care budgets fall is bad economics and bad social policy". Sounds v much like Labour's criticism. The FT reports that the ex chief of Monitor (and ex Blair policy unit guy) David Bennett warns that social insurance, copayment and other ways would be needed to fund the growing NHS funding gap: the public are "probably close to the limit of how much they're willing to pay [in tax] and therefore you have to look at other forms of revenue". Jeremy Hunt may point to the Mail's expose of NHS waste including the cost of cancelled safaris and hols to Ibiza.
Yet the Resolution Foundation reports that spending on healthcare and the elderly will rise to 43% of all state spending by 2020- and the proportion spent on education and economic affairs will drop to a record low of 19%. This as Labour warns that 4 in 10 sixth forms and FE colleges are set to close under the cuts. No wonder Nicky Morgan told me at our HuffPost Live in October that she was determined to protect sixth forms. And in the Indy, David Laws warns Government cuts will stall the education of the poorest.
3) EVERY DAY IS LIKE SUNDAY
No, it's not a Morrissey song, it's Government shopping policy. And critics of moves to scrap Sunday trading curbs are on the march. And yet again, the SNP have decided to test to breaking point David Cameron's 12-strong majority.
Even though the plans pushed by Greg Clark (or rather by George Osborne and duly hospital passed to Clark) will affect England and Wales only, the SNP have told the BBC and the Guardian that they will vote against the move amid fears it could cut Scottish workers' wages. The key now is whether the 20 Tory rebels will back off, and there's no sign of that.
Yet again, this will expose just how weak the Government's English Votes For English Laws plans are, because even if the bill is designated English and Welsh by the Speaker, there's not a damned thing anyone can do at Third Reading to stop the SNP voting. Government whips may hope the prospect of using Scots votes will shame their own rebels, but I wouldn't bank on that. This has been a headache looming for some time and there's no instant political paracetemol.
BECAUSE YOU'VE READ THIS FAR…
Unlike Steve Jobs, no one is going to make a Hollywood movie about the life of Apple's Tim Cook. But the impeccably nice chief exec shows his dark side today with a warning that the UK's investigatory powers bill could be a real threat to privacy AND security.
Cook said that the bill's move to force companies to assist spies to bypass encryption was a real danger, not least given that teenagers can hack in to TalkTalk. "You can just look around and see all the data breaches that are going on. These things are becoming more frequent," Cook told the Daily Telegraph. "They can not only result in privacy breaches but also security issues. We believe very strongly in end-to-end encryption and no back doors. We don't think people want us to read their messages. We don't feel we have the right to read their emails.
"Any back door is a back door for everyone… Opening a back door can have very dire consequences." Of course, the Home Office would counter that the bill does not - contrary to reports - ban encryption by firms like Apple. And Cook predicts ministers will listen further.
Boris Johnson just can't resist a risqué gag and his trip to Israel is no exception. As the Standard reported last night, the Mayor used a speech to get out an elaborate joke about David Cameron's porcine predilections (which are strongly denied, obvs).
Speaking about the last time he was in Israel - only 10 years ago - Boris revealed he had a night on the town. "It was such a riotous occasion that I am afraid we ended up dancing on the tables and singing karaoke and generally misbehaving.
"And I thought – this is all absolutely true – I thought it had all been forgotten until quite recently when my friend Lord Ashcroft … came up to me and said in his most terrifying whisper: 'I know you enjoyed yourself in that restaurant in Tel Aviv – I have the photos'.
And here's the punchline: "That's what he said and I have no idea what photos he was talking about, whether any animals were involved at all but I can say whatever took place that evening was entirely kosher."
If you're reading this on the web, sign-up HERE to get the WaughZone delivered to your inbox.
Got something you want to share? Please send any stories/tips/quotes/pix/plugs/gossip to Paul Waugh (paul.waugh@huffingtonpost.com), Ned Simons (ned.simons@huffingtonpost.com), Graeme Demianyk (graeme.demianyk@huffingtonpost.com) and Owen Bennett (owen.bennett@huffingtonpost.com)