With all its doom, gloom and hard-hitting storylines, it's not often there's a lighter moment on 'EastEnders', but viewers were left in fits during Tuesday's (10 November) episode, after an incident involving Shirley Carter and a cat stuck up a tree.
READ MORE:
The ridiculous scene saw Shirley (Linda Henry) and son Mick (Danny Dyer) staging a rescue of Carmel Kazemi's pet cat, after Mick's dog Lady Di chased the frightened moggy - hilariously named after Craig Revel Horwood - up a tree.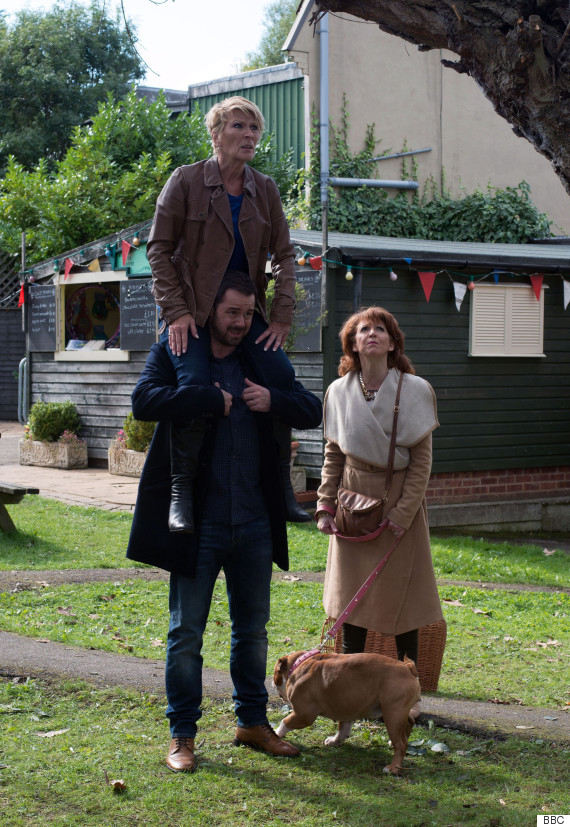 There was a moment of comedy on Tuesday's 'EastEnders'
The rescue proved tougher than expected when it transpired Carmel (Bonnie Langford) couldn't rescue the cat herself, as she'd strained her neck during a Bikram yoga session - something which Shirley mistook for a euphemism.
Mick was unable to help either, as Carmel told her Craig isn't a fan of men, so the burden of responsibility fell on an unwilling Shirley, who was soon on her son's shoulders trying to get the cat down, calling for "Craig Revel Horrrrrwooooood".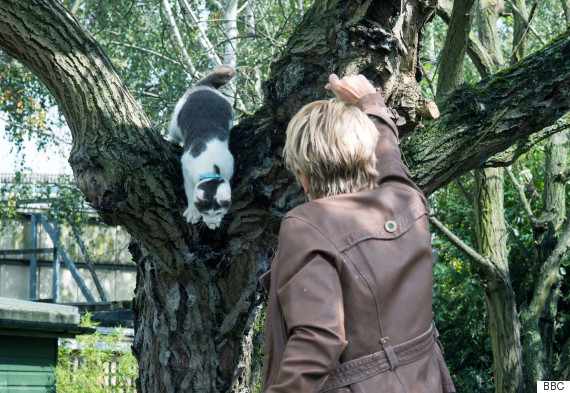 Shirley managed to get Craig out of the tree
The hilarious moment had fans creased up, with many taking to Twitter to praise bosses for finally including some humour in the soap:
#EastEnders was bloody great tonight. Not to mention hilarious. Shirley & Craig Revel-Horwood scene in the park one of the funniest in ages.

— Cian Farrell (@Cian89_) November 10, 2015
Craig Revel Horrrwooooood 😱😂 me, Nan and Pops are in fits of laughter... #EastEnders #comedygold https://t.co/4iskkcpPyI

— George Henry (@ghf_007) November 10, 2015
Well, that was a sight I never thought I see... Shirley on Mick's shoulders, calling out for Craig Revel Horwood ... at a cat! #EastEnders

— Martine (@Zoetjetoch) November 10, 2015
#CraigRevelHorwood is trending and I still can't stop laughing! 😂😂 #EastEnders @bbceastenders @dominictc @alexlamb81

— brooke ♡ (@fanjacjossa) November 10, 2015
Craig Revel Horwood the cat! 😂😂😂 The soap found a sense of humour 😃 #EastEnders

— Ames (@geordiegalg) November 10, 2015
The real-life Craig Revel Horwood was also lapping up the fact he has a soap cat named after him, retweeting various messages from fans.
Looks like years of dishing out catty comments on 'Strictly' have finally paid off.
'EastEnders' continues on Thursday at 7.30pm on BBC One.
LIKE US ON FACEBOOK | FOLLOW US ON TWITTER