The 10 celebrities were split into teams headed by Spandau Ballet's Tony Hadley, the bookies' current favourite to win, and fashion expert Susannah Constantine.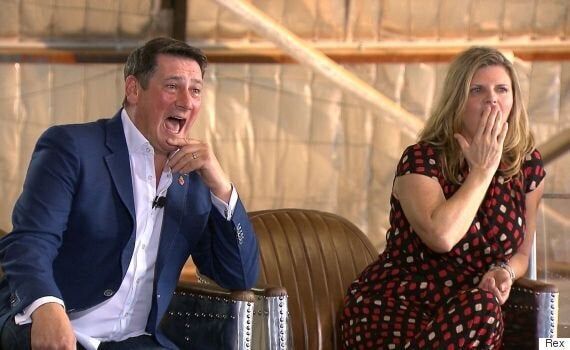 Tony Hadley and Susannah Constantine were appointed team leaders
They then stood before an old tree trunk which contained five hollows. Inside the trunk was a key on a wire.
Each contestant had to put their hand in a hole to pass the key along the wire to the next participant. But the key was closely guarded by jungle critters including scorpions, rats, baby crocodiles and snakes.
Boxer Chris Eubank said: "I fought Nigel Benn. Everything's easy after that."
Yellow team leader Constantine admitted to a dislike of rats. "It's my biggest fear," she told her colleagues.
Former England footballer Kieron Dyer also struggled as he threaded his key through the rats.
The leader of the losing team had to eject one member who then faced further peril.
Viewers will have to wait until tonight's opening show on ITV to find out which team completed the challenge in the quickest time.
Earlier, pop star Hadley and 53-year-old Constantine assembled at a giant aircraft hangar. They were greeted by presenters Ant and Dec who made their grand entrance in a vintage plane.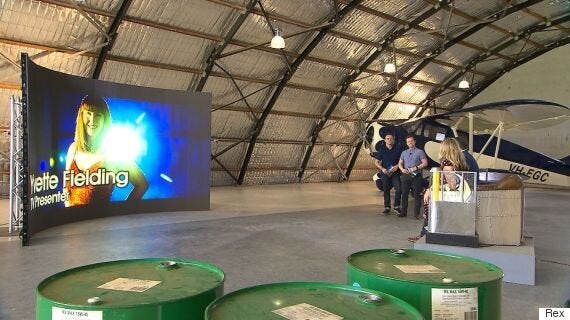 The pair were set the first part of the challenge in an aircraft hanger
In a new twist for the popular jungle series, the Geordie pair told them they had been appointed team leaders.
"You two are now in direct competition with one another," Dec explained.
"You'll go head to head in a series of challenges before you reach camp. You won't be doing it alone, you'll do it in teams and right now is your chance to pick those teams," he added.
The selection process was made as each person talked about themselves, but Constantine and Hadley could not see who was speaking on the LCD screen.
The first team leader to buzz got that celebrity on their team.
Ant and Dec reminded the duo to pick the strongest team possible because of the challenges they would face before reaching camp.
After the Red and Yellow teams were complete, each celebrity boarded a helicopter and was then flown to a remote field in the Australian countryside to meet their fellow team mates and leader.
Talking about the Union J pop singer, Dyer said: "George is a pretty boy, I'm astonished at how pretty he is. He'll be needing a lot of hairspray."
Businessman Bannatyne was bemused by the clothes Eubank and Friedman wore.
"The way Brian and Chris are dressed, I don't think they're prepared for what we're going to face. Maybe they think they're staying in a posh hotel or something," he said.
Ant and Dec told the expectant stars that both teams would battle it out over a series of challenges.
The winning team would head straight to camp, with a bed and warm meal. The losing team faced even more unknowns in the jungle.
Viewers will also see team leader Constantine and 'Hollyoaks' star Porter go head to head and sky dive out of a helicopter.
'I'm A Celebrity... Get Me Out Of Here!' is broadcast tonight at 9pm on ITV.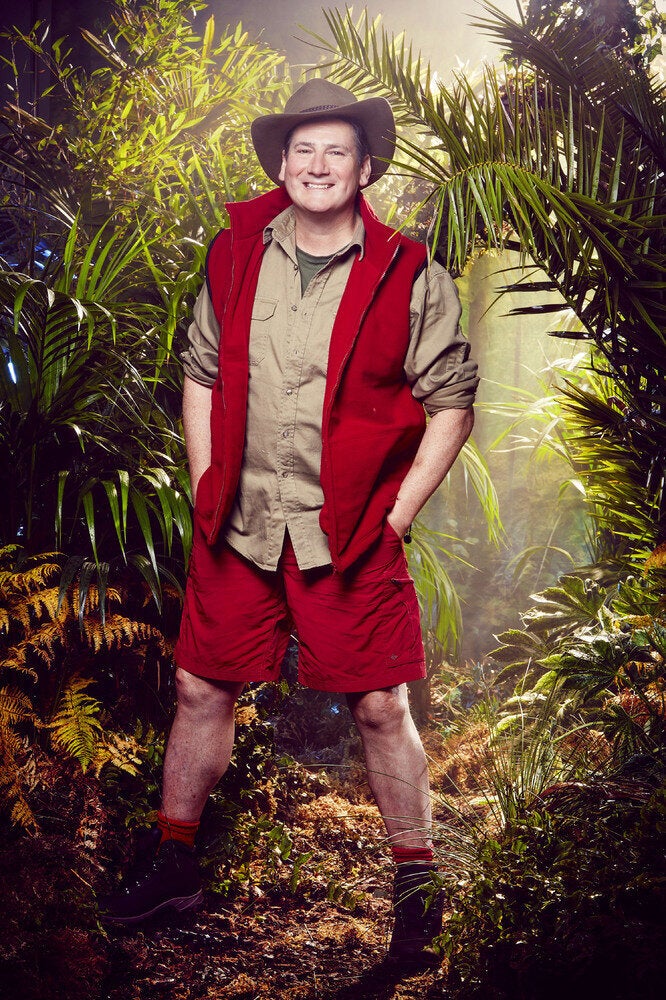 'I'm A Celebrity' Contestants 2015
Popular in the Community