One Direction fans were left worried about Harry Styles after he put in an awkward appearance on 'The Xtra Factor'.
READ MORE:
The singer barely said a word during an interview on the ITV2 spin-off show on Sunday (15 November) night, following the band's performance on 'The X Factor'.
Fans commented that the usually chatty Harry looked uncomfortable and distracted as hosts Rochelle Humes and Melvin Odoom quizzed the band in their dressing room.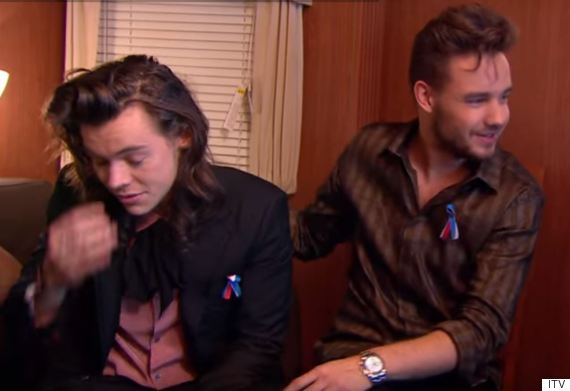 Harry Styles appeared tired and distracted on 'Xtra Factor'
Many took to Twitter to voice their concerns for the star, following the interview:
What's wrong with Harry Styles? He's not said a word on the Xtra Factor! #awkward

— Carrie Thomas (@Hoops86) November 15, 2015
@Harry_Styles are you ok you were really quiet during the interview on x factor you are usually happy please cheer up ily

— TILL THE END ❤️ (@HNLLZ2012) November 15, 2015
@Harry_Styles are you ok we all love you , you seem to have something on your mine

— Sis (@sissilly_3302) November 16, 2015
@Harry_Styles I have been noticing that you don't look happy at all these days, what's wrong?

— brad (@notwithouthes) November 15, 2015
@Harry_Styles I hope you are ok your voice and your family I just don't like when you are so quite it worries me I hope you reply take care.

— Hannah (@MenezesHannah) November 16, 2015
Harry's uncomfortable appearance on 'Xtra Factor' came after he failed to say much during the band's post performance chat with co-host Olly Murs.
The presenter simply asked if Harry was ok, to which he replied: "I'm not too bad thanks, how are you?"
Sunday night's 'X Factor' proved noteworthy for a number of reasons, as later in the show Olly made a big live blunder when he prematurely announced that Monica Michael was leaving the competition, when the vote was supposed to go to Deadlock.
Then when Monica was later eliminated - for real this time - she caused controversy when she made a shooting reference, just days after the Paris terrorist attacks.
She later apologised for her "insensitive" remarks on Twitter, writing: I want to apologise for any offence caused on the @TheXFactor tonight. I wasn't thinking beyond the moment & it was insensitive, sorry."
'The X Factor' continues on Saturday at 8pm on ITV.
LIKE US ON FACEBOOK | FOLLOW US ON TWITTER