'EastEnders' fans heaped praise on the show for a poignant scene about Islam on Monday (16 November) night.
READ MORE:
Viewers saw Tamwar Masood open up about his religion, as his girlfriend Nancy Carter tried to learn more about it.
As she asked why he had a specific page marked in his copy of The Quran, Tamwar read out a passage in Arabic, before explaining what it meant in English.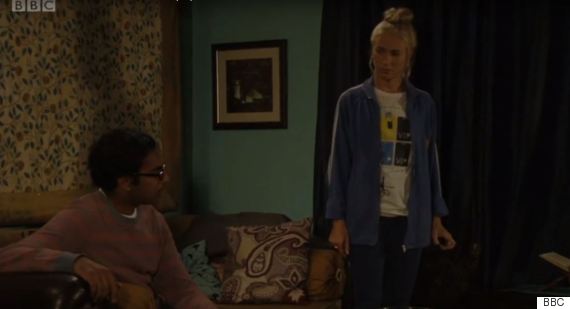 Tamwar and Nancy discussed Islam on 'EastEnders'
"Do good to relatives, orphans, the needy, the neighbour who is near of kin, the neighbour who's a stranger, to the companion at your side, and to the traveller," he read.
"That to me, is what Islam is about," he added. "Be kind to people, family and strangers alike, and love them."
Fans commented that the touching scene could not have come at a better time, following the horrific attacks in Paris last week, which terrorist organisation Islamic State have since claimed responsibility for.
Many took to the social media site to voice their praise:
Lovely scene between Tam & Nancy in @bbceastenders tonight! Very timely & much needed! That is what Islam is really about! 👍🏾👏☺️ #EastEnders

— Nicole Reece (@Gloss80) November 16, 2015
EastEnders, Tamwar and Nancy's conversation about Islam could not have come at a more important, poignant time. And I love you for it.

— Noor (@NooryNoor) November 16, 2015
A poignant moment in Eastenders tonight with Tamwar explaining what Islam is really about. I can only hope it helped educate the public

— Alice Nilsen (@alicen7) November 16, 2015
Respect to Eastenders for their scene on what it means to be a Muslim and what Islam promotes

— Keryn Matthew (@kerynmatthew) November 16, 2015
What a beautiful poignant and timely scene that was from Tamwar quoting from the Quran. True meaning of Islam. Well done @BBCOne #EastEnders

— Uncle Kev (@CountyTeaBoy) November 16, 2015
#EastEnders: Tanwar quotes from qur'an what Islam is all about. Tonight's episode. Nice touch in light of atrocities in Paris.

— Mashuq Ally (@mashuqally) November 16, 2015
Quite a lovely moment in #EastEnders as Tamwar explains to Nancy that Islam is about being kind to people.

The timing is perfect.

— Alexander Call (@AlexJCall) November 16, 2015
Eastenders approach to helping the British society understand the real teachings of Islam, YES. #unity #peace #eastenders

— Libelle (@LibbyBeck_) November 16, 2015
Don't usually watch Eastenders but caught it at the right time there. "That's what Islam is about to me, to be kind, to love..."

— Ami F Torrance (@AmiFTorrance) November 16, 2015
The opinions expressed on Twitter were in stark contrast to those expressed by 'Loose Women' viewers earlier in the day.
Fans slammed panelists Ruth Langsford, Coleen Nolan and Jane Moore as they discussed the fear of being classed as "racist" when talking about the Muslim backgrounds of the terrorists.
Friday's terrorist attacks left at least 129 people dead and hundreds more injured, as assailants targeted the Stade de France, the Bataclan concert hall and various Paris cafes.
LIKE US ON FACEBOOK | FOLLOW US ON TWITTER