A blogger has received a dress as an "act of kindness" from a stranger after her post about a horrendous Tinder date went viral.
In an update on her blog, Crouch said she'd received thousands of messages since the incident, including one from a man offering to buy her a dress.
The man, who wishes to remain anonymous, was inspired to make the offer after seeing a previous tweet from Crouch about a dress that she liked.
He tweeted her saying: "If you like that dress then on behalf of decent men everywhere, I would be happy to buy it for you."
The stranger went on to tell Crouch that he didn't want anything in return for the dress, he merely made the offer because it was World Kindness Day.
"Some people said for me to ignore it, that there was no way any man would just want to do a nice thing for a woman if he had nothing to gain from it, but I refuse to accept that," Crouch wrote on her blog.
"I'd like to think that deep down, we're all inherently good people, and occasionally some of those good people decide to be twats (and then go on a date with me).
"Whilst I would never usually accept such a generous gift from someone I don't know - I even have a problem with men buying me drinks - I figured that I shouldn't be so cynical, so I said yes, and promised to pay it forward by doing a good deed for a stranger in return."
The lucky lady has since tweeted photos of herself wearing the frock at the Cosmo Blog Awards.
We do love a happy ending.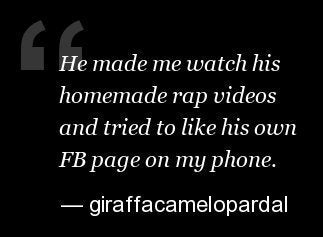 Weird Tinder Date Confessions