A 12-year-old girl who was diagnosed with a rare bone cancer had her leg amputated and foot reattached backwards to enable her to continue to enjoy sports.
Grace Bunke, 12, from Georgia, was faced with the decision to have surgery that would take away her ability to run, or have her foot removed and reattached as a knee joint.
After choosing the latter, Bunke is now part of a competitive swim team and is working towards being able to resume her love of running.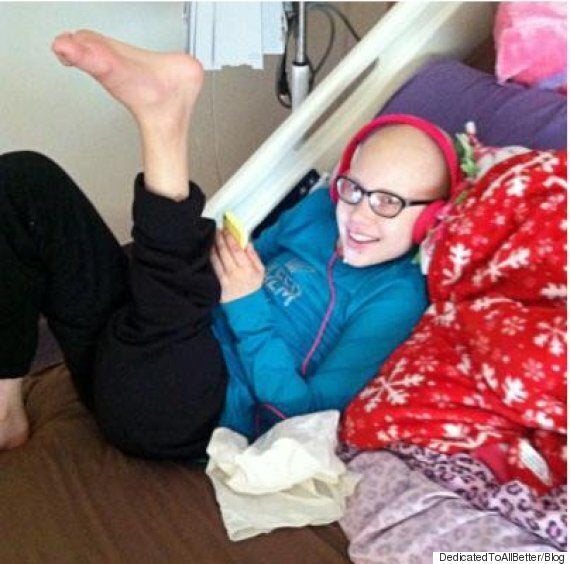 Grace Bunke pictured after her surgery
Her mum continued: "We are so incredibly thankful to her surgeon, oncologist and nurse practitioner who we know without exception were used in great and mighty ways. They cared for that which is most precious to us, one of our children."
Bunke, a dedicated runner and football player, was diagnosed with osteosarcoma, a rare type of aggressive bone cancer in May 2014.
Initially, her family believed the intense knee pain she had was due to a dislocated knee cap, but when physical therapy proved unsuccessful, Bunke had a biopsy at Children's Healthcare of Atlanta, which led to her diagnosis.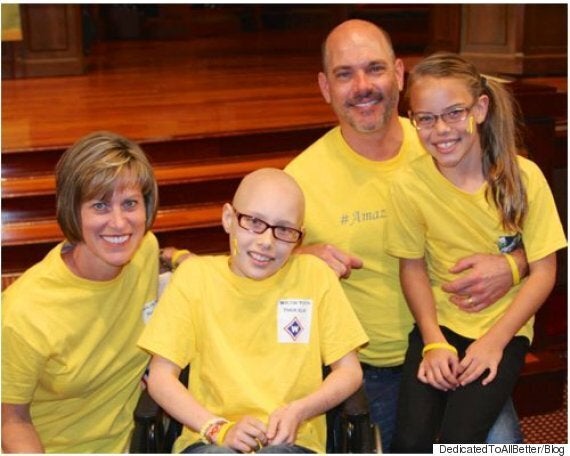 Bunke was given three surgical options to choose from as treatment
The then 11-year-old initially went through 18 rounds of chemotherapy.
In September 2014, Bunke had to choose between three surgical options to remove the tumour: limb salvage 9limb reconstruction using a metal implant or bone graft from another person), above-the-knee amputation or rotationplasty.
Rotationplasty is a procedure where a portion of a limb is removed and the remaining limb below the removed portion is rotated and reattached. Typically the ankle joint becomes the knee joint.
Her mother said she thought this would be the only option to salvage as much of Bunke's leg as possible and this is the option Bunke chose.
The mum said the doctor made a pledge that as soon as Bunke was ready, they would run together in a 5k race.
During the ten hour procedure, an entire section of Bunke's leg bone was removed, her foot was rotated 180 degrees, and the remaining portion was attached to allow her ankle to function as her knee.
Following the operation Bunke's mother wrote: "She was smiling, gave us a thumbs up and said, 'I did it mum. I was brave. The surgery is over. Do you want to see me wiggle my toes and see my awesome new leg?'
"Ten days later, she returned to school in the safety of a wheelchair."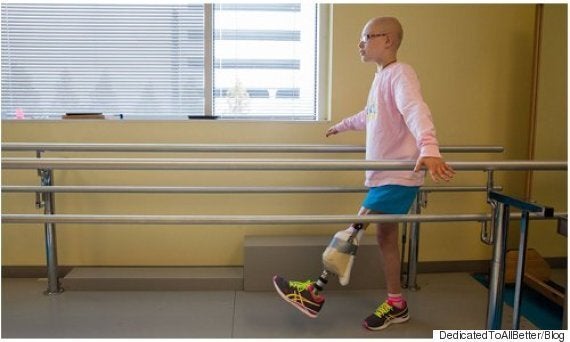 After the surgery, Grace had to undergo 12 more rounds of chemotherapy, two lung surgeries, physical therapy and the task of learning to walk again.
Bunke uses a prosthetic leg to enable her to walk, but takes part in a competitive swim team without her prosthesis against able-bodied swimmers.
She is currently working towards her goal of running 5k.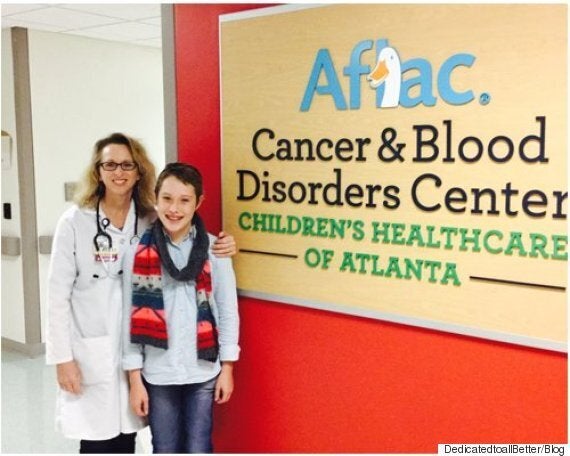 Grace and her nurse practitioner, Melissa
Bunke's mum added: "The doctors surrounded Grace with their talents, expertise and kindness. They should never doubt their skill, commitment or ability to impact lives.
"We are so thankful and forever appreciative that they were the ones to help Grace."