A groom organised an entire wedding within 24 hours after his fiancée was told she may only have days to live.
Mark Batt-Rawden's partner, Maggie, was diagnosed with breast cancer in 2013 but after the disease spread to her lungs earlier this month, her health began to deteriorate rapidly.
On Friday 20 November, doctors told the couple Maggie may not survive the weekend.
So with the help of staff at Royal Surrey County Hospital, Guildford, Mark set about organising a wedding that would take place from Maggie's bedside.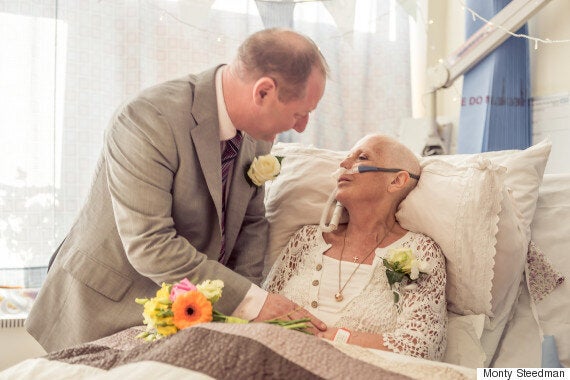 Maggie and Mark Batt-Rawden
"Maggie and I were overwhelmed by the hospital team," said Mark, a 54-year-old property developer.
"They made the impossible happen and created a dream wedding given the most hopeless circumstances – they even bought balloons and a cake.
"The wedding will be a memory of a lifetime, not only for us but everyone who attended."
The couple, who met three years earlier at a social group, got engaged last year.
At around 7pm last Friday, Mark started to make inquiries about the possibility of getting married.
By 9.30pm that evening plans were in full swing, with the registrar booked and the ceremony set to take place at 1pm the following day.
Hospital staff quickly started organising bunting, flowers, and fairy lights to decorate Maggie's Albury Ward room, as well as organising a cake. They then assisted members of the couple's family with transforming the bay.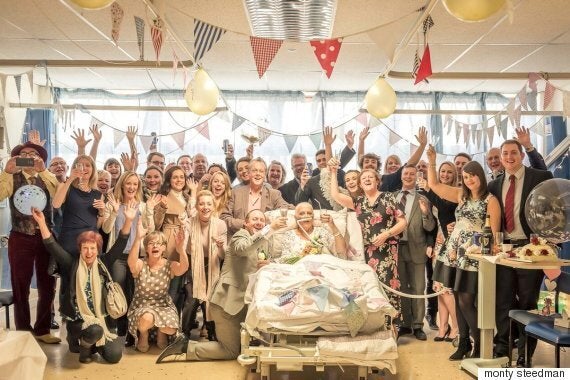 The charge nurse of the ward, Monty Steedman, arranged for an area to be cleared so the couple could have a make-shift chapel.
"With just two-and-a-half hours to go we were phoning people and inviting them to the wedding. Suddenly the guest list went from 10 to 50 people," Mark said.
One the day, the NHS Trust's estate services provided a special 60ft long extension lead for Maggie's high flow oxygen machine to allow her to be make her way into the make-shift chapel.
Maggie was brought up the aisle in her hospital bed, led by her children James, 24, Tim, 20, and Lizzie, 18.
"Maggie had absolutely no idea how many people were coming and had not seen any of the preparation in the room, the expression on her face was a picture. It was a true delight to see," Mark said.
"There was so much love and laughter on the day."
The newlyweds celebrated with their friends and family until 10pm, including Mark's children Samantha, 27, and Andrew, 25.
"We had a lovely night sleep and woke up just before sunrise, which we enjoyed together. The strength Maggie has shown has led to doctors reassessing her prognosis and they now believe we will have at least a few weeks together," Mark said.
Maggie has surprised doctors by continuing to fight the disease this week but sadly, her illness is still considered terminal.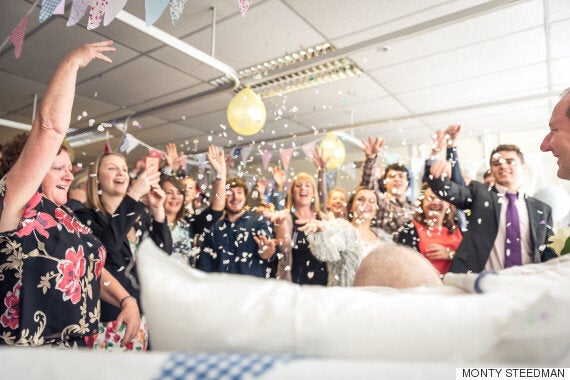 Maggie said: "The love and compassion showed by Monty and the Albury Ward Team and my family and friends allowed us to give everyone the opportunity to see me, perhaps for the last time, in a happy way where congratulations replaced goodbye."
Charge nurse Monty said: "It was a pleasure and a privilege to help Mark and Maggie organise their wedding. Everyone from the doctors to the hospital cleaners were involved in helping create a day to remember."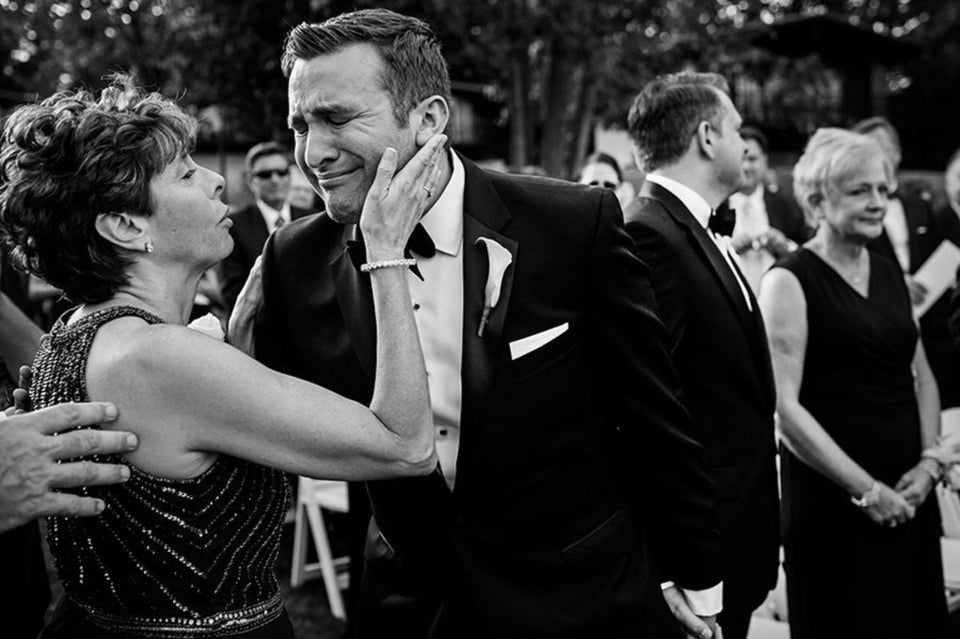 Emotional Grooms At Weddings
Related