The five things you need to know on Thursday December 3, 2015…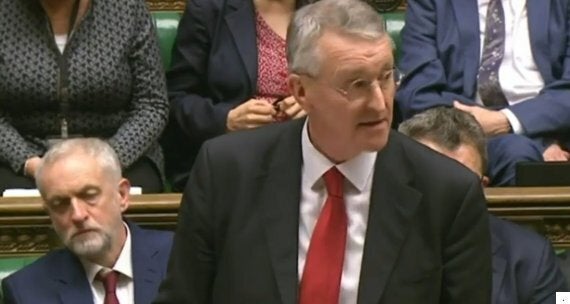 Within an hour of the Commons vote, RAF Tornadoes were hitting oil targets in Syria. In the debate itself both David Cameron and Jeremy Corbyn failed to live up to the occasion (and critics of each will think they lived down to it). There were however some passionate and coherent speeches from antis like John Baron, Gerald Kaufman, David Davis and Angus Robertson (though his reference to 'Scottish' armed forces spoilt the mood for some). Among the pro-bombers, Margaret Beckett, Alan Johnson and Pat McFadden spoke with authority.
But of course it was Hilary Benn who delivered the day's oratorical tour de force. It was one of the most impressive speeches I've seen in the Commons in my 18 years of reporting here - and certainly had the most extraordinary reaction in the form of applause on all sides. What made Benn's speech even more striking was he wrote much of it on the frontbench.
Alex Salmond claimed straight after the vote that Benn shouldn't have been given so much airtime, though he said he was not being 'churlish'. The SNP's Mhairi Black says she and others will never forget the applause - and not for good reasons. Ex footballer Stan Collymore has torn up his Labour membership card and applied to join the SNP. Jess Philips has slapped down twitter trolls who claim Tony Benn would be 'spinning in his grave'
Concerns continue about the exit strategy and ground troops. The Mail cannily focuses on William Hague's hint in the Lords yesterday that UK ground forces may be needed (more than a hint, he also nodded vigorously too when Lord Cormack made the point). Michael Fallon on Today insisted Assad would be part of the peace process.
Speaking of the Lords, it was Labour's Lord Rooker who yesterday said of Corbyn 'we need to get rid of him'. Frank Field has suggested Labour needs Corbyn to be the leader in the country, but someone else should be the party leader in Parliament. Despite the bookies slashing his odds to be leader, Benn's spokesman insisted he would do no media interviews today because he wanted to get on the with job of 'holding the Government to account..under Jeremy's leadership'.
John McDonnell was on Today trying to balance sounding statesmanlike with the warnings about the future: "I feel sombre. We wish our military, our pilots safe home. We pray and hope innocent lives will not be lost. I fear they will."
As for THAT speech, he compared it to Tony Blair's in 2003. "Hilary's speech was excellent…His oratory was great. It reminded me of Tony Blair's speech taking us into the Iraq War. Sometimes the greatest oratory can lead us into the greatest mistakes."
You can check how MPs - and the shadow cabinet - voted HERE.
When it comes to numbers, my source who has consistently estimated (since Sunday) the Labour pro-bombing figure would be about 70 was proved right. So, as good as Benn was, he may not have swung many (apart from Stella) more behind him. His real achievement was in making them feel proud they'd done the right thing.
Within seconds of the vote, some on the left were demanding the deselection of Labour MPs who voted for the bombing. The treatment of Stella Creasy in recent weeks has shocked many of her colleagues (and she herself has not spoken out more because she's very keen to protect her family in all this). Yesterday she had to leave the Syria vote to deal with abusive calls to her staff. Creasy late last night announced a public meeting to air it all: let's see how that goes.
But Creasy's is just one of several cases. Ann Coffey told the BBC this morning of abusive messages she's been getting, stating "from the top of the party what you have is permission to target MPs". Wes Streeting - who voted against bombing - said he 'winced' at Jeremy Corbyn's line this week that there would be 'no hiding place' for his MPs after the vote.
Streeting told Today :"I think it's completely inconceivable for anyone to argue there hasn't been a well organised campaign ….given how much this has been facilitated by Momentum….He's in danger of permitting it by not showing strong enough leadership by not clamping down on it".
But Corbyn has repeatedly condemned deselection attempts and Momentum's chief James Schneider says it is "not coordinating abuse in any shape or form". John McDonnell told Today that Creasy was 'an excellent MP and she has my support'.
He said he'd had a death threat for wanting to vote against the bombing. "If you're using that kind of language on either side of the argument then you should not be in the party." Pressed on what action would be taken, he said "if they are Labour party members, there will be the normal process" of disciplinary action. Corbyn may have to take a high profile action if MPs are to be reassured.
The polls have opened in Oldham West and Royton and for Labour it's going to be a long nail biting wait until the result at 1-2am. Unlike Heywood, the seat has a bigger majority, a core of Asian voter support and a popular local candidate. But UKIP are still a threat with most expecting turnout of around 30% (though the milder weather today may help).
Labour's hoping its superior postal vote operation will take it over the line, even with a drastically reduced majority. This is far from in the bag for Labour though. And all the shadow ministerial reports back - no complacency but quiet confidence etc - sound ominously to me just like the sort of reports back before Heywood. UKIP could still do it if the white working class vote sits on its hands or flirts with UKIP, and the suburban Tory vote jumps wholesale for Bickley.
The Sun reports that Jim McMahon, Labour's candidate, was confronted at the final hustings last night with a tweet he'd made calling UKIP supporters 'rejects'. The 2014 tweet, since deleted, said Ukip supporters were "disgruntled political obsessives and rejects, hardly 'anti-politics'." He said he was focusing on a particular Ukip activist.
Still, my favourite moment in this by-election was a voter asking the BBC's James Landale during a vox pop if he was Jeremy Corbyn. Can't work out if it was his accent or his specs that did it…
BECAUSE YOU'VE READ THIS FAR…
Is the date for the EU referendum slipping? Quietly yesterday, as the Syria debates took place, it emerged in the Lords that the EU Referendum Bill may not become law until 2016. Here's why: the Votes at 16 amendment is now down for next Tuesday, which means that the ping-pong will probably take place as late as Weds 16 December. The Lords are sure to vote against on the second ping of the pong. And the Commons rises for Christmas on the 17th - a half day when it is unlikely to react.
Meanwhile, several papers report Donald Tusk's warning yesterday that David Cameron's attempt to get a deal on the table before the December EU summit could 'risk it all'. He prefers February for a deal to be thrashed out.
The BBC's Newsnight has a new angle on the Mark Clarke affair. It reported that five senior Conservative ministers have pulled out of speaker engagements at the annual conference of the Young Britons Foundation.
The YBF, rather crassly known as a Tory "madrassa", describes itself as a "research and training organisation that promotes conservatism in schools, colleges and universities". It's also an organisation with close links to disgraced activist Mark Clarke.
Until Tuesday, Sajid Javid, Michael Fallon, jMichael Gove, Robert Halfon, and Greg Hands were all down to speak, as was Eric Pickles. They all now have diary clashes and can't make it.
If you're reading this on the web, sign-up HERE to get the WaughZone delivered to your inbox.
Got something you want to share? Please send any stories/tips/quotes/pix/plugs/gossip to Paul Waugh (paul.waugh@huffingtonpost.com), Ned Simons (ned.simons@huffingtonpost.com), Graeme Demianyk (graeme.demianyk@huffingtonpost.com) and Owen Bennett (owen.bennett@huffingtonpost.com)
Popular in the Community