The 18-year-old reality star has been accused of trivialising disability in the name of "fashion", for her shoot features in the December/January issue of the magazine.
Now, one woman's powerful response has gone viral - and for all the right reasons.
Erin, 24, who is a "real life wheelchair user" recreated the controversial shoot and posted the images side-by-side on her Tumblr.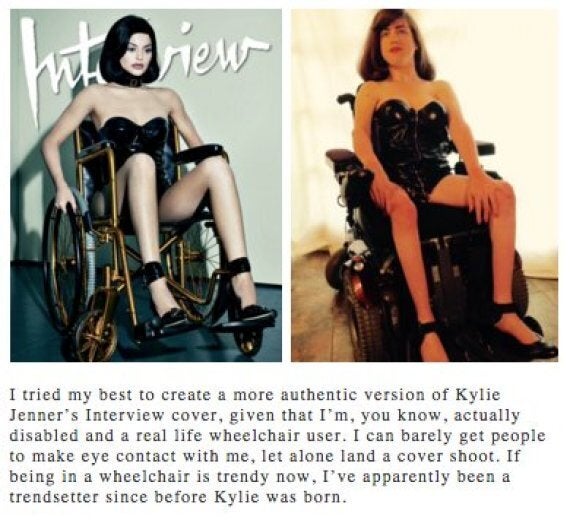 "I tried my best to create a more authentic version of Kylie Jenner's Interview cover, given that I'm, you know, actually disabled and a real life wheelchair user," she wrote.
"I can barely get people to make eye contact with me, let alone land a cover shoot. If being in a wheelchair is trendy now, I've apparently been a trendsetter since before Kylie was born."
Interview Magazine defended their use of the wheelchair as a prop, telling E! News: "At Interview, we are proud of our tradition of working with great artists and empowering them to realise their distinct and often bold visions.
"The Kylie Jenner cover by Steven Klein, which references the British artist Allen Jones, is a part of this tradition, placing Kylie in a variety of positions of power and control and exploring her image as an object of vast media scrutiny.
"Our intention was to create a powerful set of pictures that get people thinking about image and creative expression, including the set with the wheelchair. But our intention was certainly not to offend anyone."
But the damage has already been done, here's what some Twitter users had to say about the shoot.