For those of us who can still remember the look on Angie Watts' face when husband Den served up divorce papers along with the Christmas pudding, that episode of 'EastEnders' will always remain one of the most jaw-dropping moments in the 30-year history of the soap.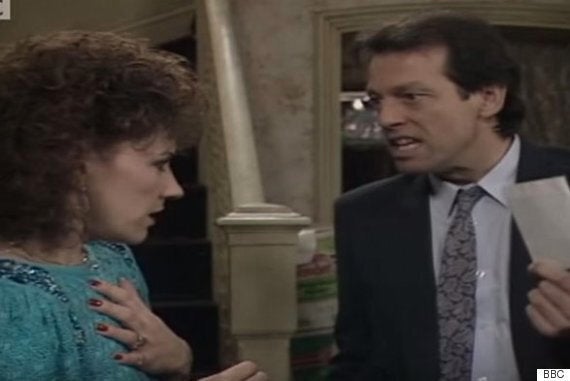 More than 30 million viewers tuned in to watch Den say goodbye to Angie on Christmas Day
More than 30 million viewers tuned in on Christmas Day 1986 to see Angie - a never better Anita Dobson - get her comeuppance once husband Den (Leslie Grantham) had discovered she'd been lying about a terminal illness, in order to keep him from going off with mistress Jan.
Christmas on Albert Square has always come up with the goods when it comes to stopping all festive cheer in its tracks, and now BBC Store is offering a collection of some of the most memorable Christmas Day episodes.
Besides Angie and Den's defining hour, also on offer is 1994's 'Sharongate' aftermath as Grant and Kathy find out their partners Sharon and Phil have been having an affair, Cindy's surprise appearance in 1997 which caused havoc for the Beales and the Fowlers and the sad death of Pauline in 2006.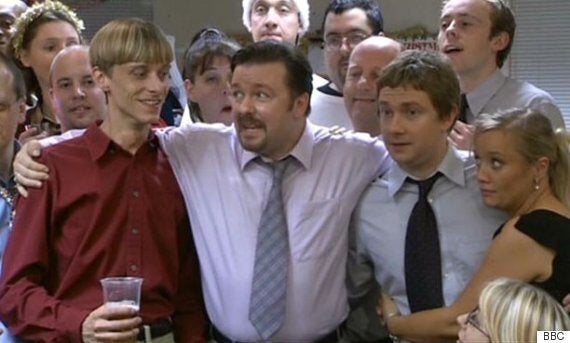 You can relive 'The Office' Christmas party once again, including 'that' dance
One of the most talked-about moments of recent years, the revelation of Max and Stacey's affair in 2007, is included, as is the gripping 1998 show when Grant is arrested. There's a tragic car accident in 2002 when Martin runs over Jamie, but light at the end of tunnel for Sharon and Dennis who declare their love for each other in the 2004 special.
These episodes will all be available on the new digital archive service from Thursday 10 December. BBC Store makes it easy for audiences to buy and keep copies of BBC programmes, has started festive celebrations early with the release of some Christmas crackers during December.
BBC Store is also making available a collection of classic seasonal sitcoms - 'A Sitcom Christmas' - to restore any cheer knocked by those festive fall-outs on the Square.
Included in the list is 'The Good Life' and 'Terry and June', as well as 'Gavin and Stacey, as well as Christmas behind bars in 'Porridge' (1975). Viewers can join Ebenezer Blackadder in this comic take on Dickens in 'Blackadder's Christmas Carol' (1998) or catch up with the legendary finale Xmas and New Year episodes of 'The Office' (2003).
Other mistletoe and merriment comes in the form of 'Absolutely Fabulous', 'The League of Gentleman', 'Bottom', 'Rev' and 'Alan Partridge's Knowing Me Knowing Yule'.
Episodes of 'EastEnders' and Christmas comedies will cost £1.89 Standard Definition or £2.49 High Definition (if available).
The EastEnders Christmas Collection is released on 10 December and A Sitcom Christmas collection is already available. Click on bbcstore.com for more info.
Popular in the Community