Louis Walsh proved he still had a sense of humour about getting the old heave-ho from his job on 'The X Factor' judging panel on Saturday night, appearing in a hilarious sketch during this year's final.
The skit parodied this year's John Lewis ad, and saw him taking on the role of the 'Man On The Moon'.
However, rather than looking down at a happily family down on Earth, a sad-looking Louis was seen peering down his telescope at Wembley Arena, where this year's two-part final is being held.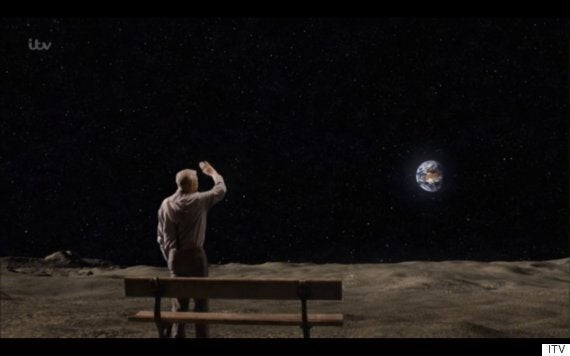 Louis Walsh makes his 'X Factor' return... kinda
After 11 years on the judging panel, it was confirmed earlier this year that Louis would not be returning to 'The X Factor', and would instead be replaced by BBC Radio 1 DJ Nick Grimshaw.
He's since been heavily critical of the show, in particular due to the fact it's hit something of a ratings slump in recent times.
"He used to blame me. He'd say, 'It's your fault, people are fed up looking at you'. But it's not my fault, it's his. He's f***ed the show."
An 'X Factor' spokesperson has since insisted is "purely speculation", though, adding: "We have not even started discussing the next series and won't do so until next year."
Popular in the Community