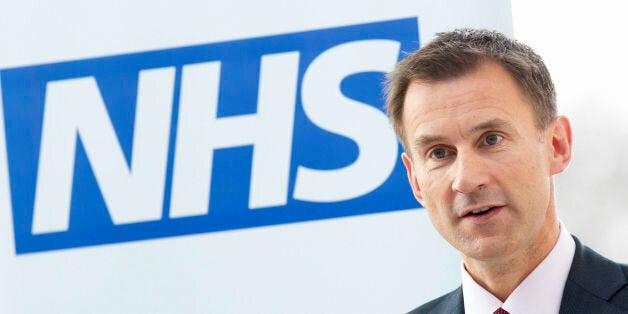 Some NHS hospitals are so cash-strapped that they are having to take out emergency loans to pay doctors, nurses and other staff salaries every month, HuffPost UK can reveal.
A string of NHS trusts are taking out multi-million pound loans – and having to pay interest on them to the Government – simply to ensure wages are met at the end of each month.
Consultants at the world-renowned Addenbrooke's Hospital in Cambridge have been told that they would not have been paid this month but for a loan from the Department of Health, while staff at Medway NHS Trust were also dependent on a similar finance package.
And the chief executive of one NHS foundation trust in London has even resorted to emailing all staff to reassure them that they will be paid in time for Christmas.
The NHS won extra funding from the Chancellor George Osborne in the Spending Review, but experts say that Government pressures to recruit more staff to make wards safer, together with cuts in payments for treatments, mean many hospitals are facing their most severe cash squeeze in history.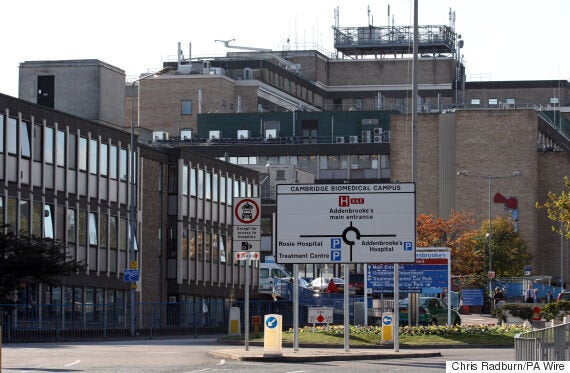 The world-renowned Addenbrooke's Hospital in Cambridge
New figures last month revealed trusts were in deficit to the tune of £1.6bn, rising to £2.2bn by the end of the financial year.
The record levels of deficit – with three in four trusts in the red – have led some 21 NHS trusts and 10 Foundation Trusts to seek £509m in 'interim revenue support' ie loans to help them pay salaries, drug costs and even electricity bills.
In 10 cases, the support was for £20m or more, with three providers accounting for nearly a quarter of the total.
Medway NHS Foundation Trust's annual report reveals that it "has received cash support for revenue purposes of £22.5m in year to ensure that obligations of payments to creditors and salaries to staff could be met."
In a bid to deter hospitals from incurring deficits, Health Secretary Jeremy Hunt has since March quietly been forcing hospitals in financial trouble to take out loans – bearing interest rates of 1.5% - rather than giving them the cash in the form of Public Dividend Capital (PDC).
To 'disincentivise' overspending, unlike the previous system of PDCs, trusts will have to pay back the loans. Many hospitals in 'distressed' Foundation Trusts, have been also forced to convert their grants into loans.
The King's Fund think tank warned last month that the pressures were so great that some areas may run out of money, but HuffPost UK has discovered that a string of loans are already being taken out to pay salaries.
Richard Murray, director of policy at the King's Fund think tank and a former Chief Analyst at NHS England, told HuffPost UK: "I think doctors are quite right to be concerned.
"They've gone from a world where as clinical leaders they were working for autonomous organisations and now their organisations are going cap in hand to the Department of Health saying 'could you help me pay off my salaries please?'
"The overwhelming majority of NHS trusts are in deficit, the income that's coming in, what they get paid for treating patients, is not enough to cover the costs of the organisation and for any health organisation by far the biggest cost is salaries.
"Quite a lot of people at the moment when they take out those loans, say to us privately they think they won't be able to pay it back and it's only a matter of time before they can persuade the department they can't and the loans will be converted to PDC [Public Dividend Capital]."
Mr Murray added that the Government wouldn't allow the NHS to embark on private-sector style bankruptcy where people can't pay their staff.
"What they will do is what they've done in the past - which is switch off the temporary staff, which they can do quite quickly, impose recruitment freezes and then redundancy rounds. I'm afraid all eyes are on the Government now. It has provided more money in the spending review, the question is it that going to be enough?"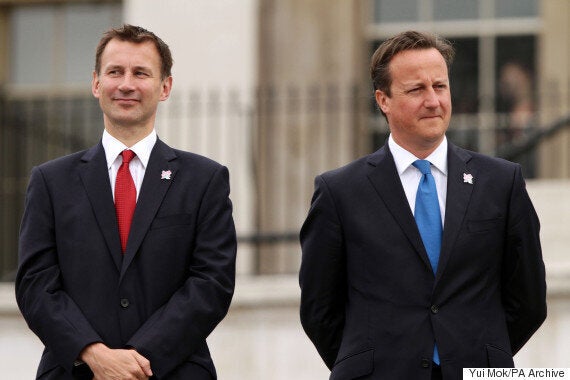 Jeremy Hunt and David Cameron
He said that the switch to loans for salaries was also proof of Jeremy Hunt putting extra pressure on NHS trusts.
"It shows that the Department and Monitor are really turning the screws on these organisations. It's inconceivable that people wouldn't be paid but the fact that they are talking about it causes anxiety. People would say 'well it never occurred to me that I wouldn't be paid, what are you talking about?'
"Most organisations are now in deficit. If you'd gone back five years that would have been inconceivable. Finance directors would have been sacked, there would have been hell to pay. There is a lot of blood on the carpet now. The payments system is clearly not working , this is a messy world now so even with that money [in the Spending Review] you wish they'd given it up front, and not wait for the deficits to appear."
A spokesman for Cambridge University Hospitals, which runs Addenbrooke's Hospital , told HuffPost UK: "Like many Trusts across the country we are currently facing significant financial challenges. This has meant that in order to meet our financial obligations we have made use of a loan facility from the Department of Health.
"We are developing, with our regulators, a sensible and effective plan to improve our financial situation and to ensure patients continue to receive safe and high-quality care."
The spokesman failed to say how long the loan had been in existence or when staff had been told their wages depended on it.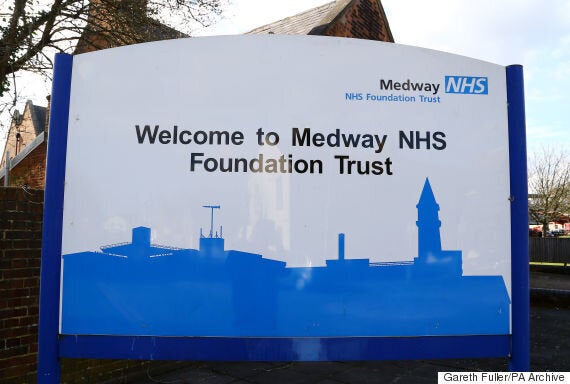 Medway Maritime Hospital in Kent
A spokesman for Medway NHS Foundation Trust told HuffPost UK: "While we have received additional cash support over the past financial year, it is important to stress this has never impacted on our ability to pay our staff. This situation is one that many NHS acute trusts are familiar with and manage as part of their overall financial strategy.
"Following recent inspections and reports, we have made a significant level of investment in recruiting clinical frontline staff, including doctors and nurses, to ensure that our patients continue to receive compassionate, safe and innovative clinical care. For example, we recently opened up two new wards – 52 beds in effect– to accommodate the increasing number of frail, elderly patients who no longer require acute care, and are awaiting support in the community."
"We will continue to work with our partners in order to manage and improve our financial position."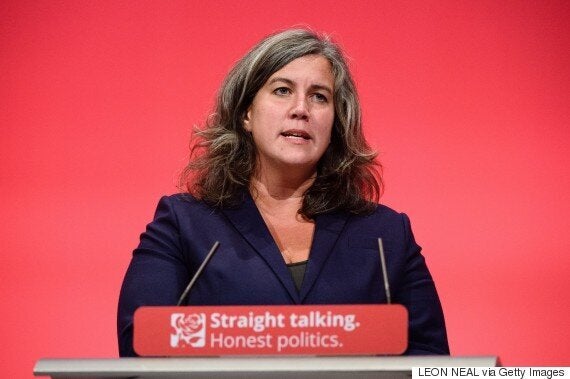 Shadow Health Secretary Heidi Alexander
Shadow Health Secretary Heidi Alexander told HuffPost UK: "This shows just how bad NHS's finances have got.
"The NHS is dealing with record deficits, a crisis in A&E and workforce shortages. It's a nightmare before Christmas for hospital bosses.
"The uncomfortable truth for Ministers is that this is a crisis of their own making. The NHS is under pressure as a direct result of decisions they have made. Cuts to nurse training places have forced hospitals to drain resources hiring expensive agency staff, while cuts to social care services has led to rising demand on hospitals.
"It is yet further proof that Tory health policies are failing patients and failing staff."
The Department of Health last year changed the way it provides financial support to hospitals in trouble to reflect what it says is the true cost of finance to the taxpayer and to focus hospital leaders on costs.
Deficit support loans are provided by the Department of Health, which is advised by the Independent Trust Financing Facility.
Trusts wanting such a loan should apply to the ITFF, with foundation trusts applying through Monitor and trusts going via the NHS Trust Development Authority.
A spokesman from the Department of Health told HuffPost UK: "This government is committed to the values of the NHS, which is why we're investing £10bn in its own plan for the future - including £6bn upfront by next year.
"Hospitals must show tight financial grip and live with their means, but we have always routinely provided funding for challenged trusts while they develop and deliver robust plans to improve their financial position."
The Healthcare Financial Management Association, which represents finance chiefs in the NHS, says that Mr Hunt's new regime to make hospitals take out loans was a signal that he wanted to disincentivise trusts from building up deficits.
"There is a balance to be struck between imposing additional financing costs on organisations already in financial difficulty and providing them with penalty-free financial support," it said.
"But there is a clear message being sent that the distressed organisation finance mechanism is not a route to easy money.
"All providers within this system can expect to be subject to more scrutiny than in previous years and far more scrutiny than other providers. And for foundation trusts, the cost of receiving this support is the loss of some of their autonomy."
Related